It's a numbers game and this year Peter Chiarelli is bound and determined to create competition. On the way to a balanced roster, the number of NHL-ready or actual NHL players is increasing at every position in the lineup. What does that mean? Well, remember when Steve Tambellini kept Jeff Deslauriers on the roster forever out of fear of losing him to waivers? Yeah, not that. Peter Chiarelli's aggressive nature is very obvious when it comes to his stack 'em and rack 'em style re: the depth chart.
PROJECTED ROSTER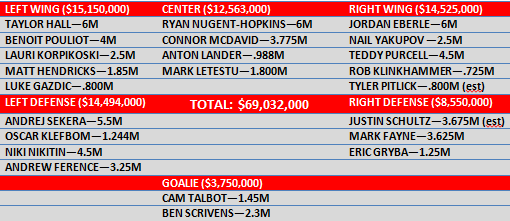 This is the 'prevailing wisdom' edition, we have no idea what will happen until Todd McLellan and the players arrive in camp and get to work. One thing this roster doesn't have is a lot of utility—the centers can play wing but the only wingers you might see at center are Matt Hendricks and Lauri Korpikoski. That may mean Leon Draisaitl makes the team, impacting the waiver list (Tyler Pitlick would probably be the 23rd man here and he is waiver eligible).
WAIVER WORRIES FOR FALL
G Anders Nilsson: His contract is set up as an audition for the Oilers, but also for the entire NHL. Nilsson's an interesting bet, we'll see how this goes. I still expect Ben Scrivens to outplay Nilsson.
R Andrew Miller: He has had one quality season in the AHL, probably not famous enough. That said, you could make the argument he fits the Oilers' new style better than some of the men ahead of him on the depth chart. I believe he qualifies for waivers under article 13 13.4-13.4 (section D).
D Brandon Davidson: If MacT was still GM, I'm pretty certain Davidson would have made the team. Davidson qualifies as a MacT type under the 'Scott Ferguson—Toby Petersen' player tab if you're playing along at home. As it is, he'll have a chance and I'm going to be cheering like hell for him, but this is a tough and hazy competition.
D Brad Hunt: His chaotic defense probably means he won't get claimed but I'll be fascinated to see what McLellan thinks of him. I don't think there will be any neutral ground, he'll either be sent out early or very late.
L Ryan Hamilton: Veteran winger who will serve as mentor to the youth in Bakersfield, he's unlikely to be taken.
The Oilers don't have anyone who is a lock for waiver pickup, but if (say) Miller outplays someone or Nilsson wins the backup job, maybe we'll see action. There is no Anton Lander (placed on waivers last fall) this time unless something goes awry. There's no Rob Schremp either, but Nilsson might be the next Steve Valiquette and that would be my guess.
WAIVERS THE OTHER WAY
I don't see Edmonton picking anyone up via the waiver wire. For me, the piece they're looking for is higher up in the batting order. We should be looking for this year's Nick Leddy—Johnny Boychuk, and some believe that's Brent Seabrook. One player in the Boston system (not waiver eligible) I'd like to see Chiarelli try to grab? Alexander Khokhlachev. Among recent waiver pickups by Edmonton, Ryan Jones and Luke Gazdic had some sustain, Matt Fraser not so much.
WHO WILL THEY BUY OUT?
If the Oilers are going to buy out the eligible player nearest the end, it's Andrew Ference. He got everything possible out of his career and there's no shame in an eight-round pick playing over 900 NHL games. None. He won a significant award as a member of the Edmonton Oilers and man that doesn't happen often.
I don't think Edmonton will buy out Ference for multiple reasons. First, the contract buyout is complicated and takes four years to accomplish. There are good reasons to spend dollars into McDavid's second contract but this isn't one of them. Second, Ference may decide to retire next summer. I very much doubt he sees a lot of ice as the year wears on and collecting a cheque for sitting in the pressbox isn't as sexy as it sounds.
For me, the buyout is Niki Nikitin and his wonky back (I think it's his back). IF Chiarelli decides to proceed, it'll mean another defenseman is coming to town. A mobile defenseman who can make a headman pass and be part of the future. Who is that man? Increasingly, it looks like the answer is Brent Seabrook.
LOWDOWN WITH LOWETIDE
A jam packed show at 10 this morning, TSN1260. Scheduled to appear:
Steve Lansky, Big Mouth Sports. Is the NHL summer break an actual break?
Antony Bent, FC Edmonton. Eddies coming off a monster win last weekend.
Alanna Phillips, CFL is for Girls. Huge win for the Eskimos last night, are the QB issues solved?
Sunil Agnihotri, The Super Fan and Copper and Blue. Defense, defense, defense.
Jeff Veillette, Five Hole for Food. Great cause, and he's coming our way!
10-1260 text, @Lowetide on twitter. A final note: LOTS of chatter yesterday on media about the negativity surrounding Ben Scrivens season and Griffin Reinhart's acquisition. Because I read comments here, this was news to me, as we've generally been able to carry on a mature conversation on both men. So, thanks! It makes me proud of our little corner of the house Al Gore built.