In the year before Crosby, Pittsburgh was pitiful. The Penguins managed a paltry 23 wins and 58 points. In the season Crosby arrived? 58 points! Again! 22 wins! God lord what a mess. Now, Crosby's men started badly but made the playoffs in year two, the finals in year three and won Stanley in year four!
Please baby Jesus, let this be our destiny. But could you hurry up a little? Some of us miss the Stanley something awful.
McDavid's Oilers should be better than Crosby's Penguins in year one. Here are the leading scorers from 2005-06 in Pittsburgh:
Sidney Crosby 81GP, 39-63-102
Sergei Gonchar 75GP, 12-46-68
Mark Recchi 63GP, 24-33-57 (traded at deadline to Carolina)
John LeClair 73GP, 22-29-51
The good young (25 and under) players on the team (Colby Armstrong, Ryan Malone, Ryan Whitney, Maxime Talbot, Brooks Orpik, Marc-Andre Fleury) were destined to have good not great careers (there are no HHOFers, although Orpik and Fleury are still writing their resume's).
I'd suggest the Edmonton 25 and under group who will join McDavid this fall (Taylor Hall, Jordan Eberle, Ryan Nugent-Hopkins, Nail Yakupov, Justin Schultz, Anton Lander, Oscar Klefbom, Leon Draisaitl) are going to have a better careers than the group above, but then again Edmonton doesn't have Evgeni Malkin, Jordan Staal and Kris Letang warming up in the bullpen.
The Oilers have terrific young talent and could spike this coming season. One of the keys to a successful year? Todd McLellan's ability to get this group doing things like getting the puck out of the zone quickly and under control. The bottom line is this: It's not about playing defense, it's about NOT having the puck in your zone for one second longer than required. Real estate's key (location) is also hockey's key. Pass the puck, under control. Easier said than done.
Trading Stephen Johns could come back to haunt Stan Bowman, but a defenseman in system he loves is Erik Gustafsson. He'll get a good chance.

— Chris Kuc (@ChrisKuc) July 11, 2015
The Oilers drafted Gustafsson in 2012, didn't sign him and he caught the attention of Chicago's scouts this winter. His initial resume sounded interesting and he made my prospect list one winter (2013) but I'm not going to rip up the current regime over it. Gustafsson was drafted during the Tambellini era, and Craig MacTavish flushed a large group of retro prospects (Hartikainen, Rajala, others). That's NOT unusual, we're going to see that next summer in a big way and Peter Chiarelli wasted no time in sending away Martin Marincin, a player who could bite the organization in the ass early and often.
The key point here is waiting five years. I have zero problem making the call on the 2010 draft—if Curtis Hamilton turns it around in a new town, then that's fabulous, but he got his at-bats in the Oilers' system and couldn't establish himself. However, making the call on the 2011 draft (Dillon Simpson, as an example) or 2012 (Joey Laleggia another) implies we know things we cannot possibly know. NHL players, most of them, take time. Hold back your water on making the call 2011+. It's the right thing to do.
JETS VOLLMAN SLEDGEHAMMER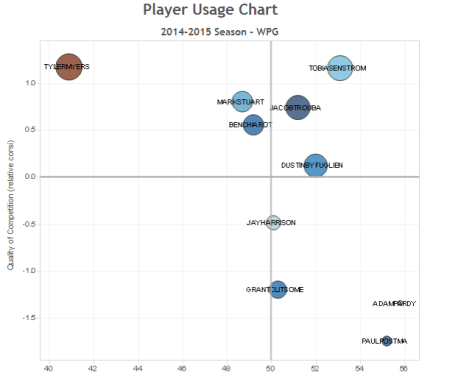 Peter Chiarelli has shown an ability to be aggressive while also taking what the market gives him, and one team that could have a defenseman of note available at some point this season is Winnipeg. Dustin Byfuglien is UFA 2016 summer, and the top four D in 2016-17 could be Tyler Myers, Tobias Enstrom, Jacob Trouba and one of Stuart, Chiarot or they could sign Byfuglien but that's big money and there's a bit of the Ottawa Senators in their budgets. Would you be willing to pony up for the big man?
MCLELLAN'S BLUE
Todd McLellan's defensive teams in San Jose had some real gems, like Marc-Edouard Vlasic. Can McLellan do the voodoo he do with this bunch in Edmonton? Hmmm.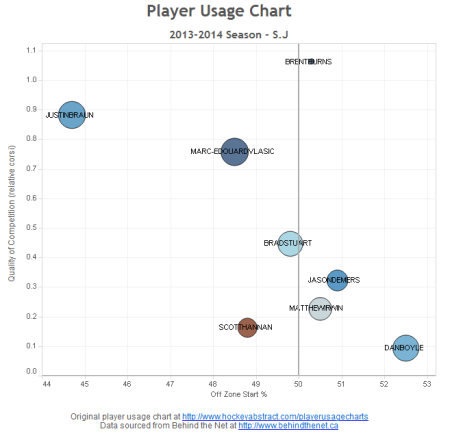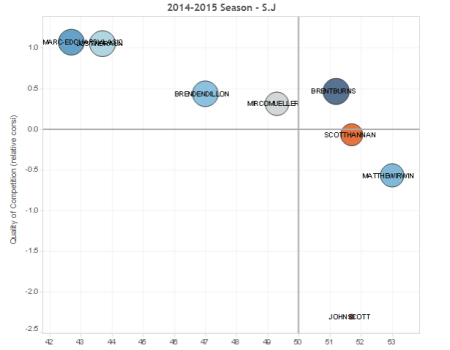 That's two seasons worth, 2014-15 looks like they ran with Vlasic—Braun with the tough ZS's and then all the rest rotated as their shifts came up. Previous season much the same? WHO is Vlasic—Braun? Well, Edmonton has two candidates for heavy lifting with between 2 and 77 games of NHL experience. How did McLellan handle Braun in his first full season?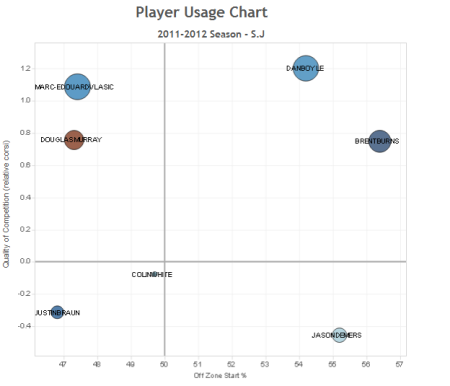 McLellan brought the young Lloyd Braun along slowly, as coaches often do (except for Edmonton). What does this mean for Edmonton's 2015-16 defense? We should assume that "NHL GP" will have a lot to do with deployment and who plays in Edmonton or is down on the farm:
Andrew Ference 901
Andrej Sekera 486
Mark Fayne 316
Niki Nikitin 248
Justin Schultz 203
Eric Gryba 165
Oscar Klefbom 77
Griffin Reinhart 8
Darnell Nurse 2
Given the choice of an emerging Justin Braun and a flagging Douglas Murray, Todd McLellan went with the veteran. It's wise for us to consider that as we project into next season. I'm figuring out the RE's now and unless Peter Chiarelli buys someone out, the defense is going to be played by a bunch of guys who stumbled and bumbled one year ago. Todd McLellan, bring your magic wand. Please.