The Edmonton Oilers and RFA Justin Schultz agreed on a one-year, $3.9 million deal this morning, in what I believe was the best case scenario for a team that could have been exposed badly with this player. Schultz' substantial offensive talents (he's quality in the offensive zone) married to mondo minutes and solid if unspectacular boxcars might have been an arbitration nightmare. The money is too much by plenty, but Peter Chiarelli can't change the past—only the future. The best part of the deal for Edmonton? One year. The option for a second year must have fed the team's desire to get this thing done.
For the player, Edmonton remains a fantastic opportunity. Schultz has a new coach who thrives on high octane offensive types and should be able to help 19 in areas of weakness. The performance last season had to have been organization-aided and the 'fresh air' feel of the current regime may allow Schultz to flourish.
SCHULTZ BOXCARS
At even strength, Schultz's offense has been consistent (and those are good numbers). His power-play performance was impressive in year one, but the last two seasons have seen a southbound trend. McLellan is magic on the power play and Schultz can contribute with his talents if given the opportunity (and I think that will happen).
This could be a good day all around. If Schultz improves his coverage and passing, while the organization also puts him in a position to succeed (veteran partner, etc), everyone could be much happier next summer and the real money can pour in. That said, a one-year deal was the play here and good for management and player for recognizing it. A pleasing day.
 50-MAN LIST
G Cam Talbot (No. 1, bona fide with an explanation)
G Ben Scrivens (He'll need to prove himself in a big way)
G Anders Nilsson (New G, adds to competition, pushes Scrivens)
G Laurent Brossoit (AHL starter could be future No. 1)
G Eetu Laurikainen (A great damn bet, we don't know much yet)
D Andrej Sekera (A cornerstone addition to a defense that must improve)
D Mark Fayne (A big part of next year's team, he'll face tough opposition)
D Oscar Klefbom (The first electric blue through the door in simply ages)
D Justin Schultz (He has a chance to be part of an incredible future)
D Nikita Nikitin (I'm not sure he makes through THIS summer)
D Eric Gryba (Third pairing addition, he can play defense)
D Andrew Ference (Erosion looks nearly complete)
D Brandon Davidson (Waiver eligible, may not be room)
D Griffin Reinhart (It's not a matter of if, only when)
D Darnell Nurse (Say hello to the future)
D Brad Hunt (Last chance Texaco? Or a new beginning?)
D David Musil (Reinhart's addition may make Musil's presence moot)
D Jordan Oesterle (He could flourish under McLellan)
D Dillon Simpson (Still working, suspect he gets full entry-level deal)
D Martin Gernat (In the worst spot of any roster player. Prospect orphan)
D Ben Betker (He has a nice combination of skills)
D Joey Laleggia (His skills are somewhat unique, could blossom in Bakersfield)
C Ryan Nugent-Hopkins (Fantastic player, love the Nuge)
C Connor McDavid (Franchise)
C Anton Lander (Very important season in his career)
C Mark Letestu (Strong option at C, he can play other positions)
C Leon Draisaitl (Willing to play the wing, and that could get him to the NHL in the fall)
C Bogdan Yakimov (Can't wait for McLellan and Chiarelli to see the earth mover)
C Jujhar Khaira (Big man needs to show offense or could be gone)
C Kyle Platzer (New pro has two-way skills)
L Taylor Hall (Impact player could go super nova)
L Benoit Pouliot (Vital to the club's overall look. Big, strong, good)
L Lauri Korpikoski (Fast winger with experience, two-way skills. Mentor)
L Matt Hendricks (May see minutes on skill line)
L Luke Gazdic (McLellan uses this player type)
L Ryan Hamilton (Chiarelli may prefer his own AHL mentor)
L Anton Slepyshev (Big opportunity, coach has no memory of any of the bubbling under)
L Mitch Moroz (McLellan will be impressed with size/speed combination)
L Kale Kessy (If that speed spike last year was no fluke, he'll be a factor)
R Jordan Eberle (They need two more like him)
R Nail Yakupov  (He's still here! Now, where to put him?)
R Teddy Purcell (In this case, LACK of speed kills)
R Rob Klinkhammer (Effective 4R, doesn't bring enough offense though)
R Tyler Pitlick (Newly qualified, needs to stay healthy)
R Iiro Pakarinen (He should be working out like a bandit, with TC impact his goal)
R Andrew Miller (He's in a nice spot on this roster: Inexpensive and skilled)
R Greg Chase (Guaranteed to get noticed early and often. Has the potential to surprise)
Are the underlined players the heart of the order (eventually)? I have my doubts about some but it's not for me to say. Justin Schultz has his contract and a ticket on a helluva ride, but there's some miles to go. I'll say this: He has enough natural talent to fly with these eagles and the rest is up to him.
CURRENT ROSTER AND CAP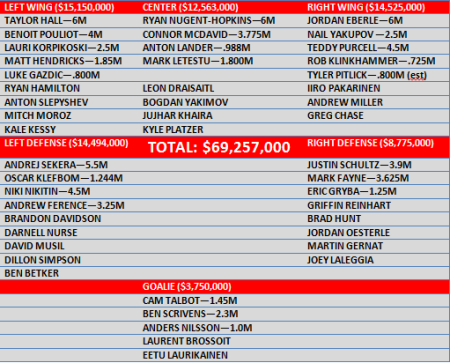 I still don't think Peter Chiarelli is done. Buyout window may pass with nothing but we'll know soon enough either way. Beyond that? Will the 'Hawks deal Seabrook? Will the Oilers find a way to acquire a veteran early or in-season? What about the period just before cap compliance? We're not far from balance, folks. Balance as we haven't seen it since 2006 spring. We wait.