The signing of Justin Schultz today means two things to the Edmonton Oilers: The roster is pretty much signed (Brandon Davidson and Tyler Pitlick's contracts to come) and the buyout window has been engaged so a big decision (either way) is ahead. I think Peter Chiarelli got a little unlucky here, ideally you would see Christian Ehrhoff and Cody Franson signed and possibly a market open for a reduced Niki Nikitin. I think the Oilers hope there's a market and maybe there is—defensemen are in short supply in today's NHL, unless you like country music—but the Oilers clearly can't advance on free agents without a buyout.
I'm not certain they use the second window.
OILERS PROJECTED OPENING NIGHT ROSTER 2015-16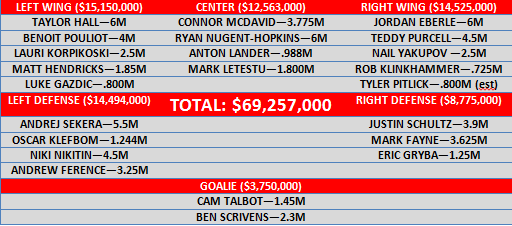 This isn't my roster, I'd have Nurse and Reinhart on the team, Nikitin and Pitlick would be on the farm. Why? The 14th F on this team isn't going to be playing much and the team should have enough depth in the AHL for a quality recall (at least as good as Pitlick represents on this depth chart). Finally, defense is absolutely the weak link on the roster and I think Todd McLellan may run eight defensemen all year. Anyway, this is the roster without the buyout. I think there are two reasons to expect we'll see PC buy out someone in the window:
Christian Ehrhoff
The possibility of an early fall trade by a cap strapped team like Chicago or Boston a year ago (Leddy and Boychuk last year)
If we see a buy out and no Ehrhoff signing? Or we see a buyout, no free agent and no deal before the season? Chances are that cash will come in handy during the season. Peter Chiarelli now must gauge the signability of Ehrhoff, the desperation of the 'Hawks re: Seabrook and then proceed accordingly. At this point, I think there's a very good chance Edmonton buys out no one.
CONDORS PROJECTED OPENING NIGHT ROSTER 2015-16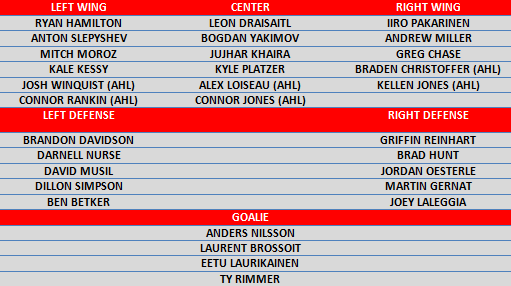 There's more than 23 men on this list but AHL rosters can expand and the extra's will be in the ECHL. I count five players on this list who are worthy of consideration for opening night NHL employment (Nurse, Reinhart, Draisaitl, Pakarinen, Miller). I count another 5 who may see NHL time this season even without injuries (Slepyshev, Yakimov, Chase, Davidson, Nilsson) and that's where we begin to see the grey area where trades can happen.
Example: Let's say Teddy Purcell is flourishing in the NHL and Andrew Miller is going the same in Bakersfield. Chiarelli will be aggressive during the year with the UFA's (Nikitin, Klinkhammer, Nikitin, Scrivens, possibly Gryba) and may be willing to take useful players with an extra year on their deals.
The AHL teams best players, for a long time now, have been guys like Matt Ford (who has been re-signed to an AHL deal by the Condors, they also signed Nick Pageau) and other AHL vets. Seems to me there are more skill forwards on this team going into the year and perhaps we'll see significant movement between the two teams for reasons beyond injury.
OUTSIDE PRO HOCKEY

I don't ordinarily post this but wanted to show you how little of this team's prospect bank is in junior, college and Europe. I think it suggests the club will be active in signing free agents in college and those graduating junior hockey after the inevitable three-for-one.