I remember watching Mitch Moroz in his draft season and thinking here was a big man with speed who could take and make a pass. It's an important distinction, that last item, keeping the string of possession alive, ensuring all pairs of skates continue to head up the ice. The last Oilers forward who was big, physical, could play on a skill line and murder the competition in several ways? Bill Guerin. Edmonton traded him at the turn of the century.
I count Luke Gazdic (seven fights in 40 games) as an enforcer but Matt Hendricks (eight fights in 71 games) counts as an actual player. Why? Well, Hendricks played 13 minutes a game last season, Gazdic seven. That's a major difference. For all of the Gazdic discussion in Edmonton each season, the man played less than 300 actual NHL minutes this past season.
I always say a player has to take and make a pass, but the truth is that all of the Oilers big forwards who qualify in this discussion can do it—the question is 'at what level?' and that's where we see clearance. A few years ago I spoke to Sean Brown (former Oiler) about his experience in Europe after his career. He loved it, saying it allowed him to play the game he loved as a kid, to be an important part of the skill components on a team. Brown's NHL role was as an enforcer and the 'hockey' portion of his NHL nights were very simple and lacked creativity.
DOES MCLELLAN USE THESE PLAYERS?
Yes. John Scott last season (seven minutes a night), Mike Brown (seven minutes a night) the year before. I think Gazdic is the right man for this role on the Oilers side but the other candidates in the system are worth considering in terms of the future.
KALE KESSY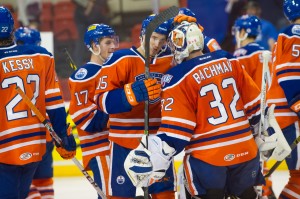 He's 22  and improved skating last TC had people in the organization excited about him. Scored six points in 17 AHL games last fall before suffering a season ending injury. Last December I ranked him No. 31 on the prospect list and wrote this:
No. 31 (44) L Kale Kessy (17GP, 3-3-6 AHL). Kessy arrived in training camp this year with an extra gear and it made a significant difference. Edmonton has a line of these players now (Gazdic, Kessy, Moroz) and I don't really have any idea which one will turn out. Craig MacTavish got plenty out of Georges Laraque and Zach Stortini in their time, I wouldn't rule out Kessy as an option down the line. Gone for the season due to injury. Source
MITCH MOROZ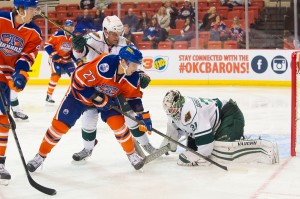 Moroz as a player in junior had a lot to recommend him. He's fast, physical, has the agitator in him and there's also a hockey player there. In his first two full junior seasons, Moroz was on the dedicated checking line and did good work. When his chance to step up to a more offensive line came, he cashed 35 goals. His five in OKC last season came in 66 games but the young man was used sparingly.
Matt Henderson: Frankly, Mitch Moroz isn't even a prospect at this point. Source
For the life of me I'll never understand why Oilers fans are so eager to flush prospects. If we can agree that the dice have no memory, is it fair to judge each prospect as a unique player? Perhaps give them more than one pro season? Factor in injury and usage? I think it is. Let's go back to draft day and an independent source.
Redline Report: Big, edgy power forward plays an in-your-face style and looks to initiate hard contact all over the ice. A feared enforcer who picked up 20 fighting majors, yet skates and handles the puck well enough to take regular shifts. Coaches eventually rotated him into the top six to give scoring lines a boost – gives smaller, skilled linemates more room to work with his physicality. Has surprising offensive tools with a heavy snap shot.
A couple of items from OKC also offer insight:
Todd Nelson on Moroz: "First year is exploration in the American Hockey League. Maybe that's hard for people to understand who don't want a lot of American League games, but it's a wake-up call for a lot of players." Source
Tend The Farm: Eric Rodgers estimates TOI for Moroz through 14 games at 6:44 per night.
He was playing better late in the year so hopefully we see a spike in performance in year two. Way too early to call him a NP and I wish we could pay heed to the words of Todd Nelson above. Moroz is not a candidate for NHL employment next season—Kessy is, in my opinion—but long term I would count him as the most promising among the current group of prospects to fill that elusive role of big, strong enforcer in the John Ferguson tradition.
@Lowetide Moroz did have a few good games in the playoffs for OKC. Played a simple, safe game.

— David Staples (@dstaples) July 15, 2015