At some point this summer, we should hear about the Edmonton Oilers and Oscar Klefbom agreeing to a multi-year deal. It's important because the price point and term impact things over the rest of the decade. If Peter Chiarelli can get Klefbom signed to something close to Jonas Brodin's deal (six years, $25 million), that represents good value for one of Edmonton's cluster players.
WHO ARE THEY?
Connor McDavid, Taylor Hall, Ryan Nugent-Hopkins, Jordan Eberle, Leon Draisaitl, Oscar Klefbom, Darnell Nurse. Fair? And if things work out as planned, Cam Talbot, Griffin Reinhart, Nail Yakupov and others can join the group. If Chiarelli can get Klefbom signed to a deal around $4.2M, Edmonton will have Hall, Nuge, Eberle, Sekera and Klefbom signed for around $27.7 million. That's vital with McDavid getting a major deal in three years and other markers coming due (Justin Schultz, Cam Talbot next summer).
THE CURRENT PRO ROSTER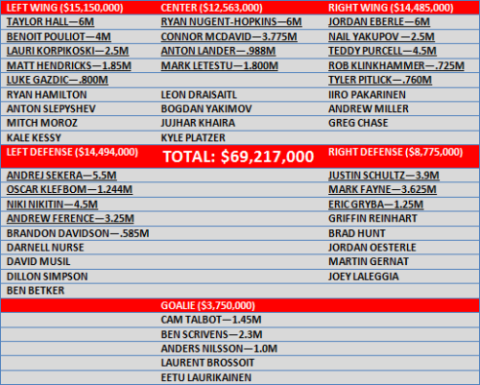 Cap is $71.4 million, Oilers have $2,183,000 in cap room.
Chiarelli has significant depth compared to MacT's rosters (or Tambellini's) across the board. There are 4 goalies, 13 defensemen and 19 forwards with at least some NHL experience.
50-MAN LIST
G Cam Talbot (Edmonton has a starter, many fans wanted a more veteran option. I like the bet)
G Ben Scrivens (Keeping Scrivens as backup is the play here. He should regress to the mean)
G Anders Nilsson (Fascinating deal made by Chiarelli, we haven't seen this kind of trade in awhile)
G Laurent Brossoit (Final year of entry deal, massive season for the young man)
G Eetu Laurikainen (Excellent bet. This is the mark of a smart team)
D Andrej Sekera (Oilers needed him badly, he's an outstanding addition)
D Mark Fayne (Should flourish under McLellan, take on bigger role on team)
D Oscar Klefbom (Talented blue, range of skills, McLellan has a real talent here)
D Justin Schultz (Training, working hard, McLellan could do wonders for him)
D Nikita Nikitin (Pressure will be on, hopefully he's healthy, back stands up all year)
D Eric Gryba (Tough, defense-first addition. Oilers clearly felt a need)
D Andrew Ference (This may be a tough year for the captain. Pressure is on)
D Brandon Davidson (Inexpensive defender, NHL option)
D Griffin Reinhart (Big, strong defender close to NHL-ready or already there)
D Darnell Nurse (I remain convinced he makes the team)
D Brad Hunt (NHL recall option depending on who is hurt/struggling)
D David Musil (Stay-at-home D continues to matriculate. I think he'll make it)
D Jordan Oesterle (He could flourish under McLellan)
D Dillon Simpson (Looking for him to move up the AHL depth chart in 15-16)
D Martin Gernat (Should ask for bigger font on his name bar in effort to get noticed)
D Ben Betker (Big, strong, pretty fast. Raw, interesting blue
D Joey Laleggia (First question: Exactly how much offense does he generate?)
C Ryan Nugent-Hopkins (How can a former No. 1 overall be a secret weapon?)
C Connor McDavid (These are the good old days. Enjoy them, even before they start)
C Anton Lander (If he can deliver a strong season, the Oilers are going to be good at C)
C Mark Letestu (Swiss Army knife will spend the season at C)
C Leon Draisaitl (He'll play in the NHL this season. How much?)
C Bogdan Yakimov (Watch the Bakersfield boxscores for Bogdan box cars)
C Jujhar Khaira (Needs to emerge as an offensive option)
C Kyle Platzer (Actual NHL players often make themselves known as AHL rookies)
L Taylor Hall (His next 80-point season could be 2015-16)
L Benoit Pouliot (MacT's best move? Probably)
L Lauri Korpikoski (I think he'll be high in the order many nights)
L Matt Hendricks (We shouldn't expect a season like last one)
L Luke Gazdic (His roster spot to lose)
L Ryan Hamilton (He'll walk the streets of Bakersfield)
L Anton Slepyshev (If things break right, he could see NHL action)
L Mitch Moroz (Plays like a Bruin, he's healthy and will get noticed)
L Kale Kessy (If that speed spike last year was no fluke, he'll be a factor)
R Jordan Eberle (Ridiculous hands, scorer's touch. Extremely valuable items)
R Nail Yakupov  (Use that hammer, Nail!) (Sorry)
R Teddy Purcell (He's like a good No. 6 hitter. End of the offense, but a good option)
R Rob Klinkhammer (Crash and bag, he can play. 12-14F)
R Tyler Pitlick (Avoid knee on knee contact Pitlick!)
R Iiro Pakarinen (There's an opening here)
R Andrew Miller (Perhaps the most skill of the bubbling under RW's)
R Greg Chase (I hope he runs over people in pre-season. A lot. Get noticed, young man)
Whl champs!! #selfie pic.twitter.com/yIrqFY2rkk

— Griffin Reinhart (@GriffinReinhart) May 13, 2014
 THE REINHART BET
I have heard the argument that Griffin Reinhart must make the team opening night or the trade was a failure and Reinhart's career as a top 4D is derailed. It's important to put this fall into context and assess a fluid situation reasonably. Consider:
There's a new coach in Edmonton
The Oilers have several established players ahead of anyone with less than one year's NHL experience (Sekera, Fayne, Klefbom, Schultz, Nikitin, Ference, Gryba).
In order for Reinhart (or Nurse, or Davidson) to force their way onto the team, the prospect has to stay healthy and play well—and the veteran must falter or suffer an injury.
The easiest thing in the world for Todd McLellan to do is send Nurse and Reinhart down, forcing them to perform at a high level and fight it out for first recall. Davidson's issue is a little different, in that he will face waivers if sent out and could be lost for a small fee. Reinhart's demotion shouldn't be considered a reflection of his career trajectory, but he needs to establish himself as an NHL player this season. Agree? I'm saying that no matter where he starts this fall, at some point Reinhart needs to play NHL games (a significant number, more than 20) and should arrive by next spring. The easy bet is Nikitin is dealt at the deadline and Reinhart is either already in the NHL or recalled, same day.
Complicating the issue? Darnell Nurse. I think he makes the team ahead of Reinhart, but there's no shame in that. I was talking to a buddy about just this point yesterday and heard (again) the thought that Reinhart has already been passed by numerous Islanders defensemen on the depth chart.
Let's look at that for a moment. Griffin Reinhart's spot on the depth chart last season was clearly behind all of Nick Leddy, Johnny Boychuk, Travis Hamonic, Thomas Hickey, Lubomir Visnovsky, Calvin De Haan, Brian Strait. The Islanders (correctly) weren't going to call Reinhart up to sit, so playing every night in the AHL was the best option.
In order for Reinhart to be passed by a prospect, we'd need to see a player selected AFTER him vault into the everyday lineup. Right? Never happened. Reinhart (a 2012 pick) and his 8 NHL games represent the latest draft pick to play in the NHL, and in fact his 8 games is more than Scott Mayfield (a 2011 selection).
I know Reinhart is a divisive figure, but am hopeful people can put aside the reasons for disliking the draft day trade (those things have nothing to do with the player) and view his progress as a prospect without bias. If Reinhart gets sent out during training camp, the hollers on this blog will be loud and long (trust me). I'd urge patience. It's a marathon not a sprint, and many of you loved the addition of Bob Green not so very long ago.
What's changed? Nothing. Nothing beyond the Oilers now having three defensive bets (Klefbom, Reinhart, Nurse) from three first rounds (2011, 2012, 2013) with draft pedigree and what looks like a very good future.
LOWDOWN WITH LOWETIDE
At 10 this morning, TSN1260. Scheduled to appear:
Steve Lansky, Big Mouth Sports. I can't wait to talk about Lou! Lansky will have a great take I'm sure. We'll also talk PanAm Games and Blue Jays trade deadline.
Antony Bent, FC Edmonton. A big weekend for the Eddies, and a chance to be in attendance for the first Woodall Cup.
Jeff Chapman, Copper and Blue. There are some outstanding free agents still available, and the Oilers could use one or two. Or three! We'll talk to Jeff about an unusual NHL summer.
10-1260 text, @Lowetide twitter. Talk soon!