The trade for Teddy Purcell was a classic case of "I'll trade you my problem for your problem" which is often followed by a fresh coat of paint, two months to allow it to dry, and some spackle. It helps, it really does. Example: How many times in the last year, since the trade, have you thought about the deal MacT gave Sam Gagner? Point made.
TEDDY PURCELL 13-14
5×5 points per 60: 1.37 (7th among regular forwards)

5×4 points per 60: 3.34 (7th among regular forwards)

Qual Comp: 6th toughest among regular forwards (second-line opp)

Qual Team: 4th best teammates among regular forwards (second-line teammates)

Corsi Rel: 8.9 (best among regular forwards)

Corsi for % 5×5: 53.6

Corsi for % Rel 5×5: +3.5

Zone Start: 56.2% (2nd easiest among regular forwards)

Zone Finish: 52.0% (2nd best among regular forwards)

Shots on goal/percentage: 157/7.64%

Boxcars: 81, 12-30-42
TEDDY PURCELL 14-15
5×5 points per 60: 1.20 (7th among regular forwards)

5×4 points per 60: 3.91 (2nd among regular forwards)

Qual Comp: 6th toughest among regular forwards (second-line opp)

Qual Team: 8th best teammates among regular forwards (third-line teammates)

Corsi Rel: 4.4

Corsi for % 5×5: 49.2

Zone Start: 58.7%

Zone Finish: 53.8%

Shots on goal/percentage: 146/8.2%

Boxcars: 82, 12-22-34
VOLLMAN SLEDGEHAMMER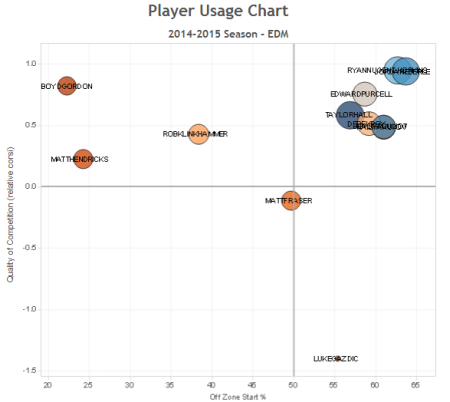 RE 14-15 REVIEW

RE 15-16: 81GP, 12-27-39 .481
Was it was a good season? He was just a hair below true blue on the Vollman but that's a decent color for a veteran on a ghastly team. You're not going to get $4.5M value but that was known going in. If you ask 'did he perform more effectively than Sam Gagner would have?' the answer is yes.
Sam Gagner had a better year. Gagner was better 5×5 (1.41) but less effective (2.84) with the man advantage.
Purcell got a big ZS push. Everyone but the Gordon line did, so that's not really news.
Shouldn't he deliver more EV offense with that ZS push though? Yes, I'd say that's a weakness for sure. He played a lot with Derek Roy and Nail Yakupov and didn't post a lot of offense. Very productive with Boyd Gordon believe it or not, David Perron before he left.
Maybe it was slow guys sticking together? Ah, well, I don't really think so. Gordon isn't a fab offensive player, suspect it's just random luck that Purcell's 5×5/60 with Gordon was 2.52.
What is he good at? Power play, puck skills, he's terrific with the puck. A very nice player in that area, I like him more than I thought I would—sometimes that happens when a veteran comes over.
Who was your favorite veteran acquisition over the years? Tony Perez. Reds dealt him to the Expos one winter they were looking for pitching and man that guy could swing the lumber.
No, you knob. Oilers acquisition? Chris Pronger. I loved him.
You're depressing. Well, things are looking up!
Purcell won't be here when the good times roll. You don't know that. He's training this summer and that tells me Purcell feels there's an opportunity here. If he can spend time in the top 6F on this team, the boxcars will get him another contract. Who knows? Edmonton might bring him back.
What about Yakupov? What about Yakupov?
I can't believe you Jones'd him. Ass. Look, we're through Nail's entry-level deal and this team has two more forwards with massive draft pedigree knocking on the door. I'm all-in on the Russian, want him to be a feature player, but I have to tell you this is reasonable expectations and all the kids with questions are getting docked RE, based on the new coach coming in.
Yeah, but Yak is better than Purcell? Then he'll show it and we'll both be happy. As it is, it's always wise to assume the veteran coach will prefer the veteran over the youngster until the gap is obvious and consistently obvious. Nail may or may not be there, we'll see in the winter time.
What about Leon? I think Draisaitl is going to make it very difficult on McLellan. Sending down a player who offers you a range of skills plus size is a tough thing to do. I think in some ways Leon will be more intriguing to the coach than Nail. The German has a lot of things that are going to be extremely useful 5×4 and that's McLellan's wheelhouse.

Who do you like among the wingers outside the NHL? In order of NHL impact 2015-16. Among offensive wingers

. Iiro Pakarinen, Anton Slepyshev, Andrew Miller, Greg Chase, Josh Winquist, Connor Rankin, Braden Christoffer.
Pakarinen over Slepy? For now, Iiro ripped up the AHL, we haven't seen that from the Russian yet.
Ideally, who does Purcell play with? The difficulty in projecting the RW's is Jordan Eberle is the best fit for both the McDavid and Nuge lines. So, I think 14 gets time with both, leaving Purcell as the No. 2 man unless Nail, Leon or Korpikoski can push ahead of the veteran. The RE bet is that Purcell wins the day more often than the others but this could be a season-long item.
Any chance a Pakarinen steps in? Sure, or Slepyshev, absolutely. I think that would be more likely in McLellan's second camp and Purcell can put this all to rest by having an effective season—it's his job right now.
You seem pretty sure of Purcell He's 29 and in the walk year of his deal. The $4.5M pay days are coming to an end—the cap crunch and more money spent on elite talents will take care of that—and he needs a strong season to ensure future employment.
Will McLellan prefer a different player-type? He might, that's why I have a keen interest in Pakarinen this fall. If McLellan wants a rugged winger and more speed, then it's possible we see Leon in the minors plus a 3line with Purcell AND Yakupov on the wings. I don't think it's terribly likely but a more rugged option might be the coach's decision.
Like a Troy Brouwer or a Joel Ward? I think someone with grit but also faster. One of the things Purcell doesn't bring is a lot of speed, suspect the club wants to have (eventually) six fast trains on the top two lines. I've mentioned Curtis Glencross a few times, if he still has his speed that might be an answer.
Last time: Do you honestly expect Todd McLellan to play Teddy Purcell ahead of Nail Yakupov? Yes. That's the bet here.
I think you're wrong. I hope I'm wrong, but last time I saw Nail he was still an adventure and the veteran C assigned to him wasn't signed. Now the team has Connor McDavid (and Leon Draisaitl) and Yak has the look of Magnus Paajarvin in about 2011 fall.
Bad timing, that's all? Yes. Yes.
Why this song for Purcell? As soon as I started thinking about this series, "London is drowning and I live by the river" clicked as a perfect line for a player who could be looking at professional extinction. If the Thames floods, London drowns. That's why Purcell is working with Gary Roberts instead of lying in the sun—he's trying to stay ahead of these blasted Pakarinen's and their damnable youth. I think he finds a way to hold back the water, this season. He could outlast the Russian if he finds chem with one of the top two pairs up front.