Eric Rodgers has been a guest on the Lowdown many times over the years, and his insight about Oilers prospects in OKC has been invaluable. Along with Neal Livingston and Patricia Teter (plus Jim Byers in the early years), we were able to put together thumbnail sketches of youngsters and their progress.
Rodgers' work extends to the very interesting work of estimating ice-times based on who is on the ice when goals occur. Using goal tallies as a proxy for icetime goes back some time, with the brilliant Iain Fyffe leading the work I've found online for 15 years and more. Eric was kind enough to pass along his estimates for this past season and I thank him for it. I'll be speaking to him next week on the subject and will update when we suss out date and time. Now. The good stuff!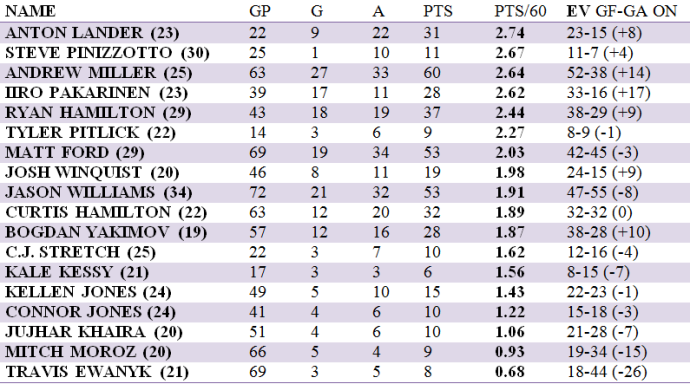 Anton Lander: No surprise, we've known he is overqualified for the AHL for some time. Edmonton's Euros didn't do well in Oklahoma City, but I honestly think it had nothing to do with the Euro's or Oklahoma City.
Steve Pinizzotto: The most successful of the older players who were not prospects. It's interesting to see the large number of at-bats this group eats up.
Andrew Miller: He's an older player but definitely a prospect. I think the development minutes devoted to him have real value and we could see him in the NHL next year.
Iiro Pakarinen: He had an outstanding run in OKC, these numbers are fantastic. Pakarinen isn't regarded as a rookie by the AHL but this was his first season in North America and he performed very well. I like his future. He scored 13 even-strength goals in 39 games. Nice.
Ryan Hamilton: Veteran winger to mentor the youth, he played more in the NHL last season than expected. Foot speed is the issue, we'll see if he gets playing time in 2015-16 at the NHL level.
Tyler Pitlick: This is probably his high water mark as an AHL scorer. Pitlick's offense didn't come with him to pro hockey but he's probably going to get a chance to make the NHL (and stay healthy) again.
Matt Ford: One of several veterans who serve as replacements for prospects who are either in the NHL, injured, or underperforming. Edmonton has a few of these each season, making sure the kids don't get overwhelmed. OR they rob kids of at-bats, depending on your point of view. There's probably a reasonable explanation in the middle there, too.
Josh Winquist: The young man doesn't have an NHL contract but he was the highest performing 20-year old on the Barons last season. I hope he spikes this coming year and is rewarded with an NHL deal. He's better than several signed guys, no question.
Jason Williams: Veteran was brought in to mentor the yutes and based on Rodgers' estimated he took a LOT of at-bats away from the kids while doing so (over 1600 minutes estimated TOI).
Curtis Hamilton: He enjoyed his best pro season but there's not enough here to merit another contract (and the Oilers clearly agree). I hope he catches on somewhere and has a career.
Bogdan Yakimov: We know (courtesy Eric) Yakimov didn't get the big minutes until Lander hit big lights, big city. One hopes he'll get the TOI spike in year two.
C.J. Stretch: Seems to get a little playing time every year, he is a little shy offensively and the club could probably afford to give these minutes to a real prospect.
Kale Kessy: He scores pretty well for his player-type, definitely a prospect to watch next season. Remember, enforcers aren't expected to post substantial offense (don't blame me, that's just a fact).
Kellen and Connor Jones: Good pro's, fabulous penalty killers. I hope they have long pro careers.
Jujhar Khaira: The offense is a little better than I imagined, as he simply didn't play that much a year ago. Edmonton needs to commit to these players or not bother signing them. In the case of Khaira, I'd like to see him get a full season with significant minutes.
Mitch Moroz: Like Khaira, we really didn't get to see a full season of at-bats. Moroz had some health issues before training camp and that may have derailed his year. I'm hopeful we see a stronger year in 2015-16. Rodgers numbers suggest he was short of 600 minutes in 66 games.
Travis Ewanyk: Off to Ottawa, we pegged Mr. Ewanyk as a player who would find scoring at the pro level a real challenge. I'll be very interested to see what happens in Ottawa, they have developed some insane specialty players like Erik Condra.
In reading Supernova's work, it's interesting to see how many NHL teams employ significant numbers of AHL veterans to provide cover for the kids, while mentoring them. In Edmonton's case, the forward group seems to have many more of this player type than the blue. If we count Ryan Hamilton, Jason Williams, Matt Ford and Steve Pinizzotto as veterans, that's 209 man games over the year—and these are feature roles. The AHL schedule is 76 games, so OKC basically employed an ENTIRE skill line of AHL veterans (76 times 3=228 games) in 2015-16. I think that qualifies as excessive.
Using Rodgers' numbers (I have not published the TOI totals out of respect for Eric, when he publishes I will link) the TOI estimates are even more stark. Williams, Ford, Hamilton and Pinizzotto total an estimated 4,385 minutes based on Rodgers ciphering. If we multiply the three forward positions by 60 minutes (OT not included here, no idea how to estimate) and 76 games, we get 13,680 minutes of playing time. The veterans listed above occupy 32% of the available ice time, creating an even more stark viewpoint on the veteran/prospect issue. Even if we add 300 more minutes for OT, it's still over 30%. And of course these are prime minutes, very dire.

Oscar Klefbom: It's uncertain how much of Klefbom's actual value will come from offense, but in a nine-game run he certainly gave us an indication it'll be more than zero. Such a mobile young player, great ability to close gaps in a heartbeat.
Brad Hunt: He played a pile of minutes (1,600 based on Rodgers' estimates) and delivered good offense. The Oilers have other options for the PP (Oesterle, Laleggia) so that might be a veteran/prospect TOI issue for the coming year.
Jordan Oesterle: I liked his quick look-see in the NHL and he has some nice offensive potential. He's very much in the conversation in terms of 'two-way' ability. I hope he gets plenty of icetime in all three disciplines for the coming year.
Dillon Simpson: Rodgers estimates he played over 1,100 minutes and that's very encouraging. I know that EV GF-GA ON has a lot of issues (team stat for sure) but it's also encouraging to see him in the black. Based on TOI per game, he was ahead of David Musil, Martin Gernat and a few others. A nicer season than I thought based on this look behind the scenes.
Martin Marincin: The Oilers hermetically sealed him off over (I think) conditioning and he could never get himself out of the doghouse. It's best for everyone that he moved along but once again an opportunity missed with a talented European.
C.J. Ludwig: He didn't show a tremendous amount but there's enough here for us to include him in the discussion. I absolutely love the Oilers policy of signing college free agents both inside (Oesterle) and outside (Ludwig) the top 50. It's a great idea, although imo the Oilers missed an opportunity with Winquist and they are somewhat vulnerable because of it.
David Musil: He played less than Simpson based on the estimates, that's something to watch for moving forward (Simpson was a rookie pro and 2014-15 was Musil's second AHL season). He's a shutdown type who will no doubt spend much of his career in his own zone (PK, etc) but he's tracking like an NHL career is possible.
Martin Gernat: A tough season for Gernat, as he was caught up in the conditioning sweep that sewered Marincin's Oiler career. I imagine he'll head back to Europe in the next 12 months and be a productive player in a good league. Too bad, he showed great progress leading up to this year, including a solid AHL rookie year in 2013-14.
Brandon Davidson: Second in TOI/game estimate behind Brad Hunt and his +10 GF-GA ON number at evens is very heartening. I don't know if he plays 500 NHL games but there's a window of opportunity here where Davidson might get an NHL chance. His points-per-60 is low but remember we're not breaking this down to EV/PP/PK. In his NHL games, I've been impressed with mobility and strength—this man's been working.
I'm counting only Brad Hunt as a veteran and the rest are prospects (Ludwig was 24 last season). Hunt's 62 games represent 13.5% of the overall blue games available (veteran forwards occupied 22.9% of the forward wall). His estimated 1,600 minutes represents 17.5% (sans OT minutes) of the overall total, compared to 32% of the forward inventory.
The Oilers have an issue with veteran forwards robbing prospects of playing time at the AHL level. We knew this, Eric Rodgers information brings the issue into sharper view. I thank him for it.
Note: I will publish TOI estimates at a later time, and will do a post for 'prospects' like Platzer, Laleggia and others in the next few days.
Second Note: Brock Otten's Oilers look is up at OHL Prospects.