Peter Chiarelli added three defensemen into the Oilers mix during one week in June and sent away another. The top end received a badly needed (and quality) addition, while the depth pairing received a ruffian (Gryba) over a young coverage player with a massive wingspan (Marincin). Chiarelli also added Griffin Reinhart, who will look to become one of three (Nurse, Klefbom, Reinhart) cornerstone blue liners for the next decade.
SEKERA'S LA VOLLMAN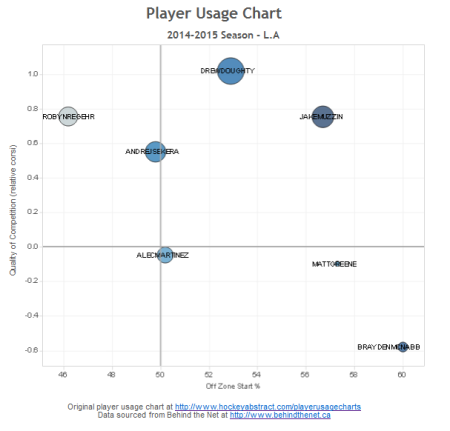 Peter Chiarelli on Andrej Sekera: "He's a real versatile D. Very strong. He could play in our top pair if need be. You'd like to spread it out so he could be a

lynchpin in the second pair

. Plays both sides. Played most of the year on the left but when he was traded he went to his right. Plays first or second powerplay, probably natural on the second pair. Lot of options with him. With him it's about versatility, he's very strong, he's just a solid player who has good sense with the puck, he can play a lot of positions, he can defend and he can push the puck."
Sekera is in a very good spot on the Vollman and his ability to play both sides and really anywhere in the top 4D is another interesting feature. I see him as a top pairing defender with the Oilers, and suspect his possible partners include Mark Fayne, Oscar Klefbom and Niki Nikitin.
KLEFBOM, SEKERA TOP PAIR?
Marc-Edouard Vlasic was playing in a super tough role before Todd McLellan arrived in San Jose. Vlasic was 20 when he entered the fire and performed well in the tough minutes job. He had about as much NHL experience as Oscar Klefbom does today. Now, you're going to tell me that Klefbom isn't Vlasic, but you'll have to admit the young Swede has a dynamite skill set, is an intelligent player, and can win battles plus move the puck effectively. Among current Oilers blue, he's the closest I can find to 'bona fide top pairing option' to put with Sekera.
VLASIC'S AGE 21 VOLLMAN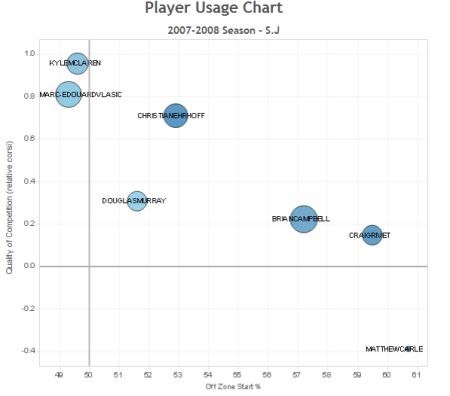 This is Vlasic at 21. What color will Klefbom's Vollman be if he plays that role? He was handled far differently a year ago, suspect the 'Schultz push' belongs to another for 2015-16. The Oilers (I blame Dellow, who is coming up on a one year anniversary, I think hockey's one year anniversary gift is rubber) figured out how to deploy Schultz last season (massive Ozone starts) and it paid dividends. In Justin Schultz' three NHL seasons, his primary partner had a Corsi 5×5 For % of 45.4 (Nick Schultz, 12-13), 42.1 (Andrew Ference 13-14) and 51.4% (Oscar Klefbom, 14-15) when on the ice with him. Zone starts helped that pairing in a big way, Schultz likely gets them again but my opinion is that he'll do it with another partner.
NIKITIN and SCHULTZ?
Peter Chiarelli on the defensive depth chart: "We were fortunate to get some things done at the draft which took some of the urgency away. Now we have nine D, I'd rather have nine than five. That creates competition.You can carry eight D. It depends on what happens in the next little while, and maybe it ends up in camp."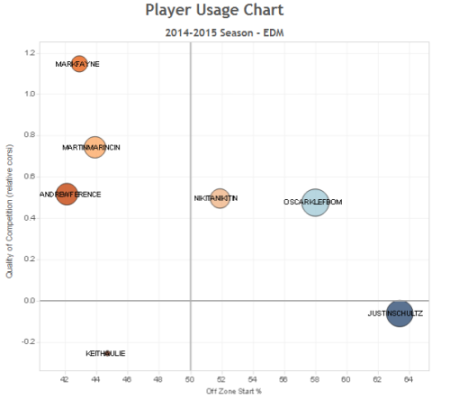 Todd McLellan plays veterans on defense. This shouldn't come as news, coaches have been doing it exactly forever. As a rookie coach, TMac ran the hell out of 38-year old Rob Blake and played Douglas Murray in 75 games, Brad Lukowich in 58. I suspect Niki Nikitin will get full blow when it comes to opportunities (the man is making $4.5M and they didn't buy him out, this is no mystery) and if McLellan is going to give NN his best chance to succeed this is it. Ozone push, Justin Schultz his partner. I give it less than 40 games. Why? Injury, plus there are fast trains coming.
FERENCE/REINHART with FAYNE
Peter Chiarelli on Griffin Reinhart: "I expect him to be in the opening day roster. His size, his strength, his head, his sense, his skating—despite what people say—is what we want in a big anchor defenceman. This kid's a player, so he's going to find his way. When? Hopefully sooner than later."
I think we should be fully prepared for the Oilers to carry eight defensemen to start the year, with Griffin Reinhart and Eric Gryba in the pressbox opening night. Ference is still here and he's the captain, so unless there's an injury he's going to play. Fayne should play more this season, but I really like him as a third-pairing anchor and mentor to young Reinhart (and Nurse when he arrives). If he's on the third pairing, it gives Edmonton two options nightly for tough zone starts.
NURSE!
In my RE numbers for Oilers defensemen (we won't see the blue show up for another week or more, still some forwards to go) Darnell Nurse plays 50 games. I have Andrew Ference and Niki Nikitin moving out (either by trade or injury) and wouldn't count out an Atlantic crossing mid-season for the Russian. Todd McLellan is going to see the mobility available to him in Nurse and begin agitating for his recall, possibly as early as opening night. McLellan likes his veterans but Ference's skills have eroded badly (based on the two seasons we've seen him, that's substantial evidence) and Nikitin's back means tomorrow is a mystery. Youth shall be served. It's my bet the transition begins before Christmas.
OPENING NIGHT PROJECTIONS
Klefbom—Sekera
Nikitin—Schultz
Ference—Fayne
(Reinhart and Gryba in the pressbox)
CLOSING NIGHT PROJECTIONS
Klefbom—Sekera
Nurse—Schultz
Reinhart—Fayne
(Gryba, Ference in the pressbox)