The 2011 NHL draft looks like it might be a watershed for the Edmonton Oilers. Ryan Nugent-Hopkins and Oscar Klefbom are already helping at the NHL level and appear to have exceptional futures. David Musil and Dillon Simpson are bubbling under (and Tobias Rieder is in Arizona playing well. Kale Kessy, also form that 2011 draft, is in the Oilers system). Calgary selection Laurent Brossoit is trending well enough to be Edmonton's No. 1 goaltending prospect and Finn Iiro Pakarinen is pushing for NHL employment after a fantastic 2014-15 debut in the Oilers organization.
ERIC RODGERS' LOOK AT OKC FORWARDS 2014-15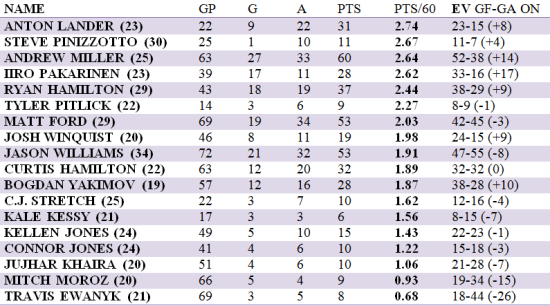 Pakarinen is among the most promising forwards in the system, and at 23 he has enough time to establish himself with the Oilers and have a career. The addition of Todd McLellan to the coaching staff should help Pakarinen, as his speed and aggressive playing style are things the new coach will be looking for in Edmonton's NHL-ready prospects. He is a sturdy winger (6.01, 205) who can play a rugged game. Has enough skill to play with good forwards but not so much skill that he'd be a waste as a checker.
IIRO PAKARINEN BAKERSFIELD 15-16 RE: 50GP, 20-22-42 .840
IIRO PAKARINEN 2015-16 RE: 20GP, 3-4-7 .350
What role will he play in Bakersfield? Scoring winger. I think Pakarinen and Andrew Miller have a chance here, it's going to be an interesting race. There IS an NHL job—value contract and skill winger who can play up and down the lineup—and both appear well qualified.
What has changed since he signed? In the last season on RW, we've seen another year of Nail Yakupov not grabbing an NHL job, and Teddy Purcell is a year older. One of the biggest changes is Pakarinen, who has passed several prospects who were ahead of him on the day he signed.
What does he need to work on? Defensive play, although his aggressiveness is probably going to come in handy in the McLellan system. His skills set up really well for McLellan, this is a significant opportunity for the young man.
What is the best thing about him? After years of watching Oilers prospects from the farm step into their NHL debut like a deer in the headlights, Pakarinen hit the gap like a bat out of hell and hasn't looked back since. He's in a helluva hurry, that's a good thing.
What one thing will get him to the NHL? There's more than one thing, but speed, physical play and aggression are at the top of the charts.
What one thing will keep him from the NHL? I'm not sure the young man can score enough to beat out the oncoming rush. Remember, there's the established wingers (Eberle, Purcell), the No. 1 overall (Yakupov) and then 10 miles of prospects from Tyler Pitlick to Andrew Miller to Anton Slepyshev and on it goes.
In terms of talent, who would be his No. 1 roadblock among RW prospects? Leon Draisaitl. No doubt. Leon would be a substantial roadblock to all these prospects if he gains traction on RW. He could threaten all but Jordan Eberle for available playing time.