For modern fans, a lot of the mystery is taken out of prospect watching. We see these kids as teenagers a dozen or more times and have an idea about what makes them good and special. I kind of miss the old days, when the legend could build and the anticipation had a chance to do the same. Andrew Miller was a delight, because I didn't know he was so fast and had so much skill. It was a fantastic surprise.
ANDREW MILLER 14-15
5×5 points per 60: 1.47
5×4 points per 60: 0.00
Qual Comp: 16th toughest competition among all forwards (fourth line)
Qual Team: 4th best teammates among all forwards (second line)
Corsi for 5×5 %: 46.2%
Corsi for 5×5 % REL: -10.5
Zone Start: 42.4%
Shots on goal/percentage: 14 shots/7.1%
Boxcars: 9GP, 1-5-6 .667
VOLLMAN SLEDGEHAMMER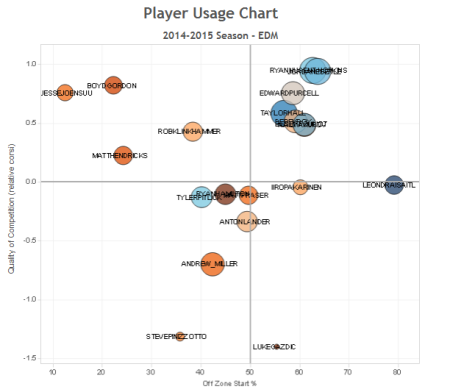 RE 15-16: 26GP, 3-6-9 .346
How hard was it to find a punk song for a Yale grad? Exhausting.
Is he really fast? Much faster than I thought he'd be, Miller can keep up with the skill guys and that's important.
Who did he play with? Anton Lander and Taylor Hall were his most common linemates. Small sample size alert, but he did score 2.07/60 at 5×5 with Taylor Hall.
He had five EV points and a 1.47/60 overall? Yes. One of his points was a penalty shot goal. 5.25/60 at 5×5 with Keith Aulie. Small sample sizes are like LSD (or so I've heard).
What did the original scouting reports say? Corey Pronman: The 24 year old center is a classic small, skilled college player. Miller displays above-average qualities in terms of his speed, puck skills and overall offensive instincts. In his Senior season especially he showed the ability to consistently create scoring chances and keep the play flowing in the right direction.
Where is he on the depth chart? I have him starting in the AHL but as you can see getting significant NHL time.
Is he waiver eligible? I believe he qualifies for waivers under article 13 13.4-13.4 (section D).
So they could lose him? Sure, but he's not a famous player and every team has someone like him. A year from now he might be a bigger part of the team but I expect he'd clear this fall.
Oilers are doing more college work since Bob Green took over. Yes. Agreed.
Who have the Oilers signed via college free-agency in recent seasons?

March 8, 2011: Oilers sign Taylor Fedun from Princeton. (11 NHL games).
March 19, 2011: Oilers sign Tanner House from Maine.
March 31, 2011: Oilers sign Hunter Tremblay from University of New Brunswick.
April 4, 2011: Oilers sign Mark Arcobello from Stockton (via Yale). (119 NHL games).
July 1, 2012: Oilers sign Justin Schultz from Wisconsin. (203 NHL games)
April 17, 2013: Oilers sign Andrew Miller from Yale. (9 NHL games)
April 1, 2014: Oilers sign Jordan Oesterle from Western Michigan. (6 NHL games)

College guys seem to like Edmonton. I spoke to Tom Lynn on the Lowdown in the winter, he told me the number one thing college kids are looking for in signing with an NHL team is opportunity. Lynn said a team (like Edmonton) that gives opportunities (and NHL minutes) to college free agents after signing them gets noticed and the agent (ahem, adviser) uses that when discussing destinations. Bottom line: Andrew Miller's success bodes well for Edmonton in the next free-agent negotiations.
Can Miller replace Arcobello? I think Marcobello has more range—he's a center, more responsible defensively—but Miller has some nice things, too. Great passer, can play with skill. Speed.
How many skill RW's are ahead of him to start camp? I'll say Eberle, Purcell, Yakupov and if Leon moves over that's going to be a tough hurdle.
You have him ahead of Pakarinen and Slepyshev? I have him ahead of Pakarinen, but it's close. Slepyshev is listed as a LW so I have him there. If the Russian were a RW, I'd have Miller ahead for now but things could change in TC.
I sense you've bumped Miller and Pakarinen since McLellan arrived. McLellan is a big 'you have to get to places' coach from my observation, his teams are fast and aggressive. Miller is listed at 5.10, 181 by the AHL website, which is small but McLellan does employ these player types (Matt Nieto is basically the same size) because they're fast and can pass plus forecheck like demons. That's why I think these men have a chance.
Who would he play with? That's the beauty of a skilled winger who can play up and down the lineup. He could play with Hall—McDavid. Pouliot—Nuge, Purcell—Lander, Korpikoski—Letestu, and he'd probably be brilliant with Leon Draisaitl.
Would he play with Leon in Bakersfield? That's a strong possibility. I think Slepyshev—LD—Miller or R.Hamilton—LD—Pakarinen are the most likely combinations.
What will he do in Bakersfield? Point-per-game, thereabouts, maybe more. He's (imo) bona fide now, a made man. Miller is in that window of development where he's AAAA, overqualified for the AHL and not yet an NHL player. He's proven he can flourish in the AHL and now needs an opportunity.
How often do these kids get an opportunity? They honestly usually do get it. NHL teams usually value a prospect enough to give them some NHL games. Toni Rajala is a recent negative example, but he got lost in the flood of MacT assuming everything was wrong in the system. It happens a lot when teams change over, that's why really good players sometimes shake loose for free. Bad organizations.
Example? Charlie Simmer.
Example from this century? Patrick Sharp.
Why this song? Talking Heads are perfect for a roster with uncertainty, because nothing is exactly as it appears. The character in the song is looking for 'home' and it's definitely a love song. However, it includes the lines "guess I must be having fun" and "the less we say about it the better" and "Home is where I want to be, but I guess I'm already there" so it's not exactly perfect. It's like if my Grandpa wrote a love song, with help from Louis L'Amour. It's that damned David Byrne! No one gets to enjoy themselves!