Todd McLellan ran his San Jose Sharks' forwards in a very interesting manner. I can't suss out exactly what he did (or why) but there were long periods where he had three offensive lines centered by Thornton, Pavelski and Couture. When he did it, the Sharks absolutely spanked opponents. McLellan moved away from that during curious times and didn't seem to have the same success, and the only thing I can think of is injury (anyone?). However, the Edmonton Oilers offer an interesting opportunity in the area of 'three offensive centers' and it's possible—if not this season, maybe next—we see the unicorn called three scoring lines in our town.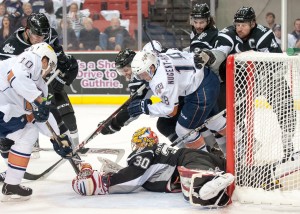 Darryl Sutter: "The big thing in today's game is you have to be able forecheck and backcheck, and you have to have the puck. You can't give the puck up. We don't play in our zone, so there's not much defending.  I've coached in three decades now and this stuff where they said Marian had to play in Jacques's system is a bunch of bull-crap. The game's changed. They think there's defending in today's game. Nah, it's how much you have the puck. Teams that play around in their own zone think they're defending but they're generally getting scored on or taking face-offs and they need a goalie to stand on his head if that's the way they play."
I think Todd McLellan believes in possession and his teams usually do well in that department. The three center, three scoring-line solution is fascinating because, honestly, it's possible. If McLellan decided to use Nuge, McDavid and Leon in a similar fashion to his big three in San Jose, this Oilers offense might take off in a hurry. Nuge could run with pretty much any skilled winger set, but McDavid and Leon might need a second center (McLellan likes that) for the other two, bringing Anton Lander and Mark Letestu into play.
For the RE, I decided to have the lines go like this:
Hall—McDavid—Eberle
Pouliot—Nuge—Purcell
Draisaitl—Lander—Yakupov
Korpikoski—Letestu—Hendricks
Leon doesn't make the NHL until mid-season, but that's my lineup. I understand the idea of splitting up McDavid and Hall, but for me the two toughest men to defend in 2015-16 will be Taylor Hall and Ryan Nugent-Hopkins. The Oilers have to get lucky here on the Purcell front, but if they can find a way to protect both McDavid (Hall-Eberle) and Leon (Lander-Letestu), then maybe, MAYBE, we can look at three scoring lines after Christmas. Thoughts?
COMPLETE 2015-16 FORWARDS RE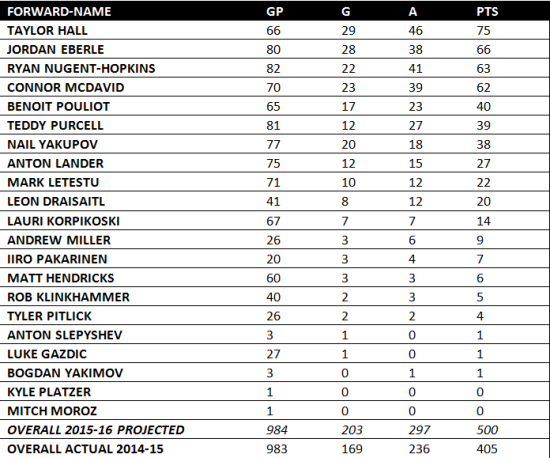 A substantial part of the increase for the forwards this season comes from running four F's on the McLellan PP. It's also true that the new coach has had a lot of offensive success, so that's included here as well. I'll finish up the forwards this weekend, and plan to have a Craig MacTavish post up tomorrow (we'll see if I get to it today) and then the defense will start on Monday. A few items that came up during the series:
Hall's PPG total at 1.14. Hall actually has seasons of 1.11 and 1.07, for me this projection is reasonable. It'll be fun to see if he can hit it.
McDavid's projection was the subject of much verbal from readers. It's tough to project such a talented player and I did indeed look at past special players in the post-Crosby era. If I'm wrong, that's very good.
Much conversation about Letestu on the power play, but for me this is 'reasonable' expectations and since ML didn't play a massive amount on last year's 5×4—and there are superior players on the team—it seems a stretch. Nuge at C on the 1PP and Lander at C on the 2PP seems a better bet from here.
Lack of scoring from the 4line. In looking at McLellan's San Jose teams, he seems to push his top men and the 4line is little more than an empty chair. That may have been part of the postseason issue, but I've aligned the 2015-16 Oilers to reflect McLellan's previous team. Don't expect much offense from Letestu unless he's on one of the top three lines, and the offense above comes from trips up the batting order.
BLUE BLUE WINDOW BEHIND THE SUN
OPENING NIGHT PROJECTIONS
Klefbom—Sekera
Nikitin—Schultz
Ference—Fayne
(Reinhart and Gryba in the pressbox)
CLOSING NIGHT PROJECTIONS
Klefbom—Sekera
Nurse—Schultz
Reinhart—Fayne
(Gryba, Ference in the pressbox)
I believe this will be a huge season for Oscar Klefbom and Darnell Nurse, and that will be reflected in the RE. More Monday.
LOWDOWN WITH LOWETIDE
A busy morning, 10 o'clock on TSN1260. Scheduled to appear:
Steve Lansky, Big Mouth Sports. Blue Jays rocking Canada!
Eric Rodgers, Tend the Farm. TOI estimates and which Barons does he see having NHL careers.
Judson Richards – Host Pre/Post Game Shows on Fox Sports San Diego Radio. Chargers! Can Dan Fouts keep it going?
Antony Bent. Eddies with a big win this week, road game this weekend.
Dan Tencer. Dan is sitting in for Dave Jamieson today, we'll talk about the Eskimos fourth quarter Oilering.
10-1260 text @Lowetide on twitter. See you on the radio!