Brad Hunt is all about the lumber and not a thing about the leather. For a defenseman, that's bad, real bad, and it will probably cost him a long and productive NHL career. He has two main issues moving forward as an Oilers farmhand:
Starting this fall, Edmonton will have Darnell Nurse, Griffin Reinhart and a large group of younger men pushing for NHL employment.
Starting this fall, Edmonton will have Joey Laleggia—a very similar talent offensively—starting his pro career.
In preparing for this year's RE series, I was struck the by the enormous number of prospect defensemen. Normally the Oilers have seven NHL guys, five minor leaguers who may emerge but probably won't and then some minor league sorts. This year? ONE minor league defender (Nick Pageau) compared to seven minor league forwards (Matt Ford, Phil McRae, Josh Winquist, Marco Roy, Alexis Loiseau, Connor Rankin, Braden Christoffer) and one goaler (Ty Rimmer).
The reason of course is all those 2011 defensive draft picks (Oscar Klefbom, David Musil, Dillon Simpson, Martin Gernat) are occupying roster spots in Edmonton and Bakersfield. I think Gernat may get the old in-and-out at some point but so far it appears he'll be here in the fall to compete with the others.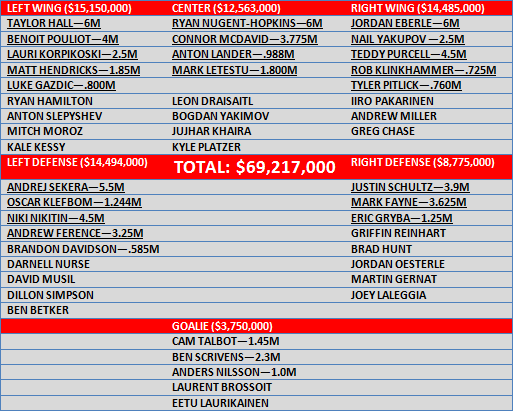 I don't think Brad Hunt makes it through the year. I suspect Peter Chiarelli will trade him in a "Ryan Martindale for Steve Pinizzotto" type deal to address need. We shouldn't expect much, maybe Rob Flick, but Brad Hunt is going to be taking at-bats from prospects from opening night until he's traded. He played a pile of minutes (1,600 based on Eric Rodgers' estimates) and delivered good offense.
THE OFFENSE

Brad Hunt is pure madness offensively in the AHL. It's clear he belongs in a higher league but the question is, which one? He's an adventure defensively but the offensive potential is exceptional. His NHLE for his AHL career so far is 82GP, 9-20-29 . That's very good for a defenseman and this year he was scoring at even strength too. Brad Hunt is an elite-level offensive talent in the AHL, I'm comfortable with stating it as fact. It doesn't mean he's going to be an NHL player, though. I don't think he makes the grade because of his inability to skate and be effective defensively. The one thing that could happen? Hunt grabs the No. 8 and final defensive spot over Brandon Davidson or other and is used as a specialty player on the 5×4. I think it highly unlikely and have not projected NHL numbers for Hunt this season. I don't believe he'll be in the organization in 2016-17.