The hardest thing to do is score goals, and as long as Josh Winquist can impact the scoreboard at the AHL level (or higher), he's going to make a good living. Although he went undrafted, Winquist hit the ground running as a minor league signing and had a fine year in Bakersfield and Oklahoma City.
Recently, Eric Rodgers from "Tend the Farm" posted time-on-ice estimates and from that information it allowed us to have a better look at each player and their probable contributions per 60 minutes.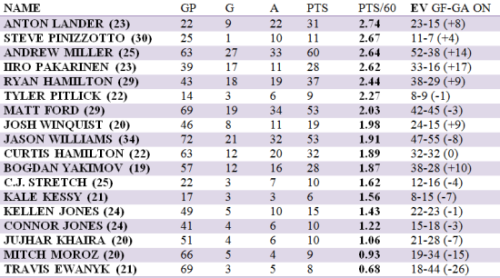 Winquist ranked No. 5 among regular wingers on the list and No. 3 among wingers who are actual prospects. He began 2014-15 in the ECHL (where he went 18GP, 5-18-23 before getting called to the AHL) and then delivered 19 points in just over half a season with the Barons.
One of the reasons he progressed? Winquist talked about his goals early in the year, while still in the ECHL:
Winquist: "My goal is to do what I did last year but just in this league and (ultimately) get called up. (They say to) do the things that got you here. If you're a skill guy then play skilled, or if you're physical then play physical. They just try to get you to play your own game but help you with little things and give you tips here and there to improve." Source

He didn't receive a contract from the Oilers and signed an AHL deal for the second year in a row. There's an opening here, but Winquist has plenty of competition. I'm assuming the regular LW's for 2015-16 will by Ryan Hamilton, Anton Slepyshev, Kale Kessy and Mitchell Moroz, meaning Winquist is going to battle with Braden Christoffer, Connor Rankin, Alexis Loiseau and others for playing time. His GP reflects what is likely to be a season spent (once again) between two minor leagues.
PROJECTED SCORING BY CONDORS PLAYERS 2015-16