The Edmonton Oilers are going to be a more substantial offensive team in 2015-16. Reasons include Connor McDavid, Todd McLellan and his magic power play and the maturation of the Taylor Hall cluster—who now enter the prime of their careers. This RE was difficult, because there's clearly a spike coming for this team offensively. How much? Here's a guess.
OVERALL RE 2015-16 OILERS (COMPLETE SCORING)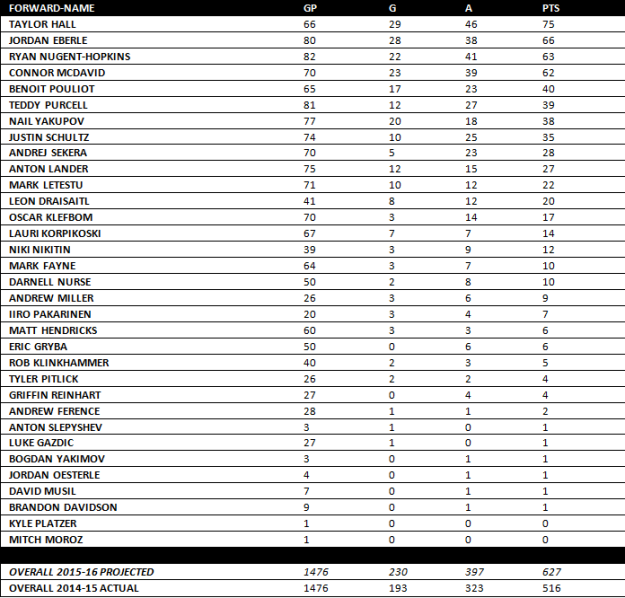 This is the entire group, and as you can see there's a 37-goal spike from last season's actual to this season's projection. I'll tackle the goaltending next week, but it's pretty obvious my projections will see enormous improvement over the GF-GA gap one year ago. You should be prepared for MORE than a 37-goal improvement in GA, meaning that the big part of Edmonton's 2015-16 surge will come from what they're keeping out of their net. More on that next week.
The rookies are splendid, lead by Connor McDavid. I think it's fair to suggest that he'll be a monster on the man advantage and an improving player in EV possession as the season wears on—but we shouldn't expect 104 points or anything like that. I see Connor McDavid winning the Calder Trophy.
Taylor Hall's season should put him front and center as one of the NHL's true impact players, and I do believe he'll see consideration for the First All-Star Team and maybe they even throw a trophy nomination his way.
DEFENSIVE SCORING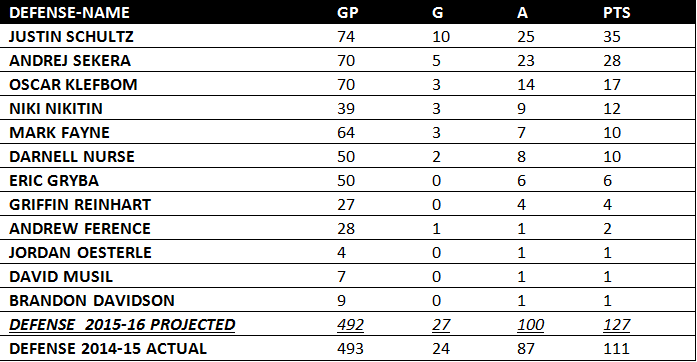 The projected defensive improvement is slight, but please remember this is 'reasonable expectations' and if the PP goes off we could see some insane things—like Justin Schultz scoring 50 points. It could happen. Seriously. I have four forwards projected to be on the power play, so only Andrej Sekera and Schultz got a push with the man advantage as I've presented it here.
As for rookies, I have Nurse winning the job over Reinhart, but that could be turned around and it's also possible we see both men spend much of the season in the minors.  I don't believe the facts we know today lend themselves to that being the reasonable projection.
FORWARDS FINAL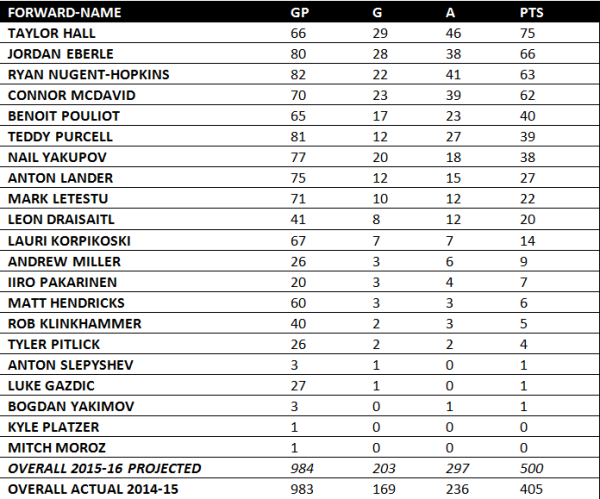 This is the forward list—I miscalculated a few things during the initial run (Anton Lander's GP total, others) so some of these numbers may look a little different from what you remember (if you've been following along).
Overall, I have projected a more handsome group of rookies this season compared to 2014-15.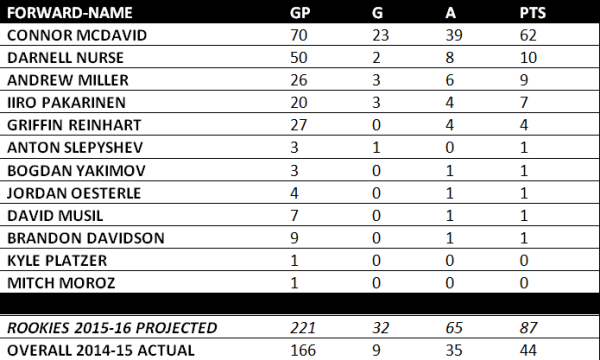 Last year, Oscar Klefbom and Leon Draisaitl were the main rookies, although Leon was only around for half a season. McDavid, Nurse, Reinhart and several others on this list represent the new cluster, the McDavid cluster, and that group will soon be the center of any Oilers conversation.
Goalies next week.