We may (or may not) have the Oilers roster for training camp surrounded, so let's have a look (for the first time this year) at the three training camp categories, who fits where and discuss any possible overlap.
THE SURE OILERS (19)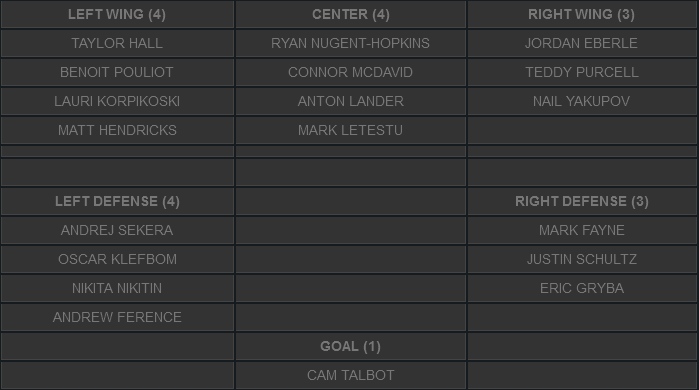 As things currently stand, the 'sure Oilers' is a fairly long list. The club has 19 of 23 roster spots locked up (82.6%) and the next group is basically fighting over one goalie spot, (possibly) one defensive opportunity and three forwards depending on how they proceed with  Luke Gazdic. We should remember that IR will probably play a role—the injured list could get a workout this winter—and of course Peter Chiarelli is very active in-season with roster turnover.
THE UNCERTAIN OILERS (12)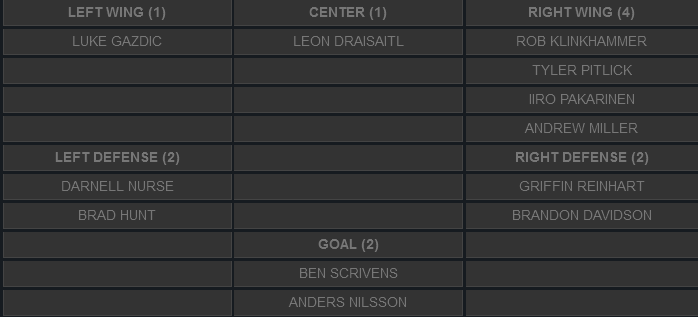 Up the middle this is a pretty nice group. I'll guess the Oilers move north with Scrivens, Davidson, Gazdic and Klinkhammer but that's a guess of course. Question: If they keep Nilsson, Reinhart, Gazdic and Draisaitl would you be surprised?
THE DISTANT BELLS (31)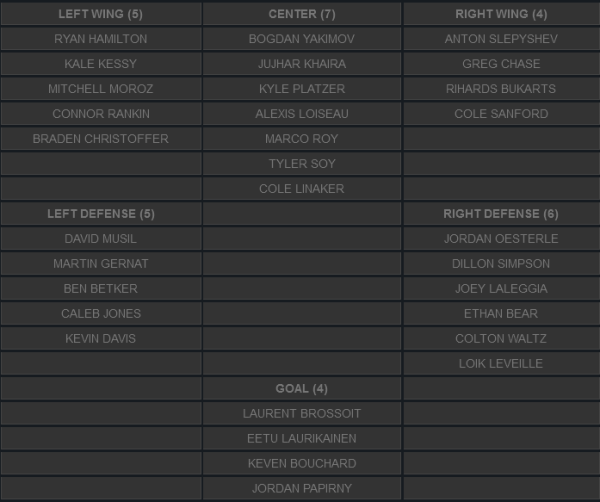 I can't see anyone from this list making the club out of camp. We may see a few of these guys for a cup of coffee or if injuries hit, but the training camp decisions are pretty easy to make this fall (after the end of the roster F's, the crazy D and the backup goalie).
That's 62 names, last year I estimated 65 and last season there were 29 in the rookie tournament and 38 at the main camp. So, we're in the range but there may be some late additions from college grads, junior kids looking for some training camp experience with an NHL team, and of course NHL veterans getting invited on tryouts.
We wait.
WHAT I THINK I THINK
I've looked at Todd McLellan's Sharks teams a lot and he's fond of bundling his stars together and then unpacking them. When he ran Hertl-Thornton-Pavelski the thunder of the Gods could be heard to the other side of the ocean and for me that's the kind of template he might use in Edmonton. What might it look like? Well, we've (I've) been operating under the assumption we see the following:
Pouliot—Nuge—Eberle
Hall—McDavid—Purcell
Korpikoski—Lander—Yakupov
Remembering that McLellan likes to rattle the lines, we can expect the music to be on shuffle for much of the season. In my looks at McLellan's usage of young forwards, he seems to have an interesting name in the mix most seasons:
In 2014-15, Melker Karlsson's EV minutes (720 minutes, 57 seconds) found him playing with Joe Pavelski (497 minutes) and Joe Thornton (459 minutes, 17 seconds). That's exceptional coverage for a rookie forward.
In 2013-14, Tomas Hertl's EV minutes (472 minutes) included 380 with Joe Thornton and 237 with (then forward) Brent Burns.
In 2013-14, Matt Nieto's 812 EV minutes saw him play with Patrick Marleau (353) and Tommy Wingels (278) as a freshman.
Who could we see as this year's Melker Karlsson? There are a surprising number of candidates, including Andrew Miller, Iiro Pakarinen, Tyler Pitlick and even names like Leon Draisaitl and Anton Slepyshev. Sometimes it's easy to forget, but things we think we know are still miles from what we know we know. Training camp looks fairly straightforward, but you never know.
IF I WERE KING
Every once in awhile someone will ask "why do you have this fellow slotted here" and most of the time—especially with a new coach coming in—this blog is trying to guess along with the GM and or coach. The lines and pairings I post day-to-day are usually guesses, because honestly opinions are for discussion in the comments section. However, I do like to post something about my feeling on things once in awhile, so today I'll pass along my "If I were the king" opening night lineup.
Pouliot—Nuge—Eberle: The silver lining in Hall's injury a year ago is this line. Nuge is emerging as the man he's going to be, Eberle's hands are fast as lightning, and Pouliot is an effective winger with these two. Splitting up the $6 million men was always going to be necessary but it's a tribute to both RNH and Jordan Eberle that they appear able to play against the best opposition and be competitive (or beat the brains out of the soft underbelly).
Hall—McDavid—Yakupov: There was a moment in the before time when Hall and (I believe) Gagner told Yakupov to find open ice and they'd find him. And they did! I'm not saying this line runs every shift opening night in St. Louis but I do believe this is a scratch McLellan will itch and I'd love to see it. Chaos? Hell yes! The entire coaching staff may need valium but then again if this line has the puck there's going to be magic.
Korpikoski—Lander—Purcell: I have high hopes for Lander and two veterans beside the young center might give McLellan a line that can play it any way required. This might not deliver a lot offensively but a third line with both PK and PP options is a nice luxury.
Hendricks—Letestu—Pitlick: A nice fourth line with at least two men who can move up in the lineup as required, and Pitlick has some nice things I believe McLellan will value.
There's high octane on the 2line and it's the only one you'd have to protect. I like this group and do understand the risks of Yakupov (and suspect we won't see that line as much as any of us might want, because coaches are risk averse for a reason).
Sekera—Fayne: This is the best available for the tough minutes, there's zero reason to change it.
Nikitin—Schultz: I prefer using Klefbom with a more severe ZS pairing and Nikitin has some offensive chops. It's a risk based on last season but if you have the man on your roster and he's healthy, employ him.
Klefbom—Gryba: Oilers badly need another pairing who can both take defensive zone starts and move the puck up. Gryba is a little inexperienced for the role but the best available option.
LOWDOWN WITH LOWETIDE
Today at 10, TSN1260 and it's going to be fun!
Steve Lansky, Big Mouth Sports. Are the Blue Jays Canada's team again?
Corey Graham, Oil Kings PBP. We get our first glimpse of this year's group.
Antony Bent, FC Edmonton. Eddies play this weekend, plus EPL and end transfer window.
Corey Pronman, ESPN. We chat about Oilers prospects at 11:05.
10-1260 text, @Lowetide on twitter. See you on the radio!