We're counting down (thank you Casey Kasem) to a fun period of the late summer for NHL fans. There are approximately four million hockey players looking for work at this time (estimate) and the 30 clubs will sign a few, invite others and tell the rest to wait by their phones. It has to be a ghastly time for players (I'm trying to get Tom Lynn on this week, he always delivers the goods) but for fans it's pretty cool. If you can get a free Curtis Glencross on the TC roster, why not? Edmonton is historically bad at this, although Anson Carter once attended and that was cool. Cody Franson remains No. 1 on wish list (I know, you all hate him. I ON THE OTHER HAND will be at church tonight lighting candles for the signing) and would love to see Edmonton sign or invite:
L Curtis Glencross: His speed and skill means he can play with the good players on this roster and that's a very good thing.
L Jiri Tlusty: A nice two-way winger who can play with skill, he's 27 so has more time in his peak years. I'm astounded he's still available.

D Jan Heda: Veteran defensive defender isn't a sexy player, but he's effective and a veteran.
R Lee Stempniak: A skill winger who could help the Oilers drive the idea of three scoring lines.

C Derek Roy: I like the idea of having a terrific skill player on the bench. Plus, we know he has chem with Nail.
D Brett Bellemore: Inexpensive depth defender. He's a good option.
L Phil McRae: Has some things on a PF resume, Edmonton is low on that player-type.
D Colby Robak: I know the Oilers have plenty of defensemen in the system, but this is an interesting player and certainly worth a two-way deal.
THE SURE OILERS (19)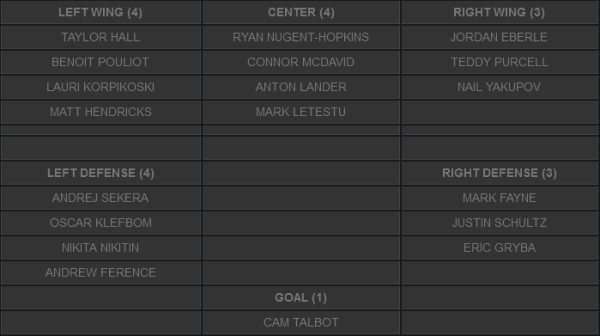 If they were to sign Franson, a trade would have to occur. That RH side would be a little tough to break into, but for me dealing one of Nikita Nikitin or Andrew Ference is necessary if Griffin Reinhart and or Darnell Nurse are to make the grade. Signing Franson and trading Nikitin (I have Verdad 2.0 on it now) makes too much sense for EDM, too little for everyone else. That's not a shot, we don't know if he's healthy and effective and other teams have the same issue. Edmonton COULD run with eight blue but it's a reach for sure. I propose Nikitin, Brandon Davidson and a third-round pick in 2017 for Michael Bunting and a fifth-round pick, but Verdad 2.0 talked me into a different ask.
THE UNCERTAIN OILERS (12)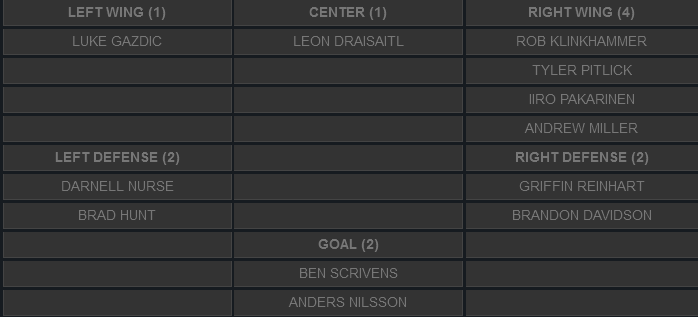 This is the group that we will be focused on in training camp. IF Edmonton invites anyone, they go on this list. Among the dozen here, my guess is Todd McLellan keeps Ben Scrivens, Luke Gazdic and Rob Klinkhammer from this group—but that's SO boring! I hope we see some real drama in September.
THE DISTANT BELLS (31)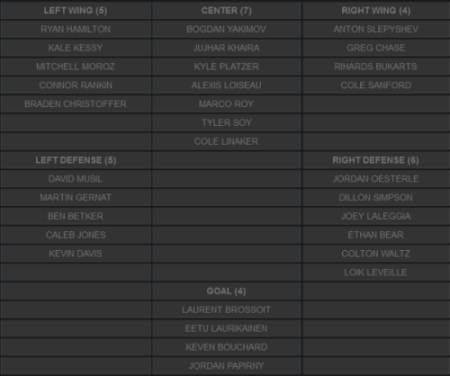 If anyone from this list makes opening night's roster, Todd McLellan will shock the fanbase in a big way. Edmonton's TC are beyond boring and that's somewhat understandable: Contracts are contracts. That said, nothing would send a stronger message to the fans than one of these men earning the grade on merit AND being rewarded for it.
CODY Nickolet talks about Tyler Soy: A light-on-his skates and quick forward who gets around the ice nicely and picks his spots well. Isn't the biggest guy and I would therefore like to see his motor become more consistent from shift to shift and game to game. Source