The Edmonton Oilers will probably have more games played by rookies than a year ago, but there's an explanation. In projecting the roster during the RE series, it looked to me as though Edmonton would make room for one forward (McDavid) and find room for one defender (basically dividing one full defensive slot among rookies Darnell Nurse and Griffin Reinhart. I still feel the same way, but let's have another look at this group and see if we can find a way to wrestle more at-bats from veterans.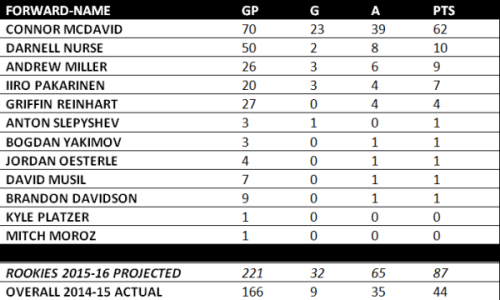 The McDavid spot is a given (I nicked him some GP because he did lose some time in junior) but the rest is up in the air. Let's go one by one.
ROOKIE DEFENSE
Darnell Nurse: Todd McLellan and Peter Chiarelli have enough veteran blue to keep him down on the farm but Nurse has enough natural talent to trash that plan by Christmas. There are lessons to be learned, including the notion that being a puck moving blue doesn't mean leading the rush, but this is an exceptional talent and a fast learner based on all we know. I'm still comfortable with the RE but do think the Oilers could keep him on the farm all year long.
Griffin Reinhart: I have him playing 27 games and—unlike Nurse—I don't see any chance of Reinhart spending the entire season in the minors.
Brandon Davidson: Nine games seems about right, that's over 10% of the season and suggests he will be among the first short term callups during the 2015-16 season. He is waiver eligible, but I don't think that's going to be enough to land him an NHL job. It might have been enough during the Steve Tambellini era, but the team is likely to be more aggressive about NHL wins and losses (thankyou Jesus).
David Musil: It's tough to be 'down the middle' fair about players you cheer for but Musil's place in the organization seems to be increasing as the years roll along. I have him at seven games, suspect he gets them this year.
Jordan Oesterle: There's a slight chance he gets passed on one side by a veteran (Brad Hunt) or a rookie (Joey Laleggia) but he's a pretty good prospect and I think Edmonton values him. Four games seems right.
ROOKIE FORWARDS
Connor McDavid: I have his points-per-game total at .886 and that's low compared to pretty much everyone. I didn't plan it like that but then again Edmonton's defense still has to get that puck to the forwards. Hope he kicks the daylights out of the RE.
Andrew Miller: It might seem high (26 games) but I well remember Miller's foot speed and believe he's the kind of player who could flourish under Todd McLellan. Also, I've mentioned this before but Miller is a very good positional player, similar to Mark Arcobello. He has some nice arrows.
Iiro Pakarinen: Many of the same reasons I chose Miller apply to the Finn. He's an aggressive winger with speed, willing to go to the high traffic areas and does have some skill. Pakarinen also impressed from the start one year ago and may do the same during this training camp—getting noticed early is always a good idea.
Anton Slepyshev: I have him as a big part of the Bakersfield team but have Slepyshev playing very little in the NHL. Why? His skill set (all bat, no glove) is duplicated across the Oilers' NHL roster at this time. I think he'll need some seasoning and the big club will need time to make room on the roster for yet another high-skill player.
Bogdan Yakimov: I wanted to make room but there is none. Nuge, McDavid, Lander and Letestu are the top 4C and Draisaitl or another veteran would probably step in as needed during the year. Yakimov is a talented guy and will get noticed—this prediction could look silly this time next year.
Kyle Platzer: It was basically a coin flip between Chase and Platzer for this cup of coffee. I felt Platzer, who appears to be a more natural center, might have a positional edge. Complete shot in the dark.
Mitch Moroz: As is the case with Platzer, I chose between Moroz and Kale Kessy, thinking a strong start in year two might cause the organization to reward him (it does happen). We'll see, Kessy had a helluva start last fall but Moroz was still recovering from injury during rookie camp and early in pre-season.
The last man in the baker's dozen of rookies I predicted is Laurent Brossoit. I have him playing three games this season. Is that total enough for Connor McDavid to win the Calder Trophy? Maybe. I hope he wins it going away, with the best rookie season since Crosby (or before).
Can't wait.
(Photo by Connor Mah)