I love the fall, it's my favorite time of year. That said, there is a period that combines denial and stubbornness (which is my natural state) about the coming winter. It's cool this morning in the house, we left the window open and I had to grab my coyote blanket (Mrs. Lowetide got it in Banff, it's magic—like an instant fireplace) after coming downstairs. The hockey signs are there—someone says 'Perry Pearn' to me at least once a day, the KHL boxcars are rolling down the track, those Q boys are well into pre-season and the anticipation of the coming weather—even sweeter this year since the Gods blessed us with ample treasure—builds stronger each day. It's life in a northern town. I love it so much.
ZIYAT BOXCARS
4GP, 0-1-1 +1 2pims. 3SOG, 7:17 a night on 12 shifts. 3 blocked shots. He's playing a little less than he did last season (9 minutes a night) but it's a long season. Encouraged he's getting minutes in every game so far, including 8:41 in the most recent game.
MARCO ROY'S SUMMER
Sometimes a kick in the ass is just the ticket. There had to be multiple reasons why the Edmonton Oilers drafted Marco Roy in 2013's second round (he has a range of skills) and there has to be a reason they didn't sign him to an NHL contract (EDM has signed Darnell Nurse, Bogdan Yakimov, Anton Slepyshev, Kyle Platzer, Ben Betker and Greg Chase to NHL deals). Roy's reaction to all of this is encouraging:
Roy:

"It really disappointed me [not to receive an offer].

I thought it was up to me to prove them made a mistake.

I trained very hard this summer.

I now weigh 190 lbs, I'm stronger and faster."

Roy:

"They told me they did not see me play in the NHL during the next two to three years.

It is their perception, I respect it, but I will prove them wrong." Source
Great story there, recommend clicking the link. Roy's numbers in the QMJHL last season were solid, but there's also little doubt the Quebec Remparts had other options for their offensive lines. I wonder if he was thrust into a two-way role later in the season (Tkachev and DuClair were added and that had to impact the lines) but the Oilers clearly felt his work was wanting. I'm cheering for him, love his attitude and look forward to more stories about kids responding the right way to a challenge.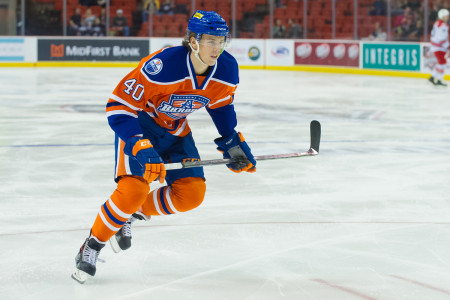 First time I saw Martin Gernat (as an Edmonton Oil King) he looked very raw, a gangly sort with wheels and a lot of chaos. Every time I saw him after that first game, Gernat seemed to add something else to his game. He had some impressive months in Edmonton playing junior and his adjustment to the AHL seemed to go well in year one. Year two? It all fell apart:
Dallas Eakins on Gernat during Oilers training camp: "Has to get stronger and play a simpler game with more will."
Jonathan Willis on Gernat's early demotion from training camp: "This is an embarrassment for a guy who should be an NHL recall option in 2014-15. He has been passed in the view of the coaching staff by both Dillon Simpson and Jordan Oesterle – rookie pros – and both those guys played last night. Eakins praised his work in the summer but said he's "still far below what it's going to take" in terms of strength and endurance to survive in the NHL."
Todd Nelson in December before the coach came up to Edmonton: "The guy who has turned the corner for me over the last couple of weeks is Martin Gernat. Marty was very inconsistent at the start of the year, we had to communicate to him we wanted him to play with more intensity and more consistently, he's bringing it the last five of six games."
Gernat's season didn't turn around, his performance saw him losing ground to all manner of prospects as the year wound to conclusion. Here's the Eric Rodgers forensics on the OKC blue:

Gernat's offense—once a calling card—is very low here, he's simply not an option. His EV GF-GA on is better than a few of the puck movers but the Oilers value several men on this list more than Gernat. I'd guess we're seeing him for the last TC and final season as a member of the organization. I can't understand how a young man can play so well in year on AHL and then flag to this level. There were no injuries, there did seem to be some confusion and that goes to (often) communication. I'll be very interested to see how Gernat looks and performs in TC's early days this fall. It may already be too late, but I still remember that rangy fellow with the wheels and hope we see that again.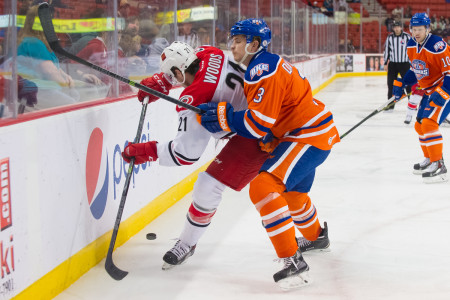 The Edmonton Oilers used four of six picks on defensemen at the 2015 draft, and Peter Chiarelli added some big men via trade (Griffin Reinhart, Eric Gryba) during the draft. Now, you and I love the puck movers and the math but Chiarelli had some tough buggers playing defense in Boston and we'll see a size increase in Edmonton when camp hits. The sheer number of prospect and NHL defensemen are a change in the weather for the organization. Who will that benefit? Well, among the AHL defensemen listed above, the biggest players are:
Brandon Davidson 6.02, 214
Oscar Klefbom 6.03, 210
David Musil 6.04, 207
Martin Gernat 6.04, 202
From that group, Klefbom looks absolutely ready for a long run in the NHL and I've been impressed with Musil's progress. Corey Pronman had him inside his top 10 Oilers prospects this summer and mentioned his above average defensive play and high IQ. Sometimes in life we speak in absolutes and the truth is there's mostly grey and uncertainty. I'm so glad no one told David Musil he didn't have a chance to make it, it appears he's decided to write his own story. I hope he makes it.
LOWDOWN WITH LOWETIDE
Today on the show, 10 this morning TSN1260.
Bruce McCurdy, Cult of Hockey at the Edmonton Journal. We'll talk about the plethora of defensemen in the organization and those Oil Kings kicking around the Oilers system.
Jamie Nye, CJME Regina. We'll talk about the Roughriders and their housecleaning.
Dean Millard, TSN1260. Eskimos, Oilers, some golf, Millard can talk about anything so it'll probably be wide ranging.
Other guests pending or awaiting release from prison.
10-1260 text, @Lowetide on twitter. See you on the radio!