The Oklahoma City Barons relied on their AHL veterans for a lot of special teams play. Matt Ford did a lot of work on the PK, Jason Williams did yeoman's work on the power play. When evaluating prospects it's important to create a level playing field whenever possible. There are severe limitations (we don't have TOI) but if we divide things up it gives us a better view of what actually happened last season. Let's have a look under the hood.
EVEN-STRENGTH SCORING (FORWARDS)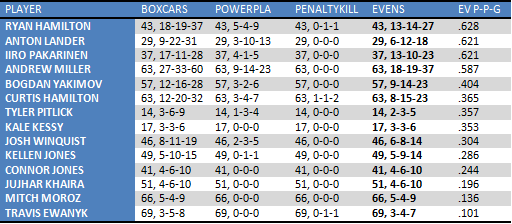 Prospects Anton Lander and Iiro Pakarinen lead the way here and these are impressive totals. Andrew Miller is also in the range and really if we're having a conversation about "graduating forwards" that's the trio. You'd like Miller to be higher because he doesn't have the physical element of Pakarinen or the two-way resume of Lander, but he's a smart cookie and the power-play total is strong enough to suggest he might warrant a little time there in the NHL. Interesting to see who got PP time here, it's basically only Lander and Miller getting the push (and the rest going to Jason Williams, Matt Ford, etc). Pitlick posted a significant number of his points with the man advantage.
EVEN-STRENGTH SCORING (DEFENSE)

Klefbom's numbers are giant but of course it's just over 10 per cent of the season. Brad Hunt is an impact AHL player on the power play and even strength (those are outstanding EV totals). Oesterle has a pro future but might end up as a tweener, I don't know if these numbers tell us either way. Dillon Simpson's offense is closer to Oesterle's at even strength and that's interesting—seems Simpson's reputation is strictly stay-at-home and yet he posted 14 even-strength assists. Oh Marty Gernat, what have they done to you?
EVEN-STRENGTH SCORING (ROOKIES)

Yakimov looks good by this metric but if you go back over the years his even-strength totals were eclipsed by prospects who didn't make it (Teemu Hartikainen was 66GP, 10-22-32 .484 as an AHL rookie) so it's probably wise to allow for the possibility Yakimov will be a role player and a complementary offensive contributor. I like him a lot as a prospect, suspect he'll spike this coming season. Winquist, who I also like, will need to show well this season and I believe he may. Oesterle and Simpson are the other promising players here, many believe Jujhar Khaira will have a career but we'll need to see an enormous offensive improvement.
LIMITED GAMES

Each of these men have unique qualities and Klefbom won't see the AHL until he's an older fellow (and even then he might just scoot back home) if things go as planned. Platzer had a nice post-draft  junior career and his range of skills gets him mentioned in a lot of areas. Laleggia might be a very useful NHL player someday.