This is the dawning of the age of McDavidness but we have some miles to go before skates cut ice and the minutiae of living has its own story to tell. With no small amount of trepidation, I present the following:
Steve Simmons: It's settled after much discussion: Connor McDavid will live at Taylor Hall's place for his first NHL season. Funny to think of the 23-year-old Hall as a veteran, but this will be his sixth season in Edmonton. And McDavid is comfortable with him. Source
Before everyone on planet Edmonton goes off half-cocked and watches The Passion of Christ again, I'd just like to say this is the most natural fit we can imagine. They're both brilliant young hockey players, enjoy life and apparently have a friendship. They aren't that far apart in age and probably have similar interests. One suspects their agents and respective families are on board and after that it's NO ONE'S BUSINESS. Full stop.
I remember the "Ryan Smyth would make a great Dad" and "Andrew Ference will have him running at 7am every morning" chats of the last couple of weeks and was rather dumbfounded by the entire discussion. Look, he's already a great hockey player and it might be an idea to have him enjoy his Edmonton experience. Now there's nothing like a family environment but the young man HAS a fantastic family already. As for Ference, that's also a sticky wicket because there's a reasonable chance the relationship between the veteran captain and this franchise ends by September 2016.
Hall's a great fit. Both Ontario boys out to make their way in life, with frequent calls and drop-ins from the parents. As a proud Oilers fan and a resident of greater Edmonton, I encourage everyone to (as my daughter puts it so beautifully) "stay the hell out of (my) business unless you're asked!"
Fin.
CULT OF HOCKEY TOP 20
The one thing I wish to be writing about the Cult of Hockey today is comparing the 'blog Journal' to the 'Sports Journal' in terms of page views. I'm betting there's a news story there and if I EVER figure out a way to find that information I'm reporting it to you. David Staples, Bruce McCurdy and Jonathan Willis have completed their work on the prospects this summer and it is here. I like to compare the CofH list to mine each year (and will do the same for Copper and Blue when the boys wrap) because it's a fun thing to do and offers a different view of the came prospect group.
Two things: The CofH list has a more traditional view of prospect (you have to be Calder eligible) so I have Leon Draisaitl, Andrew Miller, Tyler Pitlick and others on my list and they don't appear on the other one. Also, their list tends to favor "NHL-ready" prospects and mine is absolutely biased in favor of offense and range of skills.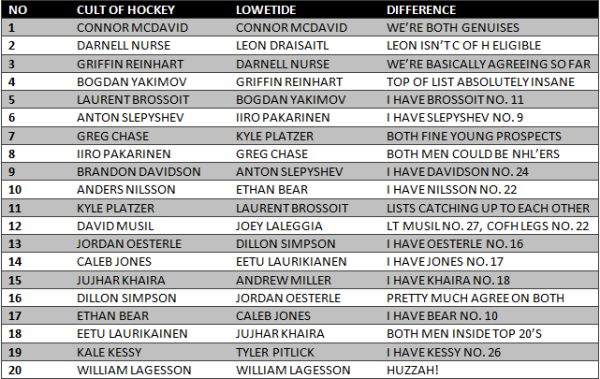 There are mostly subtle differences (we agree on the top four overall if Leon is included on their list) but there are also some substantial differences.
The Cult of Hockey list has Brandon Davidson as the third best defenseman in the system. For me, his NHL-ready status is compelling, but I have 10 defensemen ahead of Davidson on my list because their potential and range is higher. We disagree on David Musil to a similar extent.
I have Joey Laleggia 10 slots higher than the Cult crew and that speaks to offense (I value it highly) as opposed to range of skills.
The lists are interesting to ponder and perhaps we'll look back a few years from now and review them. I very much respect the work done by the Cult of Hockey in the prospect area and recommend it highly.