I believe Darnell Nurse will be one of the top four defensemen in Edmonton on the final night of the 2015-16 season. There's simply not enough to hold the young man back, even with wild recoveries from Nikita Nikitin and Andrew Ference. This is a transition season for the blue—Todd McLellan says they may carry EIGHT defensemen—and the Nurse situation is one of the main areas I'll be watching this training camp.
Brad MacPherson: The former CHL players that are the best statistical comparables for Nurse are Pietrangelo, Phaneuf, Barker, Staal and Seabrook. Source
Darnell Nurse is tracking in a manner foreign to this observer of Oilers prospects. The bell curve hit the graph higher and the arc towers over the ghosts of Edmonton's prospect defensemen-past. I'm confident Nurse wins the day in a fair open contest this fall but suspect the Oilers will send the young man to Bakersfield for some seasoning. Even with that, my guess is he'll be in the starting lineup before Christmas and make quick work of the also-rans on the depth chart. He's simply too good a player, by math and by eye, to keep away from this roster. Darnell Nurse is a perfect fit. Now.
If the Edmonton Oilers want to keep Darnell Nurse in the minors this season, they'll need to sign Cody Franson or trade for an established defenseman. The current top-six blue offer little in the way of real competition. After Andrej Sekera, Mark Fayne and Oscar Klefbom, traffic is clear and there are no other lights on the horizon that compare to this young man. Seriously.
The 2008-09 Grand Rapids Griffins boasted some nice rookies, led by 21-year old college grad Justin Abdelkader. Abdelkader was a 2nd rd pick in 2005, and his AHL rookie scoring rate (.684) and size (6.01, 212) suggested that if Abdelkader was going to have an NHL career, it would be as a two-way or checking forward. His resume had some secondary bullets of note (agitator, could play center or wing) and he adjusted quickly to the AHL game (he made the AHL All-rookie team in 2008-09).  Abdelkader arrived as a semi-regular in 2009-10 and moved up the depth chart until he arrived at the projected role (two-way depth forward who could chip in offensively) and that's a useful player.
I think that's a reasonable line in the sand for the Bakersfield Condors from here on out. Anton Slepyshev may be the final pure skill guy to run through the AHL program this decade and I'm not kidding. The Oilers farm club is going to produce checkers, two-way forwards, defensemen and a goalie or two. And you know what? That's what the AHL should be producing for Edmonton, the Chimera's, the Pisani's, the Brodziak's, the Stoll's.
TEN YEARS OF AHL ROOKIES (FORWARDS)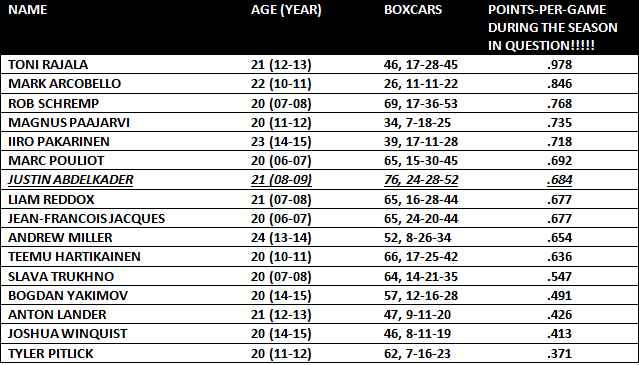 I'm using Abdelkader as the line in the sand for Oilers prospects and went back a decade for some comparison. There are some talented players here, they had careers or are still playing—almost all of them in Europe. Toni Rajala wanted to play in Europe and the Oilers released him outright; Rob Schremp was lost to waivers; Magnus Paajarvi was traded; Marc Pouliot and Liam Reddox left via free agency, and on it goes.
I think the lesson of the Oilers is twofold:
The club has had difficulty at the draft table, including a tendency to draft for need (Musil, Moroz) when exceptional value remained available.
The Oilers have a delay in their development model that catches too many legit prospects/players and spits them out during a period where they remain useful. Recent examples of that include (but are not limited to) Devan Dubnyk, Jeff Petry, Martin Marincin, Tobias Rieder, Erik Gustafsson, Jason Chimera, Kyle Brodziak, Andrew Cogliano, Chris VandeVelde, Colin McDonald and others. All of these men, in one way or another, were unable to convince management of their value.
We can say "Peter Chiarelli changes all that" but I'd like to see proof. This season. If your son was drafted by the Edmonton Oilers, would you be thrilled? Would you be secure in the knowledge that the organization would put your boy in the best possible situation to succeed? Among the major jobs Peter Chiarelli must undertake—beginning this season—is to exorcise the part of the organization that believes slow-playing the prospects is a fine idea, that feels Jeff Petry's flaws are somehow so substantial he cannot earn a long-term deal at full blow, that endorses trading Martin Marincin for crimes real or imagined. One more thing: Riddle me why the Oilers don't see enough in Erik Gustafsson to sign him but has the Chicago Blackhawks interested enough to sign him and discuss the defender as a 2015-16 option?
If you could add Jeff Petry and Martin Marincin to Andrej Sekera, Oscar Klefbom, Mark Fayne, Eric Gryba and Darnell Nurse, would you be better off today? The mind simply boggles.
The Edmonton Oilers make addled decisions about hockey players, which is problematic because they make a lot of decisions about hockey players. Peter Chiarelli needs to fix this, starting day one Bakersfield. Play Greg Chase, dummies. He might be Justin Abdelkader but you have to give him the opportunity to show you. Starting opening night 2015. Slow-play, my ass. Stop this silly damn policy.
Just in case Oilers fans needed another reason to be excited. RT @CraigCustance: Stamkos on McDavid: I think he's better than me right now.

— Jason Gregor (@JasonGregor) September 8, 2015
The flying McDavid's, Edmonton chapter. I'll see it in my lifetime.
LOWDOWN WITH LOWETIDE
A cracking show today as we get set for the hockey!!! 10 o'rock, TSN1260. Scheduled to appear:
Scott Burnside, ESPN. Scott is attending the NHL's pre-season media event so we'll get the latest on everything.
Jonathan Willis, Cult of Hockey. We'll discuss the Oilers rookie camp, McDavid's first camp and try to put this fall in historic context.
Tom Lynn, Veritas Hockey. A former NHL GM and asst. GM, now an agent. We'll talk about the large number of free agents looking for invites and what that can mean to a player trying to hang on for another season.
Guy Flaming, Pipeline Show. Guy spoke to Auston Matthews this week, we'll discuss the young man's decision and its possible impact. Also touch on Oil Kings and Oilers rookie camp.
10-1260 text, @Lowetide on twitter. On my way!