If there were no hockey for the north, we'd all be crazy—and even then I'm not absolutely certain the great game saved us completely. In a city that gives us (possibly) 10 true weekends of summer, there appears to be an extremely nice one straight ahead. Riddle me this dear neighbour: Where will you be tonight at 8:30? In front of a computer watching 18-year-old kids play hockey? Me too!
TONIGHT'S LINEUP!
Mitch Moroz—Connor McDavid—Greg Chase: Word is Edmonton wanted McDavid to have linemates with some pro experience. I think it's pretty obvious the Oilers are going to have McDavid surrounded by physical wingers and defensemen and I publicly endorse this idea.
Anton Slepyshev—Leon Draisaitl—Josh Winquist: I was hoping to see Winquist get a game with real skill and here it is G1. Leon has two really nice wingers here, this line could be the one that harpoons the opposition (although I'm not sure we'll see line matching).
Connor Rankin—Kyle Platzer—Cole Sanford: A small, subtle item here but as we've discussed in the past Platzer stays in the middle and Chase moves to wing. Sanford is getting some hype ahead of camp, Rankin is an interesting player too. A guess? Sanford could get a little push up the depth chart at some point in this tournament.
Braden Christoffer—Alexis Loiseau—Rihards Bukarts: Some workers here, Christoffer and Bukarts can make life miserable and Loiseau is highly skilled (I'd like to see him play a bigger role in one of the other games). Even at the rookie tournament, my oh my the depth at center is new and wonderful.
Darnell Nurse—Joey Laleggia: This is a pairing we might see in main camp, I thought they would be split up. Perhaps the Oilers want Nurse to curtail sorties? Either way, this is the class of the group in terms of defensive duos.
Ben Betker—Ethan Bear: Both men are intriguing and if you haven't seen Betker before look way up. Bear's reputation suggests we'll see a nice headman pass or two and some booming shots from the point.
Caleb Jones—Loik Leveille: This is an interesting duo for two reasons: There isn't much experience and there may be some chaos (Leveille is known to go a'roaming) and both have excellent shots from the point.
Eetu Laurikainen: The most experienced of the Penticton men, don't know if he'll play the whole game and haven't seen the backup named yet. Keven Bouchard is listed as backup.
The Canucks roster is from the Caveman Penal League, so they've placed a giant or an agitator (or both) on each line or pairing. Jason Gregor is the source of the roster and his post is here.
LAST YEAR'S LINEUP
Moroz—Draisaitl—Chase
Tkachev—Yakimov—Houck
Kessy—Khaira—Holmberg
Jones—Roy—Jones
Winquist—Ewanyk—Krushelnyski
Nurse—Gernat
Boland—Musil
Simpson—Oesterle
Craig—Ludwig
Betker
Brossoit, Tuohimma, Rimmer, Bouchard
From last year's group, Leon Draisaitl ended up playing 37 NHL games, Jordan Oesterle (6), David Musil (4), Darnell Nurse (2), Bogdan Yakimov (1), Laurent Brossoit 1 NHL game.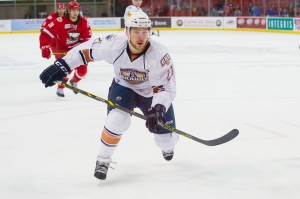 TWO YEARS AGO
Roy-Miller-Kessy
Abney-Ewanyk-Houck
Baddock-Schaber-Bickie
Khaira-Chase-Fyten
Nurse-Klefbom
Gernat-Musil
Davidson-Leach
Marincin-Betker
Tyler Bunz
From the group two years ago, we've seen Martin Marincin (85 NHL games), Oscar Klefbom (77), Brandon Davidson (12), Andrew Miller (9), David Musil (4), Darnell Nurse (2), and Tyler Bunz play 1 NHL game. This year? McDavid, Nurse, Draisaitl, probably more. The system is delivering but this year is special. A child shall lead them all.
I'll post starting lineups when I get them, I'll also post the final boxscore as I did a year ago.
SOME LIGHT READING
An excellent read from Jason Gregor setting the tone for rookie camp, with terrific quotes from Oilers Senior Director of Player Development, Rick Carriere on Anton Sleoyshev, Ethan Bear and others.
Oilers and Flames odds of winning the Stanley Cup are 33/1.
A nice thumbnail sketch of the Oilers rookie roster (save Laurent Brossoit, he's not at the tournament this year).
I'll post updates through the night, this will be fun!
This is Stan Weir. Stan Weir was born in a log cabin that he built with his bare hands. Stan Weir can lick his elbow. Stan Weir puts the fun in funeral. Big Foot takes pictures of Stan Weir. Stan Weir once played 18 holes of golf using a 12 inch strip of rebar and a sun dried tomato. He shot a 54. When Stan Weir crosses the street, cars look both ways. Stan Weir speaks in CAPS. Stan Weir won a pissing contest with a Russian racehorse. Stan Weir doesn't like the Vancouver Canucks. He thinks their uniforms look like puke and they have too many guys with funny names. Plus their fans look funny. Stan Weir will bring us money, and shapely adventurous women with bad eyesight. Ladies and gentlemen, Stan Weir!
BOXSCORE