Todd McLellan was a helluva get, even if he didn't bring Brent Burns and Joe Thornton with him. In the coming weeks, we're going to see the Edmonton Oilers of Eakins/Nelson (plus some additions) through McLellan's eyes and there are likely to many surprises. One of the things I've been thinking about lately is roster deployment and finding similar Edmonton pieces to his Sharks lineup. Let's start with defense.
VOLLMAN SLEDGEHAMMER, SAN JOSE BLUE
Marc-Edouard Vlasic—Justin Braun: The key pairing for SJS, Vlasic is an elite shutdown defender and the Oilers don't have one. Braun is a good two-way defender who can move the puck, defend and has a plus shot as well. The Oilers have three possibles (as I see it) for the role in Andrej Sekera, Mark Fayne and young Oscar Klefbom. McLellan did use Vlasic this way in the young defender's second year (and McLellan's first) in 2008-09. Projected: Klefbom—Sekera (based partly on Chiarelli's words).
Brenden Dillon—Brent Burns: Both are big men and both can play a two-way role, although Burns is a more substantial player by a lot. A lot got done with Burns on the ice this past season, finding a comp for him among Oilers blue is impossible. Projected: Nikitin—Fayne (giving up a lot of puck movement but I do like the idea of a veteran second pairing).
Scott Hannan—Matt Irwin: This wasn't a good pairing, although Irwin is underrated (and I think Boston got a good player). They faced easy street and got very little done. Projected: Ference—Schultz (this pairing might also include Griffin Reinhart and Eric Gryba as required). Edmonton's third pairing should be far better than the Sharks, lord knows it's going to cost enough.
VOLLMAN SLEDGEHAMMER, SAN JOSE FORWARDS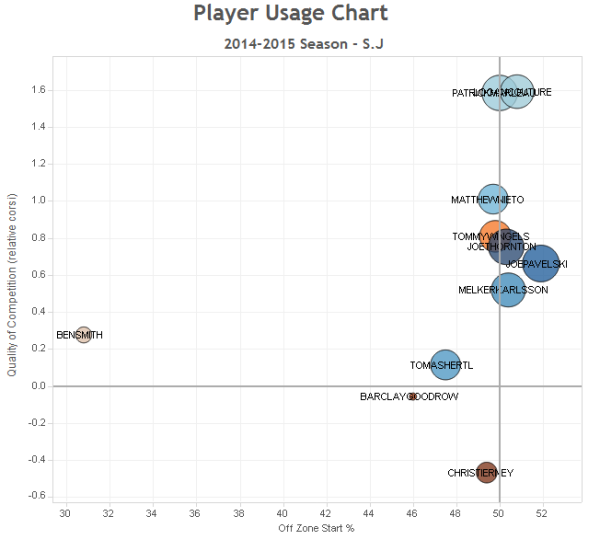 Patrick Marleau—Logan Couture—Various: Faced the toughest opposition but (as was the case with all of the other SJS forwards) had good ZS's. Matt Nieto was the most used winger and the trio did fine work together. Projected: Taylor Hall—Connor McDavid—Teddy Purcell/Nail Yakupov. McLellan will try (I'm sure) to line the Nuge line up against tough opponents but the bullet train is going to face difficult challenges all year.
Various—Joe Thornton—Joe Pavelski: A very effective duo who played most often with Melker Karlsson and Thomas Hertl. There's not too much clearance between the two lines and hopefully we see something similar in Edmonton this season. McLellan mixes and matches well. Projected: Benoit Pouliot—Ryan Nugent-Hopkins—Jordan Eberle. Departure from past McLellan lines (he likes pairs) and that may mean Eberle plays on the Hall-McDavid line often enough to be considered a swingman between the top two lines. I always put him on Nuge's line because RNH is still emerging, not certain how much longer that will be the case.
Chris Tierney—Tommy Wingels—Various: Finding McLellan's third and fourth lines is like trying to find an Oilers low-event shift 2006-14—damned near impossible. Wingels played up quite a bit and there appear to be eight actual top 9F's based on the Vollman. We're going to need some adjustment time. Projected: Lauri Korpikoski—Anton Lander—Teddy Purcell/Nail Yakupov. This line should play more than SJS's third line, but McLellan appeared to move up (or down) and really I think we're seeing three pairs the more I look at things. If it's Hall-McDavid and Nuge-Eberle maybe the third pair will be Lander-Yakupov or Letestu-Yakupov? Interesting possibilities.
Barclay Goodrow—James Sheppard—Various: Mind numbing now, someone named Ben Smith may have just performed faceoffs and disappeared like a Spinal Tap drummer. The Sharks had some minor league players down here, no doubt in my mind hello John Scott. Projected: Matt Hendricks—Mark Letestu—Various. Oilers have a nice group here, this isn't the same level of fourth-liner the Sharks used a year ago (holy hell they were bad). I have no idea who wins that 4line job, suspect it'll be a rotating group.
THREE DAYS AT THE CONDOR
After the rookie camp and Peter Chiarelli's prospect comments, it's fun to have another lash at the possible Bakersfield Condors 2015-16 opening night lineup. I'll go ahead and suggest this team will be stronger than any offered to the good people of Oklahoma City.
L1: Anton Slepyshev—Leon Draisaitl—Andrew Miller
L2: Ryan Hamilton—Bogdan Yakimov—Iiro Pakarinen
L3: Kale Kessy—Kyle Platzer—Tyler Pitlick
L4: Josh Winquist—Jujhar Khaira—Greg Chase
IR F: Mitchell Moroz
Extra F: Alexis Loiseau, Marco Roy, Connor Rankin, Braden Christoffer
D1: Darnell Nurse—Brandon Davidson
D2: David Musil—Brad Hunt
D3: Jordan Oesterle—Dillon Simpson
Extra D: Martin Gernat, Joey Laleggia, Ben Betker
G1: Laurent Brossoit
G2: Anders Nilsson (Eetu Laurikainen in case of waivers)
I wouldn't mind tooling down to California at some point this season to see the minor league team. They have historic possibilities.
I'm already having pangs about this being #Oilers last season in Coliseum. My first day in TV was there on 13 October 1979.

— Steve Lansky (@bigmouthsports) September 16, 2015
The final Rexall season begins tonight at the U of A-Oilers rookies game (I'll have a GDT up this afternoon). I'll talk to Steve about this (and other things) Friday morning but the tweet reminded me of the first (several) times I visited "Northlands Coliseum" in my youth. Growing up as a member of the Jehovah's Witnesses, I saw Northlands (and the Pacific Coliseum) many times during the summer conventions held by that religious organization. In what was surely the cruelest joke of all played on me by life (as a kid, it always seemed I was visiting cool places during non-cool times) I had good seats in summer and snow in winter. I absolutely remember working out where the faceoffs might be and thinking about Rusty Patendaude and Norm Ullman. By the early 80's I was no longer attending the Kingdom Hall or the conventions, but Lansky's tweet took me back to 1974 (or so) and the first time I saw Northlands. Parents, if you take your kids to cool places in uncool times, PLEASE make sure to also bring them back for the good stuff. Seriously. It's a thing.
MCDAVID'S POINT PROJECTION
Everyone is chiming in about Connor McDavid's point projection now (I was pleased Scott Cullen's number was similar to mine, he's very good at these projections) but the truth is there's so much we don't know about Connor, the Oilers under McLellan, and this transition season. I have him at .886 points-per-game as an NHL rookie, that's 73 points in 82 games. One of the problems I have with hanging a higher number on McDavid is the quality of the team around him. The forwards are fine, in fact very good, but the defense is poor and McDavid will be on the ice with some clunkers as things stand. Kane's defensemen in his rookie season? Duncan Keith, Dustin Byfuglien, Brent Seabrook, James Wisniewski, Brent Sopel, Cam Barker. There are some good passers and puck movers in the group. Edmonton's issues with passing tape to tape and hitting the exiting forward on the fly are legend, so projecting McDavid—even as I did—could be too strong. We'll see, he's a tough projection because he is so very talented. I'd be shocked to my shoes if he gets 85 points in today's NHL, though. Beware of those projecting 85 points and nice try Mr. Chiarelli but 40 points is too far the other way.

LOWDOWN WITH LOWETIDE
A busy day as we catch up with some of our hockey folks who have been on the move. A day dedicated to getting ready for the training camps, for the Golden Bears—Rookie game, for the McDavid—Eichel season long battle. 10 this morning, TSN 1260. Scheduled to appear:
Scott Burnside, ESPN. Scott is covering the Sabres early in TC, we'll talk about Connor v. Jack and the Sabres impressive summer of procurement.
Bruce McCurdy, Cult of Hockey. Big game tonight, Bruce will guide us through some of the past games and of course we'll discuss what we should see tonight at Rexall. Did you know that Rexall ice has seen the home team boast generational talents in every decade? If you count Mark Messier and Chris Pronger (as I do), the record will be cemented during McDavid's first shift tonight as an Oiler.
Jonathan Willis, Cult of Hockey. We'll discuss Peter Chiarelli's recent Bob McKenzie interview and the types of things we may see in TC and beyond. Is a 50-point season possible for Justin Schultz? Will Todd McLellan identify Edmonton's Melker Karlsson and use him with Nuge and Eberle?
Brian King (PDO), NonStopSportsPicks. I had Brian on last week to predict some NFL and CFL games and he ran the table. Despite being a Ravens fan, he knows the football. We'll discuss this week's games at 11:25.
10-1260 text and @Lowetide twitter. See you on the radio!