I was wrong. ALL these years I've been predicting a three-for-one trade, lighting a candle for a three-for-one trade, howling at the moon for a three-for-one trade and it wasn't enough. Now, a FIVE-for-one trade happened today and maybe that's the ticket! Edmonton needs a top 4D and Peter Chiarelli is aggressive, hopefully we'll have a fourth for Sekera—Fayne—Klefbom before I start buying Halloween candy.
CERTAIN OILERS (19)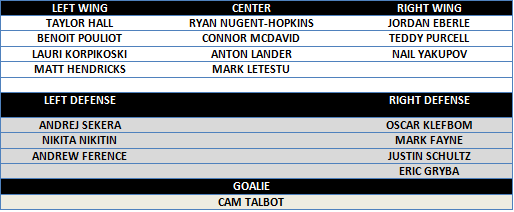 Some tweaking in the last few days and there may be more (comments on the blue by Todd McLellan tell me there's uncertainty as camp begins—that's a very good thing).
"We aren't as set on our D pairs as we are our forward lines. There will be some movement on the backend." Mclellan. #Oilers

— Jason Gregor (@JasonGregor) September 17, 2015
Positive, positive. The Edmonton Oilers have three defensemen who could be described (using the loosest possible definition) as top 4D—Andrej Sekera, Mark Fayne and Oscar Klefbom. I suspect Peter Chiarelli has decided to hold Scott Howson accountable for Nikita Nikitin and that may mean both Howson and the Russian defender thrive this season—or not. Either way, when I look at the list above Nikitin is the name I come up with for the fourth defender and I do know your mileage varies in many cases.
"I believe in pairs, keeping two guys together who work well together." Coach McLellan's philosophy on building #Oilers fwd line combos

— Edmonton Oilers (@EdmontonOilers) September 17, 2015
These are golden notes for Oilers fans—the steel guitar in Layla, let's say—because they speak to using the pieces available to maximum return. The angels rejoice! And the Corsi's do, too.
PUSHING FOR JOBS
Lots of talent here but I think we're seeing some cases (Nurse) where the organization may slow play the progress and force the prospect to push hard during TC and the regular season. Leon Draisaitl appears to be the exception—and in truth he's a unique player on a team badly in need of big men who can protect the puck and win battles—and I've included Bogdan Yakimov on this list because size appears to be a larger item every time management speaks. There are only four jobs available unless Chiarelli does a five-for-one.
THE DISTANT BELLS (26)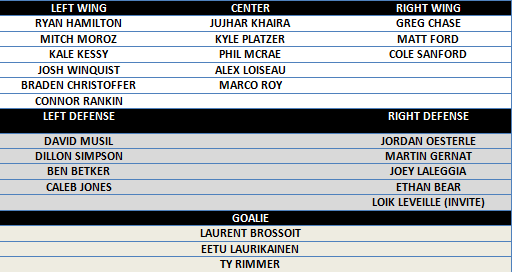 There's some talent here. I think Brossoit, Musil and Oesterle may see some NHL time this season. It's also going to be fascinating to see who gets the at-bats in Bakersfield this season. The wingers at the AHL level received a major boost from the Bob Green procurement department over the offseason and it bodes well for the organization overall.