The Edmonton Oilers sent nine players out this afternoon and have now pared the roster to 50 overall. None of today's cuts should be considered surprising but the timing (last year's first cuts happened after the SS games against Calgary) does jive with Todd McLellan's stated wish to get down to a reasonable number quickly. With a busy week of games ahead, suspect all 50 employees who remain will see action.
#Oilers also assign Ben Betker, Alexis Loiseau, Connor Rankin, Ty Rimmer & Marco Roy to the Bakersfield @Condors of @TheAHL.

— Edmonton Oilers (@EdmontonOilers) September 20, 2015
There are five goalies, 16 defensemen and 29 forwards left in camp. Let's see what that looks like.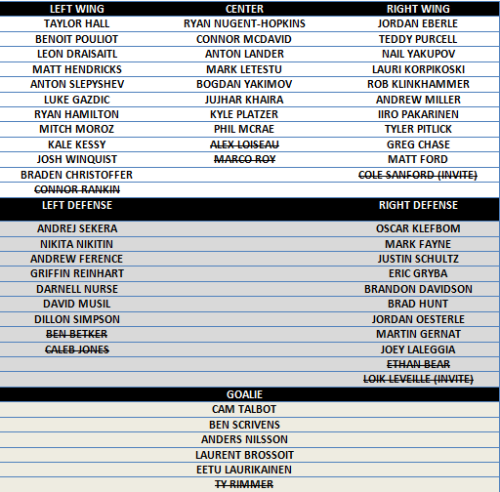 The cuts coincide with the lowest-ranked player at each position on the depth chart (all were on my distant bell list). What does that mean? The Oilers didn't have any in this group who were able to pass the men above them—that's not a criticism, the gap between the defensemen (as an example) and the blue who stayed is several year in experience and age in most cases. One player who might want to put a some spur in his side is Ben Betker, who did not stand out among the defensemen sent out today: That's bad.
One other thing: Loik Leveille was a player who, at one time, was thought to be a candidate for signing ala Joe Hicketts (and famously attempted Vladimir Tkachev). It doesn't look like that has happened here.
LAST YEAR'S CUTS
Edmonton didn't make this move until September 23 last season and the men who got sent down included Greg Chase, Tyler Bunz, Ben Betker, Keven Bouchard, Frans Tuohimaa, Graeme Craig, Matt Ford, Mitch Holmberg, Marco Roy, Connor Jones, Kellen Jones, Alex Krushelnyski, Connor Boland, Jackson Houck, Kyle Platzer, Josh Winquist and CJ Ludwig.
BAKERSFIELD EARLY

The Bakersfield Condors are going to be a fantastic AHL team, I can't see any way around it. The forwards sent down today have talent and all three of them may spend significant time in the ECHL this season.