One of the reasons I build a three tiered list for training camp is there are times during the next two weeks when news hits and we forget. I'm not sure what happens in the brain to cause a re-set, but I do it lots, always have. Today, the Oilers brought together their "A" roster and that group did not include Darnell Nurse. Early speculation had an injury as the problem (Teddy Purcell is in fact injured) but Nurse is with the AHL group. Should we be surprised? Let's look at the list we established before training camp.
CERTAIN OILERS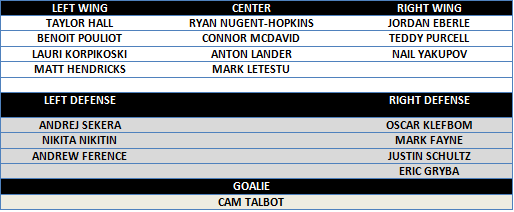 There is no Darnell Nurse here, and none of these men is in any danger during TC so far. Now, we've heard Nikita Nikitin is slow again, that Teddy Purcell is hurt and that Taylor Hall had a (slight) injury. That's it. That's all. If Nurse isn't on the big list, that's to be expected. We agreed during the period before TC, right?
THE UNCERTAIN OILERS
Here we find Darnell, and his impressive (based on reports) pre-season debut puts him alongside others who showed well first game out this fall. I'd count Leon Draisaitl as the de facto 'winner' on night one from this list, with Griffin Reinhart and both goalies also in photo. Fair? Andrew Miller scored a goal. Good arrow. I saw Anton Slepyshev have a good forechecking shift. Good arrow. Not much movement but this is miles from the final scene of this TC.
THE DISTANT BELLS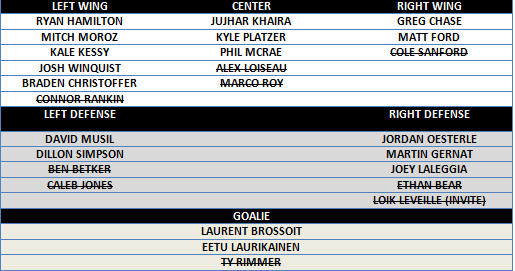 Now. THIS is a list where even one good showing does (imo) mean something. Example: Laurent Brossoit. It doesn't mean he's going to make the team but the GM and coaching staff noticed and that's a good thing. One of the talking points from Todd McLellan after the game surrounded four good outings ("The great thing we've done here now is create competition in the net") last night.

If we're looking for the next group of demotions, this list supplies the names most likely to be on it. From here, I can guess:
Martin Gernat and Mitchell Moroz could be placed on IR (Purcell also possible)
Laurent Brossoit and Eetu Laurikainen are sent to Bakersfield.
David Musil, Dillon Simpson, Jordan Oesterle are sent to Bakersfield. I've excluded Joey Laleggia because the young man keeps showing up in a good way—if you're looking for an early story, my guess is Brossoit and Laleggia are part of the conversation on a higher level than we expected going into camp.
Ryan Hamilton, Kale Kessy, Josh Winquist and Braden Christoffer are sent to Bakersfield. Don't be surprised if we hear about Winquist and or Christoffer getting a full NHL deal (50-man) at some point this fall or winter.
Greg Chase and Matt Ford are sent to Bakersfield. Chase hasn't blown the doors off but he's got some arrows (shot in the Golden Bears game, did some things last night. The young man has a Mike Keane-like way of drawing attention, thank goodness he's not a Hab or Star.
Jujhar Khaira, Kyle Platzer and Phil McRae are sent to Bakersfield. So far in main camp, none of these men has moved the needle and none have been in a feature role. That's a tell.
IS THERE ANYTHING NEWSWORTHY TODAY?
Yes! Leon Draisaitl spent some time on the 1line last night and with Teddy Purcell's injury it may mean he spends shifts with Hall and McDavid. That's some extreme firepower and with McLellan's comments last night ("The right side is a strength if he's going to play on the wing") maybe we're seeing something. I'll post this tomorrow morning as part of the game day thread but here's how practice lines and pairings looked today:
Hall—McDavid—Draisaitl (McLellan may get a statue by Christmas with innovative thinking like this)
Pouliot—Nuge—Eberle (Still the 1line but it won't be long. Ridiculous 2line, give your head a shake)
Korpikoski—Lander—Yakupov (The 'screw the Euro kids' offense' tradition continues!) 🙂
Klinkhammer—Letestu—Hendricks (A nice arrow for Klinkhammer. This could be a tell)
Gazdic—Miller—Pitlick (Good sign for all three imo. Gazdic part of the A group, Miller as C, Pitlick hanging in)
Sekera—Fayne (Top pairing, I think they'll start the season together)
Klefbom—Schultz (Second pairing, I think they'll start the season together)
Reinhart—Nikitin (Interesting to see this pairing. Could they be third pair opening night? I say yes)
Ference—Gryba (This is not a good combination to my eye)