The one thing about last night's game that we all have to agree on: The Jets didn't send much. Aside from Burmistrov, Chiarot, Lowry, Hutchinson, Winnipeg's opening night lineup was home and dry last night. What conclusions can we draw from the game? Not much, but there were some telling performances—especially when placed alongside the competition.
OILERS BLUE LAST NIGHT

Reinhart looked very good against AHL competition. He played a very efficient game, stayed in his lane and won battles to make the safe play. I especially liked his PK work. McLellan used the word "poised" and it fits well. I thought he was fast enough, too.
Gryba has some mobility issues but (like Reinhart) he defended well and was sound in his positioning. I'm not sure they make an ideal pair—not exactly a lot of pinpoint passing—but tonight they looked the part of NHL defensemen playing a minor league team.
Schultz scored a nice goal and then almost immediately afterward made a ghastly pass to Leon that was basically a suicide play. Turnover, JS late late on a shift and going the wrong way, disaster straight ahead. I did like his positioning more than last year though, I think it's pretty clear he's come in determined to turn this around. Mobile player, got into a scrum too. The goal he scored came in the one area we can consider a true strength—finding open ice in the offensive zone and getting good chances. Godspeed, young man. Watch the suicide passes. He looked confident, can he maintain that against an NHL roster?
Klefbom looked (as always) capable, he has a nice range of skills and I bet McLellan uses him a lot as the season wears on. What is his offensive game? 30 points? More? less? He's been here awhile and I've kind of marked him as a 30-point guy (Staois plus a little) but watching him tonight he's quite creative. He was half-wall for a bit, made a nifty pass for (I think Leon) a decent chance on net.
Oesterle looked like a guy who has a few more lessons to learn. Good speed but he got walked early and I think that's something he's going to have to improve. It wasn't about size, it was about positioning. He didn't do anything to stand out in a good way (that I saw).
Nurse really needs to simplify his game. I think the range he brings gives him all kinds of opportunities to make this roster but if you put a dot on the ice where he was positioned at the point of a turnover last night there are a few dots that suggest he has some room to grow. This was AHL competition and he stood out for his speed, his physical play but also for his rushes to nowhere and dabbling in being where he shouldn't be when the puck turned over. He recovered easily, but this is AHL competition and the real Jets would have made him pay.
TALBOT
30 of 32, .938. The second goal seemed a little wobbly but he was solid in the first period. It's been awhile since an Oilers G stopped the shot and didn't give back a kevlar rebound, so I felt calm when him in the cage. First one in off Nurse? I think so.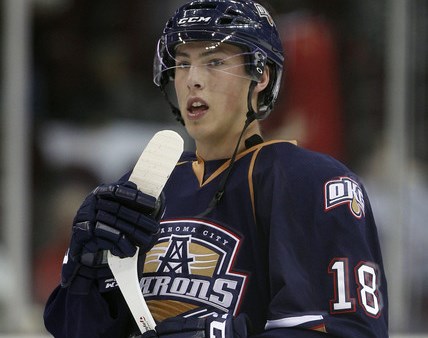 (SOME) OILERS FORWARDS LAST NIGHT
Nail Yakupov: Played just 11 minutes (1 on the power play) and wasn't a feature player. I liked Yak, he was dogged on the forecheck and possessed without the puck during 3-on-3. Leon missed him on the 2-on-0 but he had a nice game (competition alert)
Jordan Eberle: Five shots, a goal and he was dancing much of the time last night, as you would expect against this competition. He may be a little quicker this year (or it might be the Jets kids) but I saw him good. He was 12-13 (48%) on the 5×5 Corsi %.
Matt Hendricks: Nice penalty shot goal for the winner, he had the tougher assignment (29% ZS, 59% Corsi for 5×5) and played a nice game. Competition alert, but a reminder that veterans have value.
Lauri Korpikoski: He's a bigger guy in an Oilers uniform than you'd think, played a ton on the PK and won battles. His Corsi for 5×5 % (39%) matched his zone start (40%) and I thought he was physical and effective 4×5.
Leon Draisaitl: I think we're probably at a point of moving him from "uncertain Oilers" to "Certain Oilers" but let's wait until the competition improves.
Anton Lander: I thought he was one of the best players on the ice, strong with and without the puck. He's such a smart player, really good at recognizing the situation and making the most of it. I shudder to think the Flames could have picked him up for nothing last fall. 62 Corsi on a 50 ZS.
Benoit Pouliot: Had a nice game, man among boys phyically, had an assist. Didn't play much, I'm not sure why. 59C 43ZS.
Ryan Nugent-Hopkins: My tickets last night came courtesy Tim Hite (and I thank him for it) and for me the Nuge alone is worth the price of admission. Saved a goal on a wobbly play by the goalie, had two assists, skated miles and probably worked a shift over at the CN railyards. Wonderful player, don't forget this guy when it comes to talking about Oilers riches.
THE NEXT CUTS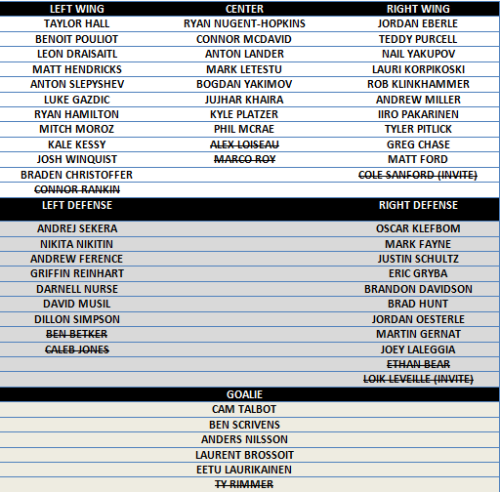 I think we could suss out the roster with just a few battles (3G, 8D, 14F look pretty obvious but that's too many) based on Todd McLellan's A and B list. Did anyone improve their stock last night from the B list?
G: Laurent Brossoit, Eetu Laurikainen
D: Brandon Davidson, Darnell Nurse, Brad Hunt, Jordan Oesterle, David Musil, Joey Laleggia, Dillon Simpson, Martin  Gernat
C: Bogdan Yakimov, Jujhar Khaira, Kyle Platzer, Phil McRae
L: Anton Slepyshev, Ryan Hamilton, Mitchell Moroz, Kale Kessy, Josh Winquist, Braden Christoffer
R: Iiro Pakarinen, Greg Chase, Matt Ford
I covered Nurse and Oesterle above, I liked the two Russians but many of their shifts ended in a Christoffer penalty (or so it seemed). Among the forwards Edmonton dressed, those three men were probably the ones who were most evenly matched with the Winnipeg group and the possession numbers favored them. I think we should expect that Laurikainen, Gernat, Simpson, Hunt and Kessy either play soon or get sent out.
LOWDOWN WITH LOWETIDE
A very busy show today, bringing on some new guests to add to the established riches. 10 this morning, TSN1260. Scheduled to appear:
Dennis King, Oilogosphere Icon. I will attempt to steer Dennis away from Blue Jays conversation, he lied.
Marc Majeau, TSN1260. We'll talk J-E-T-S, Yankees and his new Saturday show.
Mike Hetherington, TSN. We'll set up the NFL weekend and discuss the mediocre 2-0 teams and the great 0-2 teams.
Frank Seravalli, TSN. The breathtaking 3-on-3 and what in h-e-double-hockey-sticks happened in the Patrick Kane case yesterday?
10-1260 text, @Lowetide on twitter. Your questions and comments are welcome, tune in if you can (and maybe win that trip! Take me with you!).