I've never been to the city of Lodi California, but have been in the place John Fogerty wrote about in the song, many times. When you want to be home, or what is home to you, the distance can be overwhelming. It's a mighty long way from Bakersfield to the NHL, or at least it seems so this morning.
THE FIRST CONDOR SIGHTING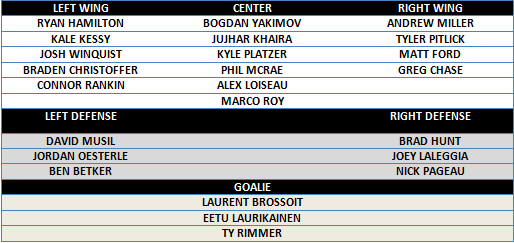 There's a few injured men (Moroz, Pakarinen, Simpson, Gernat) and several players who will eventually find their way to Bakersfield from the current Oilers roster (I'll guess Nurse, Davidson, Slepyshev). The best players aren't here yet, but men like Bogdan Yakimov, Andrew Miller, David Musil, Joey Laleggia and Laurent Brossoit have some real potential as NHL players. It's going to be a fun team to follow in 2015-16.
THE 'ALMOST THERE' OILERS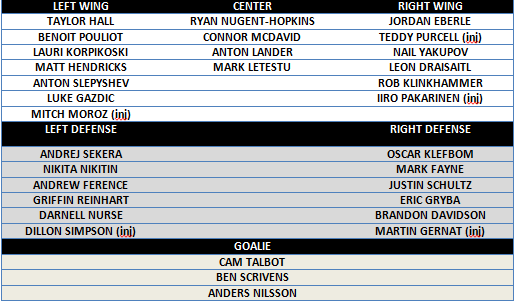 That's 32 men, with five injured so we're at 27 and there are four to go: Scrivens, Nurse, Davidson, Slepyshev. That's my guess. One of the most interesting items this week: Where does Todd McLellan play Leon? If he's will Hall and McDavid, that could be awesome and chaotic. The chemistry between CMD and Draisaitl is obvious and despite some defensive shortcomings that line could be breathtaking. I also think a soft parade line of Lander, Yak and Leon showed enough promise to be worthy. I also like the fact Nail Yakupov is going to be placed with substantial talent an suspect he's going to score 20 or more. These forwards, in terms of talent, are insane.
PROJECTED 23-MAN ROSTER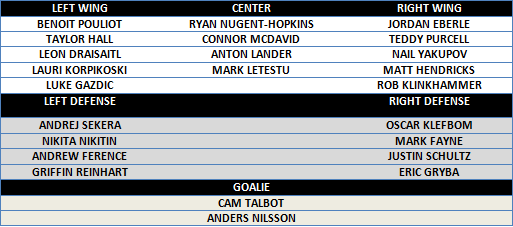 That's 24, I suspect Purcell goes on IR, or one of the blue stubs a toe coming off the ice or some such. The guy I chose to punt—Rob Klinkhammer—stays because for me he's an interesting player on this roster. If Korpikoski is needed up the lineup, Klinkhammer. If Hendricks is needed at center, Klinkhammer. He's so damned handy the Oilers sent Andrew Miller out, and Miller would have been a dandy 13F. I'll go so far as saying the following: The last spot comes down to Klinkhammer vs. Gazdic, and if push comes to shove Gazdic loses. Rob Klinkhammer is a Swiss Army knife for this team and that's what you need if carrying 13F.
SLEP SLAPPY
I liked his future when he was 6.02, 194 and fast, you can imagine how impressive 6.02, 217 and fast looks on the current Edmonton Oilers. Slepyshev was the finisher on the best goal of pre-season to my eye (the goal itself began with a nifty McDavid lift, was followed by a fast as lightning passing display and finished by a quick release, all happening in a very short span).
Todd McLellan: "He has the ability to play a heavy game and use his shot. He's played with speed guys and with grinders … he's getting better night after night and he's really opening the coaches' eyes." Source
In the game against Winnipeg, Slepyshev and Bogdan Yakimov didn't get much of a chance to shine (Braden Christoffer kept taking penalties!) and Yak 2.0 was sent down in the first set of cuts. Slepyshev stayed up, partly because of Teddy Purcell's injury and especially because of that 'heavy game' McLellan mentioned. He didn't play with truly skilled men until the Winnipeg game and scored a first-shot scorer's goal. His snipe against the Wild was pure glory.
2nd period underway! ICYMI, here's how the #Oilers went up 1-0 on a beauty goal finished off by Anton Slepyshev. https://t.co/abh4EeLtuF

— Edmonton Oilers (@EdmontonOilers) September 26, 2015

LOWDOWN WITH LOWETIDE
Monday Monday (ba-DAH, dah-dah-dah), can't trust that day. Lowdown hits TSN1260 at 10 and we have a great guest lineup. Scheduled to appear:
Scott Burnside, ESPN. We'll talk about the strongest Cup contender and take a closer look at the Central.
Antony Bent, FC Edmonton.  A massive win for the Eddies who are sitting in a playoff spot as we speak.
Sunil Agnihotri, Copper & Blue. Slepyshev and trading a blue.
Jeff Hauser, SB Nation and Radio Hauser. NFL weekend, things are coming into view.
Dave Jamieson, TSN1260. CFL weekend and the Eskimos need to get it together offensively.
10-1260 text, @Lowetide on twitter. See you on the radio!