I remember Daniil Zharkov's draft day, he was funny and engaging and it was a fairly eventful weekend.
Zharkov on the draft: "I think it matters when you get drafted but you also have to take into consideration that every team has its needs. It's a huge business. Players shouldn't think of this too much. We just have to play. I had a week when I was really focused on it. I checked the rankings, try to find my name in them… And they it dawned on me – what am I? A fool? What's the use of looking at the screen all the time? Just play! Have fun!" Enjoy!"
Zharkov hasn't moved the needle much since his draft day but if we go back and look at what was written, it's interesting to wonder where his game is today.
Redline: Excellent natural tools and terrific puck skills with great hands and a wicked shot. He's kind of a one-trick pony, but it's the best trick of all: he puts the puck in the net. Has a knack for sliding to open ice just at teh right moment and buries his chances. Has long reach and prtects puck well. Excellent shooter who hides release point well. Has a long, smooth stride and good acceleration, but only skates hard when there's a scoring opportunity involved. His compete level is poor and completely unacceptable. Resorts to horrific diving and histrionics whenever he gets hit. Some games spends more time on his [backside] than on his skates – a feather could knock him off his feet. Also a perimetre guy with mediocre hockey sense who rarely passes the puck. Still, might be one of the five best pure snipers in a draft starved for offense.
Zharkov on Zharkov: "I'm a physical player. I actually call myself not Russian but more of a Canadian player. And I think that I'm really physical in the way that I skate and shoot the puck."
Zharkov is an invite to Condors TC, the list published today. I'll be speaking to Scott Zerr tomorrow about the list, and men like Zharkov.
WAIVERS
A few interesting names today, I chose one:
Kirk Luedeke on Max Friberg: Friberg is a late '92 and played for Sweden at the WJC. He doesn't have high-end offensive skills, but plays a good two-way game and has the intelligence to be a checking presence at the least, with a modicum of potential to develop into more. Source
And there are rumors this gent may be on waivers later in the week:
Kirk Luedeke on Jarred Tinordi: Admittedly, he's a meat-and-potatoes defenseman who has size and toughness, but not much offensive upside. Still, the son is a chip off the old block, playing a similar style to his dad, Mark, who was playing for the Capitals when Jarred was born. The Notre Dame recruit is steady, smart positionally and owns the walls and front of the net. The U.S. Under-18 team captain has all the intangibles you want such as tenacity, leadership and poise under pressure. Think of him as a similar player to Mark Stuart— he's going to hit, fight, play hard and give you everything he has. Just don't ask him to go out and score a lot of goals or run your power play. Source
WAVERING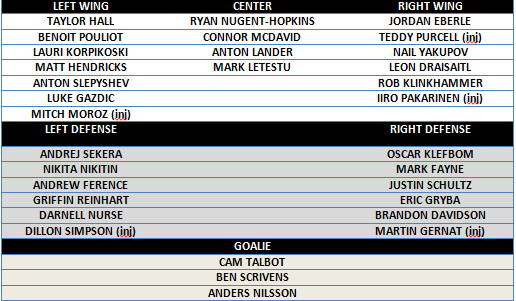 I think we're at a point where Peter Chiarelli is probably calling and answering calls in regard to trades. The Senators grabbed a fringe defenseman today, so they may not be in the market for a blueliner (although they should be), but the LAK could strike and we know Nikita Nikitin has been in the conversation previously. I remain convinced Nikitin is one of the six best defensive options on the team, so that trade may not happen.
Ben Scrivens may also be available but after that we're probably looking at internal solutions. Darnell Nurse is probably a few days away from being sent down, Brandon Davidson and Anton Slepyshev could be going with him.
The big play? A top four defenseman but Nick Leddy isn't out there as far as I can see.