As we've discussed for several weeks, Darnell Nurse was blocked from an NHL job by the work of Peter Chiarelli this summer. That's a good thing. Today's move puts Nurse in a very good position long term, as he can learn the finer points of the pro game outside the NHL, arriving as a more complete player. That's good news for everyone. Looking at the current depth chart, he's back by Christmas.
CERTAIN OILERS (19 plus one injury)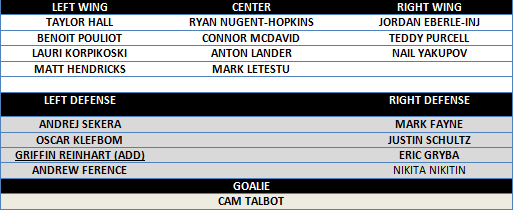 I'm pretty damned excited about this team at center, in 2015-16 and beyond. Hard-working centers who are elite at No. 1 and No. 2 and a range of skills in the No. 3 slot is just about the best setup going. Jordan Eberle's injury shivs the first month of the season but there's better depth this year and that could mean avoiding the usual trip into the elevator shaft we see each autumn.
UNCERTAIN OILERS (7)

The Russian Slepyshev was a revelation during the game last night. Fast, rugged, skilled, and he didn't even get drafted in his first year of eligibility. Bringing us to a rather incredible question: Has Slepyshev outplayed Yakupov? Small sample size alert but based on visual this man's game converts very well to the NHL style.
Darnell Nurse was sent down today and that's news for sure. However, we're not terribly surprised based on the verbal and tea leaves. Brandon Davidson being here is somewhat akin to Brad Hunt's presence a year ago, suspect Todd McLellan and Peter Chiarelli (and others) like his game and his cap hit. Good on the Oilers to be looking at those cap advantages this far from the McDavid deal. Wish they could figure a way to get more better blue but Rome wasn't built in a day. Davidson is blocked by the way, he'll get sent down unless Edmonton demotes Griffin Reinhart or can make a trade for one of the veterans.
With the injury to Eberle (and Purcell's healthy status) means there are now four jobs available:
Backup goalie (Scrivens or Nilsson)
2line RW to replace Eberle (Draisaitl, Slepyshev)
extra forwards (Gazdic, Klinkhammer)
Six men for four jobs and Davidson on the outside looking in unless there's a deal to be made. Jason Gregor has an article up at ON stating Nilsson can be sent down without waivers, I still think the club makes a decision on a G before opening night. If it's Nilsson who is the odd man out, Bakersfield gets even stronger.
I think the final four keepers will be Nilsson, Draisaitl, Klinkhammer and Eberle.
THE DISTANT BELLS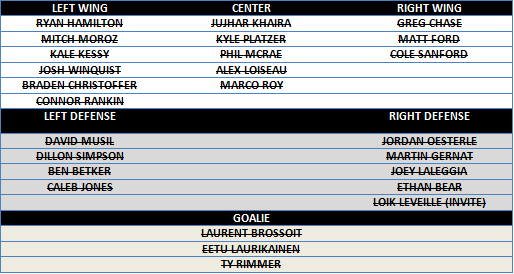 The entire list has been put to bed, not a lot shaking from this group during Todd McLellan's first TC in Edmonton. That may change in future seasons, but I love the fact McLellan cut down the roster quickly. The Oilers have two pre-season games left and 26 men in camp—we're pretty much through the process. Whatever happens this fall, I don't think anyone can point at the coach for wasting time or casting the net too wide. I remain convinced the Oilers management created an environment that lacked urgency a year ago, thus ensuring a 'soft launch' to a season that would eventually cost a lot of jobs. Dallas Eakins gets hammered for that across Edmonton media, I'd aim higher. The men who made the decisions that cost fans last season came from inside the house and those management people are still there.
We should not forget that, still work to do.