Remember when Todd McLellan talked about painful nights back at his first media avail?
McLellan: "With all of that there's pain. There's nights where we're not going to be pleased. But there's four teams playing right now that experienced that throughout the year too, they have painful nights, they just have fewer of them. We're trying to take those painful nights and diminish them throughout the years to the point where we can be at the top of the mountain." Source
Casey Stengel, the old Yankees manager, used to say that in a MLB season there were 50 games you were going to lose no matter what, 50 games you were going to win no matter what. Winning the pennant came down to what you did in the games that could go either way. The Oilers were 6-0 entering last night, had tremendous goaling and scoring from three lines. The defense looked stronger than it had in the past and the lessons of the new coach seemed to be finding fertile soil. The 'quality of competition' question was screaming in our ears, but getting the basics down against the also-rans seemed a good idea at the time.
"Tonight was a sobering wake-up for all of us and we'll use it properly to try to improve… We've all got work to do." Coach McLellan

— Edmonton Oilers (@EdmontonOilers) October 2, 2015
One could argue Edmonton came up against an actual NHL team last night, but that's not really true (I'd venture less than half of the Canucks who played last night will make the opening night lineup). One could also argue that the Oilers sent out their best roster but that's not true either—Oscar Klefbom and Mark Fayne did not play in last night's game.
The big question I had going into last night's game: Is Griffin Reinhart going to make this team and will he be a regular? I believe the answer to be yes on both counts. The things we knew (Ference and Nikitin are going to have a difficult time) remain true and the forwards (especially centers) are flat out fabulous. And the goalie? Come on, folks. Cam Talbot may not be an established No. 1 starter, but surely we're not going to fill our pants over one wobbly pre-season effort. I know the ghosts of seasons past still shine in our minds, but chin up, Edmonton! Cam Talbot doesn't know one blasted thing about the last two Oilers seasons.
"I'll come out with a better effort Saturday and then into the season." @ctalbot33 | VIDEO > http://t.co/j9RPQbWNuJ pic.twitter.com/zZuBFguKfa

— Edmonton Oilers (@EdmontonOilers) October 2, 2015
LAST NIGHT'S BLUE

Sekera—Schultz show well by the numbers, although the veteran Sekera made several very poor decisions with the puck. The PK GA was stunning in its horribleness, but I think we can all agree judging a player on one play (or game) is a bad idea. I thought Schultz was good again, seems to be more confident with and without the puck. It's important to note that while there was major chaos in the back end last night, Schultz (to my eye) wasn't part of it. I've been very critical of Schultz in the past, but am thrilled with his early performances.
It's also interesting to note that the Sekera—Schultz pairing received the most difficult zone starts, I really like having a puck mover on the tough ZS pairing. That said, I don't think these two should be paired together, for me the ideal (Sekera—Klefbom) isn't possible at this time so I'm hopeful we see the two best defenders split (Sekera—Fayne, Klefbom—Schultz) for opening night.
I think Griffin Reinhart made the team a week ago but a subpar performance in these final games could knock him back. His pairing (with Gryba) received the zone-start push last night and the numbers suggest they sawed off (or close) the competition at even. Not quite true, there was a definite smell of tires when that pairing was on the ice. I'll guess both men play a significant amount this season in the top six.
DEFENSE EV TOI LAST NIGHT
Sekera 19:48
Schultz 19:23
Nikitin 17:41
Gryba 17:31
Ference 16:55
Reinhart 16:19
That's about what it felt like, Reinhart—Gryba third pair and then Gryba moved up a little as the night went on. I don't believe any of last night's pairings will be in the shuffle when all hands are on deck. I also wonder if they're having a hard time finding a fit for Reinhart (Fayne and Gryba seem to similar, Nikitin too slow). Reinhart needs to move his feet when he has the puck, too easy a target otherwise.
You are going to encounter people who are in panic mode about the defense and goaltending. Listen to McLellan. This is a marathon, not a sprint. The idea is to reduce the moments when Edmonton runs around in their own end like chickens with their heads cut off. Some days are diamonds, some days are stone. McLellan. Voice of reason. Accept no other.
LAST NIGHT'S FORWARDS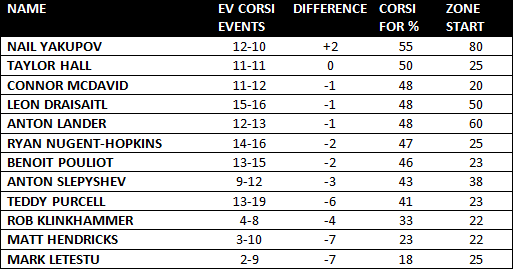 I have no idea how McLellan got that ZS number for Yakupov but he was dangerous last night. Fantastic goal-scorer's goal and a couple of exceptional individual performances. I see a few people wondering why he isn't getting time with Nuge or McDavid, but if you look at the ZS gap the answer seems clear.
Hall scored an early goal (good to see) but while there was a lot of try the results didn't appear to be there. This sounds crazy, but Hall seems to be the jimmy legs on the line with McDavid and Draisaitl—with the two kids displaying more calm. I'm not going to worry about the veterans for some time, and overall No. 4 seemed more into the game's moments than in past outings this fall.
McDavid is such a fast train it's hard to avoid getting fixated on him. Several good chances and small little items that show true brilliance, example being the little kick pass from skate to stick on the Hall goal. Small, small thing but key to a goal. And Leon is the king of the short pass, lordy he's good at the chess moves.
Nuge skated miles, without the production. Purcell was a ghost to my eye but to be fair he was just getting out there. Pouliot is a bull, love that guy. Slepyshev keeps being noticeable in a good way, can they send him down? Letestu was not good.
WHO'S ON IR?
Jordan Eberle for sure, Luke Gazdic hasn't played in awhile and Matt Hendricks was staring at his hand after that fight with Dorsett (if he hurts another Oiler they'll trade for him, that's how it works). After that, not sure.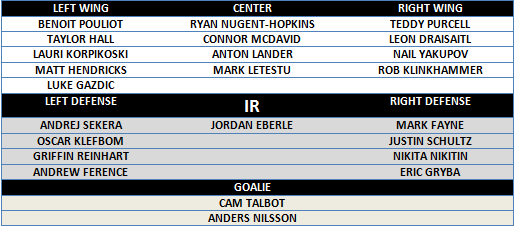 Bryan Bickell? No. The Oilers have an addled roster because two of their highly paid defenders can't play a role the team requires, but adding an extra year of Bickell to rid themselves of Nikitin is too much. If Nikita Nikitin is so bad this fall they can't play him, maybe he'll end up in Ufa or with Traktor Boy.
LOWDOWN WITH LOWETIDE
A busy morning starting at 10, TSN1260. Scheduled to appear:
Steve Lansky, BigMouth Sports. We'll talk about the Jays and how October baseball reminds us of past glory and pain.
Antony Bent, FC Edmonton. Eddies on a roll, in a playoff spot but have to keep it going. Also, EPL table is a shocker.
Travis Yost, TSN. Yost will explain the logic of the Mark Fraser signing and tell us if Matt Puempel or Shane Prince will get an NHL job this year. We'll inevitably talk Oilers.
Paul Almeida, SSE. We'll get Paul's take on the Oilers last night and talk about his worry over the goalies (Paul would like to see a veteran backup brought in).
Show comes complete with a Lego Lt. Eric and we get started at 10 sharp. 10-1260 text, @Lowetide on twitter.