The Edmonton Oilers have one more move to make in order to make the 23-man limit by opening night. They could be more active—watch that waiver wire tomorrow, it's going to be an interesting day. If Edmonton doesn't make another move (I've put Eberle on the injured list but one more is needed), we could see an late IR announcement to make things right with the league.
OILERS CURRENT ROSTER (24)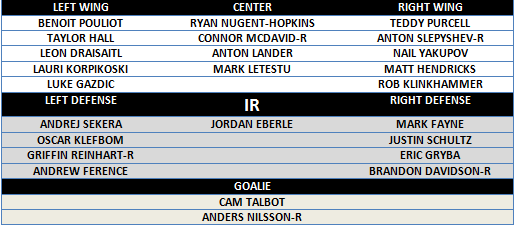 If this roster holds true, Peter Chiarelli will have added 8 men (McDavid, Slepyshev, Korpikoski, Letestu, Sekera, Reinhart, Talbot, Nilsson) or 35% of the roster in one fell swoop. I'm assuming the IR addition (Eberle and another) is Hendricks or Klefbom—someone from last year's team. Trading Ference would be a dream, but it's also a distant bell.
CONDORS CURRENT ROSTER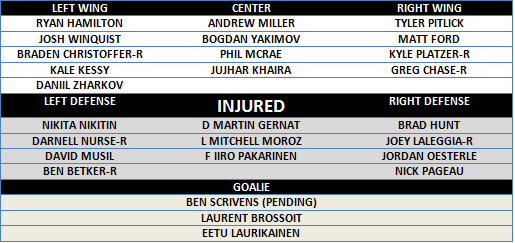 I have Scrivens on the Condors roster, that may not happen but we'll proceed for the purpose of our conversation as though he passes through waivers. I've arranged the Condors roster loosely around their home exhibition game last night, while also adding in Nikitin and Scrivens.
If Gerry Fleming runs the roster as above, I'm pretty damned happy. The most important prospect among the forwards (Yakimov) gets a skill winger (Winquist) and a veteran (Ford), while the other youngsters are also playing prominent roles. Things will change when Pakarinen and Moroz are ready, but nice to see so few AHL veterans (Hamilton, McRae, Ford and I guess Miller now although he's also a prospect).
The defense featured Nurse and Laleggia again, Oilers appear to like that pairing (I wonder if they stap Laleggia to Nurse in an effort to denver boot the walkabout?). Goalies look solid from here, well qualified for this level.
Nikitin? No idea. As of now, he's in the top-four D in Bakersfield and able to afford the best Mexican food within 100 miles (Scott Zerr tells me the mexican food in the area is fabulous. When are we going? Woodguy must have a Westfalia we can all climb into)
Los Tacos De Huicho http://t.co/bEdOuAYEeB #Bakersfield 😍 .feed me tacos & I'll love you FOREVER pic.twitter.com/YbJ6BRxhcQ

— DineHere.us (@dine_here) June 13, 2014
I don't care where we go really, but insist we stop in at Buck Owens Crystal Palace. I'll sing Act Naturally and Together Again and we'll probably get arrested!
A WORRIED BUCKAROO
I'm still not sure about the RH blue (currently Fayne, Schultz and Gryba) and would prefer trading out of the two defensive defenders in favor of a two-way type. Justin Schultz and his impressive training camp make this less of a concern but it's there.
Also, the penalty kill. Boyd Gordon is slow, slower slowest but lordy I'm not sure who handles this role and if you're using Nuge that's going to put a hole in the offense when things get back to 5×5. Letestu and Lander, Hendricks and Korpikoski are sound options. After that? Gazdic? Yak? Maybe Leon, he seems to do everything else this fall.
Finally, the goaler. I like the Talbot bet plenty and Nilsson had a strong small sample size TC and we'll see. I don't want Cam Ward and I don't want Jonas Hiller, but will feel better when Benjamin clears tomorrow. You may feel this is five easy pieces overnight but not for me. Goalies are voodoo and we've had two straight year's of 'the call is coming from inside the house' so no thanks, friend. And that defense isn't fooling anyone.