When I was writing this morning's post, I almost left out the option of sending down Leon Draisaitl:
Brandon Davidson waivers. It's a quick, easy move and even though it risks losing him this is the day to do it because there could be three teams worth of players on the wire.
Griffin Reinhart. It gives the Oilers a chance to watch GR develop a little more in the minors and as we've talked there are some cap bonus issues that would be burned off with time in the AHL.
Andrew Ference. This would require Ference to agree to a move and Edmonton would have to swallow (likely) half the contract and add a painful sweetener but that's probably their top option. The problem is finding a dance partner.
Anton Slepyshev could be sent down, it's probably the most logical move of the bunch.

Leon Draisaitl could be sent down, there are some bonus opportunities that could burn just like GR

.
Matt Hendricks hurt his hand, could go on IR.
Luke Gazdic waivers.
Rob Klinkhammer waivers.
Why did I almost leave it out? The reason for sending him down didn't ring true to me. As it turns out, the Oilers sent Leon to Bakersfield for another reason:
"I think he is just a bit ahead as a professional right now and he is a natural winger." Chiarelli on Slepyshev over Draisaitl. #Oilers

— Jason Gregor (@JasonGregor) October 5, 2015
I'm going to guess performance in the last week or so contributed to Leon's downfall, and the mysterious wording on Slepyshev's options if he didn't make the NHL team are also interesting. I would have kept Leon, and believe this is a mistake, but we'll see. Draisaitl was one of the reasons the 3line had an offensive gear, and Lauri Korpikoski isn't going to have the same kind of creativity with Anton Lander and Nail Yakupov. That's my belief, Todd McLellan and Peter Chiarelli see it another way. They're the professionals and made the bet to go 'defense and experience' over 'youth and chaos' at this time. It's probably wise.
EDMONTON OILERS 2015-16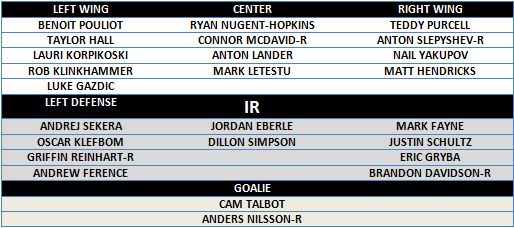 Fascinating to see what that blue looks like Thursday. I've read a few people online suggesting Ference plays opening night because he's captain, but Todd McLellan says they'll ice the lineup that gives the Oilers their best chance to win. We wait.
TRANSACTIONS: Greg Chase and Ben Betker have been assigned to the @NorfolkAdmirals. #Condorstown

— Bakersfield Condors (@Condors) October 5, 2015
Music! These two men need to play and that's exactly what they'll do in Norfolk. Godspeed to both of them and here's hoping they get to the AHL later this season. Gene Vincent is from Norfolk, interesting place.
BAKERSFIELD CONDORS 2015-16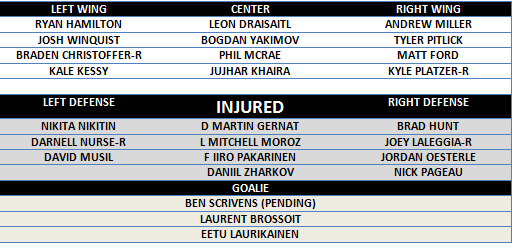 This is a fabulous minor league team. Leon's going to be a monster in the AHL, I would like to see Yakimov on his line just to scare the beJesus out of people.
WAIVERS
Peter Chiarelli's words didn't encourage the idea of a waiver claim but there are some talented men available for not much. Here's a list of players who caught my eye.
D Frank Corrado, Vancouver. Surprised he's available, this is a pretty nice hockey player. He's 22, has 28 NHL games to his credit and a range of skills. Effective at moving the puck, good defender. Undersized for the NHL game, I would be pleased if Edmonton grabbed him. RH D.
R Linden Vey, Vancouver. It's easy to overlook this player but Vey is 24, scored 10-14-24 in the NHL last season. His possession numbers aren't grand and Vey won't be a match for every team, but NJD or similar probably should take a look.
G J-F Berube, LAK. He's .913SP in the AHL the last two seasons, 24-years old and probably as good as a bunch of NHL backups.
L Jonathan Marchessaul, Tampa Bay. He's a small (5.09) skill winger who is at a point-per-game in the AHL, age 24.