If you observe a team long enough, you can actually see things developing. The Oilers, as a for instance, may well be trying to trade their captain today while also offloading yesterday's goalie, as Peter Chiarelli plays the role of Michael Corleone and settles all family business. Holy hell there's a bunch of men on waivers—and a pile more heading to hockey's garbage barge at 10 our time this morning. Managers says the darndest things on days like today. Here's one from last year:
MacT: "I think Tyler is at a position right now that we wish he would have been at a year or a year and a half ago." Source
I mean Jesus. Don Cherry used to tell the story of applying for a job playing in the AHL, and the manager said "if you were your brother, I'd hire you." Lordy. That's some tough dialogue.
SAME TIME, LAST FALL
This was last year, Martin Marincin was in the minors with his Charles Atlas Body Building kit and the Oilers couldn't figure out who to send down so there were eight defensemen.
SAME TIME, THIS FALL (24)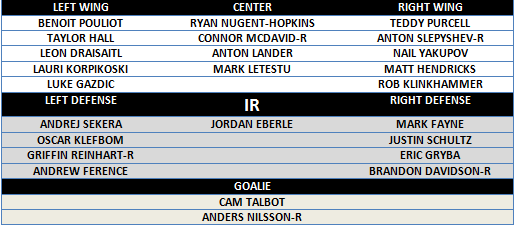 Eberle makes it 25 but he'll go on the IR. We should be fair and list all of the possible trades/demotions and why they might have appeal:
Brandon Davidson waivers. It's a quick, easy move and even though it risks losing him this is the day to do it because there could be three teams worth of players on the wire.
Griffin Reinhart. It gives the Oilers a chance to watch GR develop a little more in the minors and as we've talked there are some cap bonus issues that would be burned off with time in the AHL.
Andrew Ference. This would require Ference to agree to a move and Edmonton would have to swallow (likely) half the contract and add a painful sweetener but that's probably their top option. The problem is finding a dance partner.
Anton Slepyshev could be sent down, it's probably the most logical move of the bunch.
Leon Draisaitl could be sent down, there are some bonus opportunities that could burn just like GR.
Matt Hendricks hurt his hand, could go on IR.
Luke Gazdic waivers.
Rob Klinkhammer waivers.
YOUNG DAN BOYLE
A few times over the last while someone has asked "what does the next defender look like?" in terms of style. I think Peter Chiarelli and Todd McLellan see this defense as needing a big time problem solver on blue and that man has to be able to outlet the puck.
I don't know his name—we'll call him Young Dan Boyle—but when he arrives I think Edmonton's defensive woes will be (mostly) contained.
Sekera—Young Dan Boyle
Klefbom—Schultz
Nurse—Reinhart
Gryba
Boyle in San Jose acted like the offensive pendulum, giving structure and balance to the breakouts while also being an able defender. That's the guy and he needs to be right-handed.
PRESEASON 2015-2016 EDMONTON OILERS (6-1-1)
C 51 Lander, Anton 6 5 1 6
C 93 Nugent-Hopkins, Ryan 6 2 4 6
LW 67 Pouliot, Benoit 6 2 3 5
C 97 *McDavid, Connor 5 0 5 5
D 19 Schultz, Justin 6 2 2 4
RW 10 Yakupov, Nail 6 2 2 4
LW 42 *Slepyshev, Anton 7 2 2 4
C 29 Draisaitl, Leon 6 1 3 4
LW 12 Klinkhammer, Rob 5 2 1 3
LW 28 Korpikoski, Lauri 5 1 2 3
C 23 Hendricks, Matt 5 1 2 3
D 86 Nikitin, Nikita 4 0 3 3
D 2 Sekera, Andrej 5 0 3 3 3
RW 58 Miller, Andrew 3 1 1 2
D 77 Klefbom, Oscar 3 1 1 2
RW 14 Eberle, Jordan 4 1 1 2
RW 16 Purcell, Teddy 3 0 2 2
D 5 Fayne, Mark 4 0 2 2
LW 4 Hall, Taylor 5 1 0 1
C 55 Letestu, Mark 6 1 0 1
LW 48 Hamilton, Ryan 1 0 1 1
D 85 *Musil, David 1 0 1 1
D 82 *Oesterle, Jordan 2 0 1 1
D 62 Gryba, Eric 5 0 1 1
RW 36 Ford, Matthew 1 0 0 0
C 72 *Chase, Gregory 1 0 0 0
LW 37 *Winquist, Josh 1 0 0 0
D 24 Hunt, Brad 1 0 0 0
LW 61 *Christoffer, Braden 1 0 0 0
LW 54 *Khaira, Jujhar 2 0 0 0
C 52 *McRae, Philip 2 0 0 0
D 84 *Laleggia, Joey 2 0 0 0
C 41 *Yakimov, Bogdan 2 0 0 0
D 21 Ference, Andrew 3 0 0 0
RW 15 Pitlick, Tyler 3 0 0 0
D 25 *Nurse, Darnell 3 0 0 0
LW 20 Gazdic, Luke 4 0 0 0
D 88 *Davidson, Brandon 4 0 0 0
D 8 *Reinhart, Griffin 5 0 0 0
39*Nilsson, Anders 3 120 0.00 100.0
30 Scrivens, Ben 3 122 1.97 92.9
33 Talbot, Cam 4 211 3.13 89.2
*Brossoit, Laurent 1 29 2.07  88.9
The thing that strikes me is the quality of the rookies on this list. Edmonton may pull McDavid, Slepyshev, Reinhart, Davidson and Nilsson to the show this fall, but there's still plenty of underlying talent. Darnell Nurse and Bogdan Yakimov are inside my top five overall prospects and should have quality NHL careers rolling out for some time. I wish Pakarinen had gotten a chance to show what he could do, opportunity missed for the young man.
TODAY'S WAIVER LIST
It's going to be enormous. There are more young players in camp than I've seen in years and in some ways this fall reminds me of the 1979 and 1980 fall rosters—folks, a lot of veterans will be wasted today. Will we see 100 names on waivers? 10am, Lowdown.
MCDAVID'S ROOKIE POINT TOTAL
I rarely pat myself on the back, Jehovah's Witnesses are taught never to bring attention to themselves (you can imagine how useful that's been for a radio broadcaster—a career basically involving being a jackass to get attention!). One of the things I am proud of is the RE series, although it misses a lot and you can pluck a bad projection from any edition.
One of the things about doing the RE that sucks is I'm always first to put a line in the sand. I had a helluva time with McDavid's projection and know many of you felt it was low. It's interesting to see how other men who I respect have landed on McDavid's number.
Lowetide projection: 70GP, 23-39-62 .886 point-per-game (Source) July 23, 2015
Scott Cullen projection: 78GP, 27-43-70 .897 (Source) September 14, 2015
Brad McPherson projection: 77GP, 28-43-71 .922 (Source) October 5, 2015
I think McPherson's is probably the most viable prediction but we've seen some hockey since Cullen and I made our projections. Fun stuff, if you don't follow these gents, highly recommend doing so. McPherson (Blue Bullet) has been brilliant on this stuff for Oilers fans over a long period of time.
LOWDOWN WITH LOWETIDE
We'll have the waiver wire covered like a blanket from 10am on. A strong list of guests and of course it's on TSN1260. Scheduled to appear:
Scott Burnside, ESPN. Waivers, best rookies, Raffi, Coyotes.
Jeff Hauser, SB Nation and Radio Hauser. Eagles suck, Cowboys ha ha and Giants oh boy.
Sunil Agnihotri, Copper & Blue. Are Hall and McDavid a perfect fit?
Jeff Krushell, Krush Performance. Baseball's playoffs: A special time of year.
10-1260 text, @Lowetide on twitter. See you on the radio!