Despite all of the talent on this roster, the Edmonton Oilers don't really have a personality. What do they want to be known for? What will their strength be? The roster makeup dictates what they will not be (the LAK have more muscle between their ears than the Oilers have full stop) a physically intimidating team but their forwards are highly creative and some of them can push the river while others are stealth and deft at turning the tide.
Todd McLellan: "I watched great, young talent play hard in Detroit without the 'enforcer' game after game. Team toughness, team grit and doing the things they needed to do won them a Stanley Cup. It can be done, it's a mindset and it's everybody contributing… everybody has to pull on the rope." Source
Music! Now, my first reaction to this is 'why is Leon in California?' but let's see how this turns out. If Edmonton can play hard, like those Detroit teams, perhaps the (perceived) need for an enforcer will fly away like yesterday's papers.
Todd McLellan: "It's not about one, it's about the group… Luke (Gazdic) is obviously a physical player and competes hard, and guys feel comfortable when he's involved. But if he's not in the game, I don't expect our team to disappear and shrivel up." Source
I have to say that's a better answer than anticipated. It tells me that Gazdic's position on the roster isn't an automatic and we may well be seeing the end of the enforcer. That said, McLellan employed more than one in San Jose so we'll see. I think a hard-nosed winger like Benoit Pouliot or a rugged player like Curtis Glencross would be the better plan, and certainly believe Leon Draisaitl was more worthy of that roster spot. When do the actions match the words? We wait.
FOUR A'S
Andrew Ference is no longer captain of the Edmonton Oilers. I thought he served the team well in this area, no idea really but that's the guess from here. As I've mentioned in the past, my view of Ference includes some good times in Boston and for me this is a person to be respected even as his body begins to betray him on the ice.
The New Originals are the kids—Hall, Nuge, Eberle—from the 2010 re-boot and I imagine the Nuge will be captain next season (and McDavid at some point down the line). Well done, Oilers. In the pre-Chiarelli years, I imagine we would have seen a media avail announcing Ference remaining at captain with the GM saying something along the lines "we need to get these kids straightened out before they take leadership roles" or something similar. Make the call, include the Hall cluster, have a media avail that is light, tight and brief—while being respectful—and then board the plane to St. Louis.
That's the way you do it.
IMO, Oilers took a tough scenario and made a solid call but did it in a respectful way with Ference Team captain can now emerge with time.

— Ryan Rishaug (@TSNRyanRishaug) October 7, 2015
THE ROSTER
The Oilers are rolling a bunch of youth onto the roster this season and that's the first sign we're not looking at a team completely devoted to making the playoffs. Don't get me wrong, if they start off well and need reinforcements, I bet we see some help coming (as long as it doesn't sacrifice too much of the future). This season is about developing as a team and finding a cluster to place around Connor McDavid.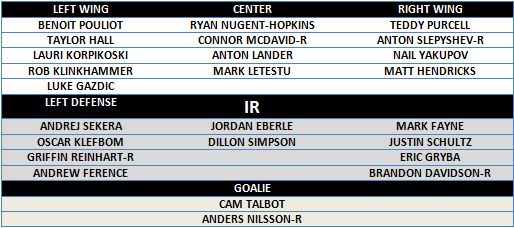 We know these lines are the ones run in Leduc today and we know Cam Talbot is the starter tomorrow night in St. Louis. It's not perfect, but we're here. This is us. Sleep well. Tomorrow, the long march north begins. Finally.