My Grandma cheered for the Leafs. I can still remember her voice as she yelled at Johnny Bower or Mike Palmateer ("get back in your net!") and those Leafs usually responded. The 1960's were a good time for the English in Canada (Toronto won in 1962, 1963, 1964 and 1967) although the Habs ran over everyone in the other years not named 1961. She used to dry the dishes during the game, but could never keep the production line in order—going from the kitchen to the living room several times during each period. Often, there would be dry plates and spoons all over the house with multiple tea towels beside them. She loved the hockey and my family gifted it to me on nights just like the one we're about to enjoy.
The dawn of the 1970s brought the big, bad Bruins and that was my team. I was a Leafs fan from birth, but the fracture created by the Frank Mahovlich trade was enough to wash away decades of family devotion and I was free to cheer for Bobby Orr and Boston. They were fabulous in the 1970s, just impossible to overcome because of an offense that 1980s Oilers' fans could have related to for its power. I think that era, the Orr era, is the time in my life the game hooked me and it's never let go. Thank you, Grandma. What a gift you gave me.
I missed you, hockey. Welcome home.
McDavid changed everything. The Oilers on-the-job management training was trashed, their entry-level coaching model hit the garbage barge and the rebuild turned into a genuine attempt to improve the parent roster.
McDavid changed everything. Peter Chiarelli joined the band, Todd McLellan too and they tried to patch up an addled roster with (sort of) veterans Cam Talbot, Andrej Sekera and Mark Letestu. There was too much to do in one summer and the bad contracts run out in 2016 (save for Andrew Ference, who will be bought out) and we are here.
The new men come from various sources:
Trades: G Cam Talbot, G Anders Nilsson, D Griffin Reinhart, D Eric Gryba, L Lauri Korpikoski
Free Agency: D Andrej Sekera, C Mark Letestu
Draft and Development: D Brandon Davidson
The Draft: C Connor McDavid, R Anton Slepyshev
AND SO IT BEGINS…..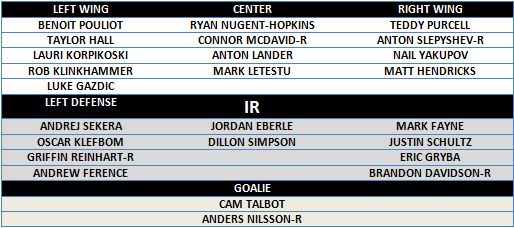 I'm more confident in the goaltending than most, it's probably the big disconnect on the blog currently. There's good reason to be worried—Edmonton doesn't have an established starter or backup—but the bet (imo) can go sideways without flushing the season (you can always trade for a goalie, and I think Chiarelli will if he needs to do it). I think Talbot has this, he'll be a significant upgrade. We worry because of the past and that's human. All of the smart people tell me the dice have no memory and for Oilers fans two wobbly goalie seasons can't be followed by a third. Peter Chiarelli can't let that happen again. Full stop.
The greater concern for me is defense and Edmonton's top three (Sekera, Fayne, Klefbom) aren't strong enough to support the remaining five blue. I keep hoping Edmonton can return to the olden days at the turn of the century, when they could cobble together four actual defensemen (Janne Niinimaa, Jason Smith, Eric Brewer, Steve Staios in 2002-03, or until the deadline). Edmonton needs Schultz or Reinhart (or Nurse) to arrive in a helluva hurry, or they need to make a trade.
In Peter Chiarelli's first Boston summer, he traded for Paul Mara and the organization signed Zdeno Chara, effectively changing the blue in two deals. Chiarelli didn't stop there, in fact he was more active during the season:
February 10, 2007: Bruins trade D Brad Stuart and F Wayne Primeau to the Calgary Flames for D Andrew Ference and F Chuck Kobasew.Chiarelli: "It became evident that when I wasn't having success signing Brad that I was going to have to trade Brad. Part of what we have to do is preserve the assets of players that are unrestricted. Chuck is 24 and Andrew is 27. They add some youth and energy, which we want to add to this team."
February 27, 2007: Bruins trade D Paul Mara to the NY Rangers for D Aaron Ward.
February 27, 2007: Bruins trade D Brad Boyes to St. Louis for D Dennis Wideman.
Chiarelli on the February trades: "Part of the rationale in the [Brad Stuart] deal and these two deals was to have players who can help us now, in the short term and the mid term. I feel we have the depth, both in unsigned draft choices and in Providence. For example, David Krejci came up, and game to game, he played better. So that's just the glimpse of the depth we have."
I think we could see something similar in the coming season. Chiarelli has Sekera, Klefbom and Fayne signed/under control, but Justin Schultz has another RFA summer coming. He could be in the "Brad Stuart" window above, and Chiarelli may have a candidate on the roster to serve in the Brad Boyes role above, too. While I'm at it, allow me to mention that an Eric Gryba extension may mean they'll cash Mark Fayne for a more mobile RH option. I'd also like to see a Klefbom—Sekera 10-game run.
And then we have the youngsters Reinhart and Nurse. Among the three youngsters (Klefbom, too) I don't think we're going to see a Niinimaa, we're looking at three Brewers (no 40-point seasons I can see). The defense is in a period of transition, I think we'll see changes before spring that include outside additions.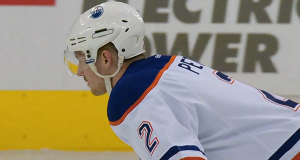 ONE YEAR AGO!
The game day thread is here, we were talking about Petry and counting down to the trade:
Darren Dreger:  "The Edmonton Oilers are weak up the middle of the ice and we know that Craig MacTavish is looking for a center. Not to suggest that they're shopping (Petry) … It's not a perfect scenario to have an 18-year-old in Leon Draisaitl as your second line center … But (Petry's) a piece of the puzzle they might use if there is a center who fits with their need." Source
OPENING NIGHT LINEUP, 2014-15
G Ben Scrivens
D1 Brad Hunt—Justin Schultz
D2 Andrew Ference—Jeff Petry
D3 Nikita Nikitin—Mark Fayne
L1 Taylor Hall—Ryan Nugent-Hopkins—Jordan Eberle
L2 David Perron—Mark Arcobello—Teddy Purcell
L3 Benoit Pouliot—Leon Draisaitl—Nail Yakupov
L4: Matt Hendricks—Boyd Gordon—Jesse Joensuu
If you read the comments in the GDT, the real impact of the goaltending screams from the pages and pages of posters in varying degrees of rage. That GDT is a very good reflection of the moment a year ago when fans realized it was happening again, the call was coming from inside the house.
I believe Cam Talbot is an excellent bet, and Anders Nilsson is a fascinating curio. Ben Scrivens is also available via recall and Laurent Brossoit continues to matriculate. If all else fails, I expect a trade. Chiarelli and McLellan didn't come here for the forensics.
NHLE UPDATE
Updated Translation Factors: .83 KHL .57 SHL .48 AHL .45 NCHC .42 NLA .40 ECAC, Big-10 .37 CCHA .33 H-East, OHL .32 Fin .27 QMJHL, WHL

— Rob Vollman (@robvollmanNHL) October 7, 2015
Using Rob's updated numbers, here are some projections from the Oilers prospect list (per 82GP)
Connor McDavid 25-44-69
Leon Draisaitl 13-24-37
Anton Slepyshev 18-11-29
Iiro Pakarinen 17-11-28
Darnell Nurse 8-17-25
Bogdan Yakimov 8-11-19
Griffin Reinhart 5-10-15
Hmm. Interesting. The gap between Leon and Anton S. is closer here (and dammit all anyway Pakarinen's injury was a real shame). Nurse remains a better offensive prospect from the blue than Reinhart, but we knew that much going in.
LB doing LB things. Welcome home, @LBrossoit. #Condorstown pic.twitter.com/gnaSJDL37o

— Bakersfield Condors (@Condors) October 4, 2015
The Bakersfield Condors are a very good AHL team. There's enough young talent down there to capture our attention all season long. Here's my top 40 list with Condors players underlined:
C Connor McDavid 
C Leon Draisaitl

D Darnell Nurse

 
D Griffin Reinhart
C Bogdan Yakimov

W Iiro Pakarinen

C Kyle Platzer
C-R Greg Chase
L Anton Slepyshev
D Ethan Bear
G Laurent Brossoit

D Joey Laleggia

D Dillon Simpson
G Eetu Laurikainen
R Andrew Miller
D Jordan Oesterle
D Caleb Jones
C Jujhar Khaira
R Tyler Pitlick
D William Lagesson
Goal: Ben Scrivens, Laurent Brossoit, Eetu Laurikainen(R)
Left Defense: Darnell Nurse, Brad Hunt, David Musil, Nick Pageau
Right Defense: Joey Laleggia, Nikita Nikitin, Jordan Oesterle, Martin Gernat
Center: Leon Draisaitl, Bogdan Yakimov, Phil McRae, Jujhar Khaira
Left Wing: Ryan Hamilton, Iiro Pakarinen, Braden Christoffer, Mitch Moroz, Kale Kessy, Daniil Zharkov
Right Wing: Andrew Miller, Tyler Pitlick, Matt Ford, Kyle Platzer, Josh Winquist
Condors play tomorrow night, I'll have a GDT up around 5pm and hopefully the lines and pairings. Honestly, there isn't a whole lot to follow in the CHL or USHL/college/Europe, so I'll be paying close attention to the flight of the Condors.
WHAT TO EXPECT WHEN YOU'RE EXPECTING
Jacob Trouba took a long shot from just past center and Devan Dubnyk folded like a cheap suit. You could feel it coming on, the Oilers had been in full chaos mode for hours. Fast forward 365 days, and Ben Scrivens lost in a fog behind the net and in no man's land.
Make it stop. I can accept the Oilers losing tonight, the St. Louis Blues are a tough team and Ken Hitchcock delights in watching the Oil bleed all over the ice. As a fan, what I'm looking for is simple competence—the correct roster, less running around chasing the puck, less tomfoolery in the neutral zone and more give a care on the backchecks and breakouts. And for the love of baby Jesus, a good goaltending effort.
Darryl Sutter: "The big thing in today's game is you have to be able forecheck and backcheck, and you have to have the puck. You can't give the puck up. We don't play in our zone, so there's not much defending.  I've coached in three decades now and this stuff where they said Marian had to play in Jacques's system is a bunch of bull-crap. The game's changed. They think there's defending in today's game. Nah, it's how much you have the puck. Teams that play around in their own zone think they're defending but they're generally getting scored on or taking face-offs and they need a goalie to stand on his head if that's the way they play."
Godspeed, Edmonton Oilers. We're with you all the way, just show us a sign, some sign, that we are moving to a better day. Destination unknown? I'm all about it. We need to leave this place we're in, drive away from the last chance Texaco and leave it in the distance. Forever.
LOWDOWN WITH LOWETIDE
A busy show as you can imagine, there's a lot happening today. 10 this morning, TSN1260. Scheduled to appear:
10-1260 text, @Lowetide on twitter. This is the day.