The Condors play the first official game in their history today, as the AHL regular season gets underway. This is a very good group of players and it'll be fun to watch their progress this season. I expect we'll see a ton of callups to Edmonton (and demotions to match) and this blog will do its best to keep track of it all.
CONDORS ROSTER OPENING NIGHT 2015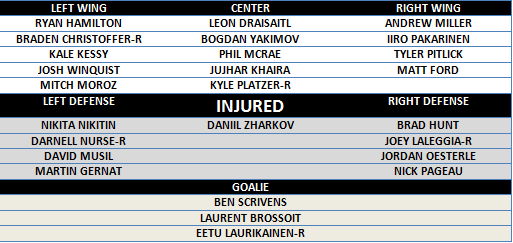 That's a fantastic AHL roster, surely. I don't know the lines and pairings but will have them for you later (hopefully before game time). Here was last season's opening lineup:
Goal: Richard Bachman, Laurent Brossoit
D1: Keith Aulie—David Musil
D2: Martin Marincin—Martin Gernat
D3: Jordan Oesterle—Dillon Simpson
L1: Ryan Hamilton—Jason Williams—Tyler Pitlick
L2: Iiro Pakarinen—Anton Lander—Andrew Miller
L3: Kale Kessy—Jujhar Khaira—Matt Ford
L4: Mitchell Moroz—Bogdan Yakimov—Steve Pinizzotto
Yes. This year's team is better. I don't know the Bakersfield fans yet, they're probably awesome. I can't imagine finding more enjoyable and friendly characters than the bunch we found in Oklahoma. My word, those folks are a delight.
#TheBosses have signed @bigBsauce3 to a 3-year, entry level contract. @EdmontonOilers >> http://t.co/cJSuostzju pic.twitter.com/RBPsIlF1N2

— Bakersfield Condors (@Condors) October 6, 2015
I think this got lost a little bit, but it shouldn't go without spending a little time on things. Edmonton clearly liked him through rookie camp and into the pre-season and did have a contract to give out. He's an undersized two-way winger who has a motor that won't quit. Gritty and relentless, to borrow a famous organizational word.
OKC BARONS ALL-TIME NHL PLAYERS (AND GP TOTALS)
Jeff Petry 314
Magnus Paajarvi 228
Justin Schultz 203
Colin McDonald 138
Anton Lander 132
Mark Arcobello 119
Chris VandeVelde 118
Martin Marincin 85
Linus Omark 79
Oscar Klefbom 77
Teemu Hartikainen 52
Will Acton 33
Tyler Pitlick 27
Colten Teubert 24
Iiro Pakarinen 17
Brad Hunt 14
Brandon Davidson 12
Taylor Fedun 11
Andrew Miller 9
Jordan Oesterle 6
David Musil 4
Darnell Nurse 2
Phil Cornet 2
Bogdan Yakimov 1
Laurent Brossoit 1
Curtis Hamilton 1
Tyler Bunz 1
Milan Kytnar 1
This doesn't include this season's games (Schultz and Lander added to it last night) and of course this total will roll out for a decade (and names will be added). Still, five seasons in OKC and 28 names, lots of misses but a few hits, too. Suspect we're seeing a new dawn in procurement and development, one new man in Bakersfield will probably be the first NHLer to start in Bakersfield.
LAST YEAR'S ROOKIES
C Bogdan Yakimov 57GP, 12-16-28
D Jordan Oesterle 65GP, 8-17-25
L Josh Winquist 46GP, 8-11-19
D Dillon Simpson 71GP, 3-14-17
F Kellen Jones 49GP, 5-10-15
C Connor Jones 41GP, 4-6-10
C Jujhar Khaira 51GP, 4-6-10
L Mitchell Moroz 66GP, 5-4-9
D CJ Ludwig 28GP, 1-4-5
G Laurent Brossoit 53GP, 2.56 .918
That's a nice list, I'll go with Brossoit as the best rookie in the group. Really like Yakimov too and maybe there's one or two fellows in there who can have a career.
How has Jujhar Khaira looked in the first two days of #Oilers camp? Lots of raw talent. He will make an NHL team happy in the future, imo.

— plus60man (@plus60man) September 19, 2015
It's interesting to hear verbal about Khaira this fall, he seems to have turned a corner. Lots of talk about his physical play and hopefully we'll see a spike in offense. One of the maddening things about the minors is that we don't have TOI so don't really know how effective a role player is because of the limits. There appears to be little doubt Khaira will play more this coming season and here's hoping for a surge in points.