Step by step, brick by brick, the Edmonton Oilers will rise again. The words from players and management match the journey ahead—specific, short term, small victories. It's going to take awhile, the problems are rife and real.
Todd McLellan: "After rewatching the game, the amount of offense we created was limited. Not a lot of guys had good looks at the net, and we're still trying to find the right combinations. In particular, I'm not sure Taylor and Connor have connected real well." Source
One of the things I'll be interested in moving forward is how the Oilers handle the blue under McLellan. I wrote about Reinhart—Gryba with the McDavid line here and will be looking to see where that third pairing starts their shifts in tonight's game. I think part of the issue for Hall—McDavid came from having Reinhart—Gryba with them, and one hopes the new McDavid line gets a more capable offensive pairing. It might be an idea to have a winger who can help on the faceoffs too, something to keep in mind.
I'm not sure how long the new line will last—they'll get shelter but Pouliot and Korpikoski are not the same calibre as offensive options. McLellan is looking for chemistry and we're one set away from Nail Yakupov and Leon Draisaitl.
GO CRAZY #CONDORSTOWN! @LBrossoit stops all 31 and the Condors WIN, 1-0. #AHL @Bakersfieldcali pic.twitter.com/YGDdqPlhiP

— Bakersfield Condors (@Condors) October 10, 2015
Fabulous game last night as the Bakersfield Condors won their first AHL regular season game against the Grand Rapids Griffins. It was a very good game (1-0, winner by Miller) and there were some noteworthy performances:
Laurent Brossoit, 31 saves and the shutout.
Andrew Miller, scored a goal, +1 and four shots.
Iiro Pakarinen, an assist (and a big role in the goal) +1 and five shots.
Darnell Nurse, +1 and four shots on goal.
Leon Draisaitl, +1 and let 'em know he was there.
Jujhar Khaira, three shots and won battles. Seems to be on the rise.
My sincere thanks to OilandDerp, Pouzar, Woogie 63 and Dustrock for the updates last night, made following along enjoyable. Bruce McCurdy also wrote a fine review at Cult of Hockey.
LINES AND PAIRINGS
Based on yesterday's practice, and this is going to be a major story depending on how long things last, we're looking at Connor McDavid in a lesser role for Edmonton. Why? McLellan is looking for two things (I believe), clean air for McDavid and a spark from Taylor Hall. The key (for me) will be Sekera or Schultz patrolling the blue on those Ozone starts with McDavid. There's more than one way to surround the young man with skill.
Hall—Nuge—Purcell: This is a solid, veteran line and will be charged with Josi—Weber tonight. It's important for this line to have success, Nuge was -3 in the opener.
Pouliot—McDavid—Korpikoski: McLellan cashes in skill and draws from experience with this lineup. Pouliot is an underrated player in the offensive zone, Korpikoski is an unusual choice here unless you look at the alternatives. Once again, not having Leon Draisaitl on the roster gives the coach fewer weapons. That said, this trio either clicks or moves on, it'll be interesting to see if they stay together all night. I am interested in seeing Pouliot with McDavid, that has possibilities.
Slepyshev—Lander—Yakupov: This should be a fun line. Having Taylor Hall with two rookies put a lot of pressure on No. 4, but the Russian rookie hooking up with Lander and Yakupov should be fun. Both wingers are unpredictable in a good way, and the center will be looking to have more of an offensive impact in G2.
Hendricks—Letestu—Klinkhammer: It was an effective line in G1 to my eye, although they seemed to be chewing up more offensive zone starts than you'd like. Klinkhammer in for Gazdic.
Sekera—Fayne: The pairing had their moments, although Sekera's passing was a highlight for me in game one (Music!). Fayne isn't a fast train, so his positioning needs to be strong. Nashville can score goals and they're going to see talented men all night long. Important pairing.
Klefbom—Schultz: Klefbom looked rusty, and Schultz wasn't passing well facing live fire in G1 of the season. This pairing needs to be better.
Ference—Gryba: This should be an adventure but they're on the roster and Todd McLellan has to get an idea about how often Ference can be used. My RE is 28, hope he plays 75 effective games. Go Andrew!!! Will they get those offensive zone starts with McDavid? If so, is that a good use of assets? Better than Eakins' usage?
Talbot: Why the hell not?
CLEAN AIR
It's all about clean air. In the first game of his NHL career, Connor McDavid beat Alex Pietrangelo clean when given enough clearance. He can pass anyone like a house on the side of the road and tonight Todd McLellan—an excellent offensive coach—is looking for a quiet zone in terms of opposition. We'll know early, if Nashville is hammering the Nuge line with Josi—Weber, and that's how things will probably go. It's an astute move, I'd like it better if Leon were here. What an opportunity for Lauri Korpikoski.
Confirmed: Ziyat Paigin (D) | Ak Bars Kazan -> HK Sochi | http://t.co/ytDPFGilDQ #KHL

— EP Transfers (@ep_transfers) October 10, 2015
Paigin wasn't playing so this is predictable. Eight games into the season the big man was demoted to the minors and now he's on a new team. He needs to play, this should be viewed as a positive.
THE OPPOSITION
Nashville has some real talent up front and Edmonton's defense will need to have their heads on a swivel. James Neal and Filip Forsberg can do damage from the wing, and Craig Smith and Colin Wilson miles beyond their reputations (their names are bland, their games are brilliant). This is no soft game in the schedule, Edmonton could easily be 0-2 by the time I open the second bottle of wine tonight.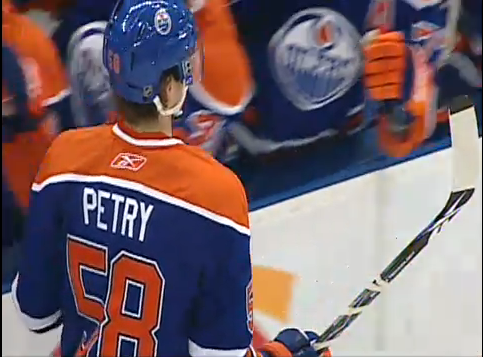 ONE YEAR AGO
We were talking about the 5×5 Corsi for % from the defense in Game 1:
Jeff Petry 27-9 75%
Brad Hunt 21-8 72%
Andrew Ference 25-11 69%
Nikita Nikitin 21-12 64%
Justin Schultz 21-14 60%
Mark Fayne 20-14 59%
It was the goaling, dummy. Cam Talbot took care of that issue in game one, Oilers need more offensive looks tonight in order to grab a double you.
CHANGING THE STORY LINE
I was shocked to see just how many "McDavid shut out" headlines that were on the web after the first game. We all know it's a team sport, but it's pretty clear the pressure on this young man is enormous and far beyond anything ANY Oilers player has seen before. Hopefully he scores tonight and changes the headline, but I'm thankful this one corner of the Al Gore realizes that overreacting to one or even five games at the beginning of a career is folly.
We believe in you Connor McDavid. Make them pay for those headlines!