I'll have something up on last night's game later this morning, but wanted to wish you all a happy Thanksgiving. It's very windy here, rain pouring down and I don't think we'll be out and about much today if things continue this way. I think we have everything but Mrs. Lowetide may have forgotten something and I'm the runner (she's the cook) so will keep an umbrella and slicker handy.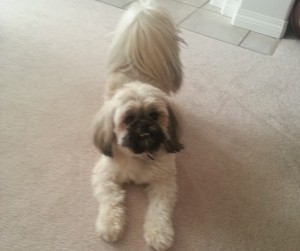 Ziggy is four now, she's no longer a puppy but dogs this size just keep going all damned day. She keeps us connected as a family and brings tons of joy. He favorite treat? Pizzle. I'm not sure why, and we curse the day we bought the first package, but for Ziggy the grossest item that smells the worst is the only thing that will do. Good grief. I had a long talk to Ziggy yesterday morning, and she says we should give Todd McLellan time and that he's using this early season road trip as an indicator to the team about just how far there is to go—and telling some others it's time to go. Smart dog, or maybe she's just saying what I want to hear.
(this is a Condor, not a turkey)
My son is taking Computer programming at NAIT, it's a tough course (I'm no help) but they tell me he will be able to find a tech job when all is complete and he seems content with the idea. I think his plan is to pursue his game design outside of his 9-5 and that seems reasonable (that's kind of what I did, without knowing it). He's also mentioned engineering, I'd be thrilled if he decided to do it and he certainly has that kind of brain. We'll see, I'm pleased he's finding his own road.
My daughter got a job in a shoe store. I'm pleased she's working and this is what she wants now, it'll be interesting to see if her artistic side (I'd show you some of her work but she won't let me, very talented) calls at some point. She's very smart, so if you're at a ladies shoe store and being helped by a young lady who appears to be new, be kind. I wanted to go over and make sure everyone was being nice to her, but Mrs. Lowetide said I shouldn't do that, so I won't. But I should.
Speaking of, Mrs. Lowetide is really mad at the Oilers. She was saying things like "they OWE it to the fans!" and "they STILL haven't scored a goal!" last night, I think my years of ranting may have sent the poor girl around the bend. We're fine though, life is good and we're back to a fall routine and that suits us fine. To borrow line from the Pips, she's the best thing that ever happened to me.
For me, life is good. I'm in a good place with the radio career, the blog is rolling and I'm enjoying the combination of radio and writing. I also find there's a little more time to do things outside the career than a year ago and am thankful for that, too.
I hope this morning finds you blessed and where you want to be, with the people you value. That's all that really matters. Stay warm, eat turkey, and don't worry, this Oilers team will figure it out. More on that in an hour or so. God bless, and thanks for dropping in this morning.