Connor McDavid's first road trip saw him score his first NHL goal. It included skill and speed (entering the zone), hand-eye (on the goal) and a solid celly. McDavid came home with the Corgi's barking at about 50%, and Oilers fans can't wait to see him score in a regular season home game. Let's get the party started.
ICYMI… just kidding, we know you didn't miss it. @cmcdavid97 scores first @NHL goal, gives #Oilers equalizer. https://t.co/iCXPLOtW3m

— Edmonton Oilers (@EdmontonOilers) October 14, 2015
McDavid left on the road trip with one set of linemates and returns with another set. That's going to change again I'm sure, but the Pouliot—McDavid—Yakupov trio looked sharp, showing some nice things in Texas. Not perfect, mind, there were some coverage issues and that's going to factor in to who gets to play on 97's line this season. Still, among the group who have seen time with McDavid, Pouliot and Yak appear to have an edge in terms of quality.
OILERS FORWARDS IN A BOX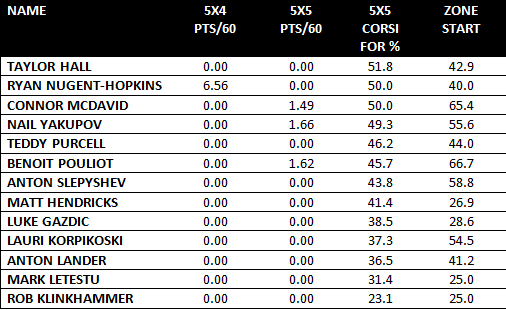 This is so early it's laughable but I wanted to post this for a few reasons.
Taylor Hall has looked less than 100% to my eye (even before the Dallas game and when with McDavid) but his nine-shot game gives him the Corgi crown in early days. When he breaks out, and hopefully it's tonight, we should see good things happen. Hall has 14 shots this season and a career shooting percentage of 10.9, so if my math works No. 4 is a little overdue for a goal but that's no biggie (we're three games in). His 14 shots have him in the league's top 15 overall this year. Among the things I'm not worried about is Hall, he seems more comfortable with the Nuge.
The Connor McDavid line is the scoring line 5×5 so far, with Nail Yakupov and Benoit Pouliot both getting in on the action. I've read a few places that McDavid should get a shot with Eberle when he returns, but the Yakupov experiment is going well so far, suspect they'll continue it for awhile.
Ryan Nugent-Hopkins had a tough night in Dallas, but I love his play and suspect we'll see him spike offensively when Hall goes off, or at the latest when Eberle returns. Yakupov could do the team an enormous favor by hanging a big number on the McDavid line in the next month.
Anton Lander had TWO solid offensive options on the wing in pre-season, but he's down to none and the numbers don't rhyme. He's played most often this year with Lauri Korpikoski and Anton Slepyshev, making him the Oilers real nowhere man.
Matt Hendricks. He's been good. I know he's not a sexy offensive player and seeing him on the 1line (at center) in Dallas tells you something's wrong, but hell if he doesn't fill a lot of roles and get reasonable results. Small sample size, but he's looking good with (what is for him) improved zone starts.
Lauri Korpkikoski is probably the 13F based on merit so far. He has made some good defensive plays but there doesn't seem to be much offense in that stick. We'll see, early days.
An old school jersey needs an old school player. @Lowetide Thanks to @ProAmSports for getting 'er done ! #awesome pic.twitter.com/JKmwwSWn3R

— McReggie (@regwald) October 15, 2015
OILERS DEFENSE IN A BOX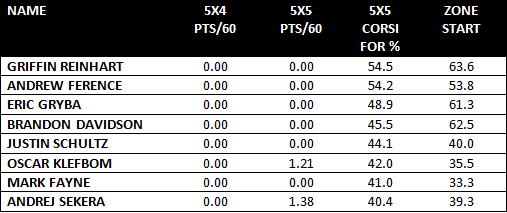 Three games in and the Vlasic pickles are Sekera—Fayne unless they're the Klefbom—Schultz. It looks like McLellan is still searching for his Vlasic pairing and I hope he tries Sekera—Klefbom. The problem with doing that? What to do with the second pairing (no Klef for Schultz) so a trade would have to be made. This is one reason the Reinhart trade didn't make as much sense as a more established acquisition, we're still waiting but now the team is waiting on more people. McLellan also likes Eric Gryba for the third pairing and we have no idea about who is winning the 6D job (unless you've heard something). Gryba looked pretty bad in St. Louis, a few performances like that one and their entire third pairing could be a dizzying rotation of prospects, suspects, also-rans and NMC's. Anyway, too early for any of this but I thought it would be cool to have a first blush on a cool fall morning.
I think Oscar is the key though. He's rugged and skilled and fast and smart. Jesus, Mary and Joseph he's a stone alone. Justin Schultz didn't look good at all in G3.
Craig Button thinks it might be Pouliot and or Purcell who will be the guys to go in Edmonton if trade winds start blowing.

— Dean Millard (@DuckMillard) October 15, 2015
Jiminy Cricket this is early, folks. Teddy Purcell's trade value is a draft pick, but Pouliot is a guy who could get some quality return. That said, Pouliot is also a valuable member of the team, currently helping Connor McDavid adjust to big league pitching. Get good players, keep good players. If PC is looking to make a trade, Mark Fayne is a solid candidate. He's an NHL D, but Edmonton needs a two-way RH blue, not a stay-at-home in that slot.
Bernie Federko & Brian Sutter First Pro game & Goal Oct 8, 1976 Kansas City Blues vs Salt Lake CHL #stlblues pic.twitter.com/hGkyJtvuNy

— STL Blues History (@STLBlueshistory) October 8, 2015
The Blues have a terrific history, one of the richest among the 1967 expansion teams. I think their 1976 draft, that delivered Bernie Federko, Brian Sutter and Mike Liut, is the best in franchise history. A recent draft that could one day rival that one? 2010, when Jaden Schwartz and Vladimir Tarasenko were both first-round picks. Kevin Shattenkirk may not play tonight.
@DirtbagDonny the guy who needs to read your tweet is @Lowetide

— Brian Maksymetz (@refmaksy) October 15, 2015
A small misunderstanding came out of yesterday's show, and I'd like to set it straight. In discussing Nail Yakupov's game in yesterday's thread, I wrote the following:
"Nail Yakupov skated miles last night and had some terrific moments. He also had one or two moments of less than perfection and you're bound to read all about it today. I'll allow those on other sites to rail about Nail, I love that his possession number is damn close to 50 and that he's a substantial part of the team. That's all this kid ever wanted, in my view." Source

In the remains of the day, a dissenting opinion appeared on my show and gave at least one person (above) the general idea that I was somehow anti-Yak. I think anyone who has read this blog over the last four years knows that my opinion of Nail is one of hope and cheering like hell, despite the struggles. I'm genuinely encouraged by his performance this season, even a little surprised (and delighted) he is playing so well on the McDavid line. Misunderstandings occur, but I wanted to set the record straight.
WHEN YOU DON'T HAVE THE HORSES
When I was a kid watching games with my Dad, he would bring out all kinds of old timey phrases (this blog has employed many over the years). If we were watching the Washington Capitals against the Toronto Maple Leafs and Bill Clement scored, I might say "well, if they can get another one…." and my Dad would murmur "they don't have the horses." Not enough, by plenty.
That's kind of what this Oilers season is shaping up like, and we knew it this summer. We talked about the defense being one shy, about how much better it would be with Jeff Petry added to the current group—or even signing Franson and buying out Nikitin. It didn't happen.
We're left with a few home truths:
This season is about finding out about Griffin Reinhart, Brandon Davidson and later on Darnell Nurse.
This season is about burning off the Nikitin contract.
This season is about burning off enough of the Ference deal to make a buyout palatable.
This season is about Peter Chiarelli, but it's also about the new management paying too much heed to Craig MacTavish (Andrew Ference, Brandon Davidson) and Scott Howson (Nikita Nikitin). At some point, Chiarelli will figure it out and hire his own men, but this year appears to be lost because the sins of the past aren't being swept away.
I hope this season is also about trading for Damon Severson or someone with more experience who can play RH side and move the puck—or a lefty who can step in alongside Justin Schultz and behind the Klefbom—Sekera pairing.
"Don't have the horses" aside, I'm genuinely disappointed in Todd McLellan's breakout schemes. In fact, I'm not sure there are any. In reading about McLellan in San Jose, the promise of structure and set pieces filled the imagination and fueled the mind, but we don't have that here, today.
Expect change. Chiarelli and McLellan didn't come here to fail and I absolutely believe they have the authority to pull the trigger on a trade. For Oilers players, the lack of alternatives should clear the mind and we're bound to see a much better effort. If not? There will be blood. They don't have the horses.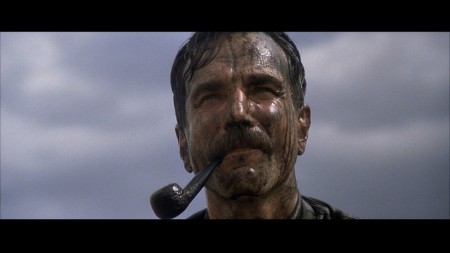 LOWDOWN WITH LOWETIDE
A busy and fun morning on the Lowdown at 10, scheduled to appear on TSN 1260:
Darcy McLeod, Because Oilers. Yak on McDavid's line, McLellan's 'Place and Chase' and what to do with the blue?
Jamie Nye, CJME Regina. The Roughriders traded most of their backfield at yesterday's deadline, we'll talk about the fallout of a lost season in Saskatchewan.
Frank Seravalli, TSN. We'll talk about McDavid's first NHL goal and the pressure/hype, Ovechkin sitting a game because he slept in, and the LAK season so far.
10-1260 text, @Lowetide on twitter. See you on the radio!