The first season of Connor McDavid is beginning to remind me of every season of Taylor Hall—and holy hell that's a very bad thing. Oilers fans are either screaming 'don't panic!' or in a state of panic and one can't blame another for either. The team has coverage gaps, remain a slow train (at times) and can't buy a thrill in the offensive zone.
I think the oilers are in bad need of a savior.

— Norm Macdonald (@normmacdonald) October 17, 2015
The one thing Edmonton has now they didn't have when Hall was a rookie? A GM/Coach/Management group with experience and an idea about how the world works—plus (one assumes) a plan of action AND job security. We've discussed at length the primary goals of this season—improvement in all areas and hopefully a turn north—playoffs a distant bell.
Things rarely fall into place overnight, but there are good signs in Edmonton. Coach Todd McLellan has the team working hard and through four games I'd say only the Dallas game and about 10 minutes of the home opener have been poor. One area that is helping this team so far is the goaltending.
Talbot with some big saves on the PK. He robbed em' like a Northlands parking attendant. #oilers

— Marc Majeau (@MarcMajeau) October 16, 2015
Goal differential after four games 2014-15: 11-23 (-12)
Goal differential after four games 2015-16: 5-13 (-8)
Those numbers highlight the defensive problems of 2014-15 and the early offensive issues this year. Jordan Eberle's injury is one thing, but the shooting percentage (20 shots for Hall, one goal) of the Oilers is another. That's one area we should watch closely this week—more pucks should go in. It would be folly to avoid a good stop and stare at last year's GA after four games. THAT is an abomination.
5×5/60 2015-16 (BTN)
Lauri Korpikoski 1.28
Benoit Pouliot 1.22
Nail Yakupov 1.21
Teddy Purcell 1.13
Connor McDavid 1.04
Andrej Sekera 1.04
Oscar Klefbom 0.88
Taylor Hall 0.87
None of these numbers shines, but we're early days and the shooting percentage numbers will take time to find their career range.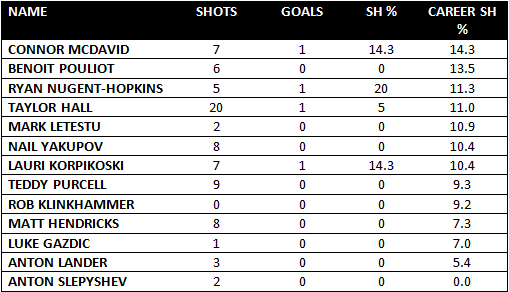 I have them sorted by F and D, and by shooting percentage. What usually happens in a case of this kind is that the team fills the net in one game and catches up all at once. We hope it's this weekend.
FINDING BLUE
Elliotte Friedman on Chiarelli: "Well, I think obviously he'd probably like to get some help on defense. I mean, the thing is though there are teams out there looking for defensemen. Boston's looking for a defenseman. Carolina's looking for a defenseman. There's not much available out there right now. Source

I've been surprised by the reaction of many Oilers fans to the start of this season, where a sense of 'let's see how this turns out' on defense.
For me, 'let's see how this turns out' is applicable to Griffin Reinhart, or the Andrej Sekera—Mark Fayne pairing. If you're somehow waiting for Andrew Ference to become 30, or Eric Gryba to find an extra gear, it isn't going to happen. Seriously. The Oilers on defense, as they stand, are not doing a good job in coverage, have speed issues and are (at times) extremely poor at the headman pass. These are real and significant issues, and Peter Chiarelli will address them. He moved to improve the defense in-season during his first turn in Boston and I don't think we'll have to wait long for him to pull the trigger on something to improve the blue this year—especially foot speed, that's a fix he can do in-house.
SD Gulls announcers rave about Nurse" "Darnell Nurse stands out. To see someone that big & strong." "The way he can skate." "In NHL soon."

— David Staples (@dstaples) October 17, 2015
I believe that's the play here, and suggested Nurse would be on the roster in the season's first half during the RE series. We talked about this yesterday, but for me three things can be done right away to improve the defense:
Pair Andrej Sekera with Oscar Klefbom and give that duo the tough assignments.
Callup Darnell Nurse and pair him with Mark Fayne. I know it's getting young in a hurry but there's no talking me out of the conviction he's one of the six best D in the organization. Now. This isn't an 18 or 19 year old junior, this is a substantial prospect. Fayne gives him cover.
Reinhart—Schultz and back off the minutes for this pairing, giving them an Ozone push and third most TOI at evens. Just because Justin Schultz gets the most EV minutes doesn't mean that is the wise thing to do, for me he would be more effective in less time. Schultz has very good speed and it should be used in the offensive end, where he does most of his good business.
Tonight, when you're watching a slow defensive group (the Klefbom—Schultz pairing is the only fast duo) lose races all over the ice and be exposed by the stretch pass, remember that down on the farm is one of the six best options at the pro level.
CHOOSE YOUR POISON
I understand the idea that Darnell Nurse would do well with time in the AHL and if he was struggling at that level that idea would hold water. Some (many) young defensemen need that time but Darnell Nurse was a high draft pick who had tremendous success in junior and internationally during his teenage years. Last year, during the AHL playoffs, he was noticeable in a positive way during a time when minor league teams are firing on all pistons.
Nurse didn't stay late in camp but Todd McLellan set up the roster(s) in a way where the competition favored others. And that's fine. For me, it's patently obvious the group of eight Edmonton is using cannot skate with the fast trains in the NHL. Tonight, if you can, count the number of times you see an Oilers defender chasing (and not catching) a Flames forward.
Darnell Nurse is young and will make mistakes. He is also fast enough to recover from many of those mistakes and impact the play. He is not 18, he is not frail and you don't have to worry about him being physically dominated while battling along the wall or in front of the net. Pair him with Mark Fayne and suffer through the mistakes, secure in the knowledge that even now he's a better bet than the slow trains.
First time in the road ?? #Condorstown pic.twitter.com/ydc9t0Rb4c

— Bakersfield Condors (@Condors) October 17, 2015
OBSERVATIONS FROM THE FLIGHT DECK
One of the blessings of this blog is receiving timely and delightful information on all manner of things. From whiskey to whisky, from ice fishing to backpacking, I spend many hours every year reading insightful opinions from the group who visit here. Last night, one of our own was at the Condors game in San Diego and offered these opinions in the comments section. My thanks to Hidden Darts.
"Was at the Condors game tonight. Well worth the admission, for sure. 10 goals, a penalty shot, 3 on 3 and then a shootout. Reasonably visible Oilers contingent in the place, as well. It was also $2 Beer night, which in this case was $2 Beer-flavoured water night, as the only $2 beers were of the Bud Light variety. The rest of the beers were $12.50. i believe that may be around $17 CDN per. Ugh.
Anyway, Nurse is a man amongst boys. Wow. Great wheels. Real calm.
Brad Hunt is actually a horrible, horrible player. Just giveaways and mistakes that end up in the back of the net CONTINUALLY.
Hated to see it, but Joey Legs was a bit of a mess as well. Got better as the game went on, but was giving away the puck horribly early on.
Khaira looks good. Doesn't do much.
Yakimov has an odd stride, but gets there. Probably needs to move his feet more.
Draisaitl is clearly the forward stud on the team, and can win a faceoff as well. But I'd like a little more "dynamic" to his game. Yes, that was in quotes, but you have to see him to understand.
All in all, this was a great game to watch. My non-hockey fan buddy said it had everything. He was right. Except it didn't have much in terms of goaltending or defense. Fortunately, the tire fires were at both ends."
MCDAVID
The young man is a delight. I've mentioned in the past that (early days) a lot of his offense will probably come from the power play. Scoring 5×5 is a tough thing to do in the NHL, so those 5×4 points will fill his offensive columns this season. Todd McLellan hit the shuffle button at practice yesterday and came up with this:
PP: McDavid—Letestu—Pouliot with Yakupov and Sekera
PP: Hall—Lander—Purcell with Nuge and Schultz
Lots to observe here. McLellan wants to win the faceoff and gain possession, that's the reason for Letestu and Lander. He wants a shooter on each PP, so Hall and Nail are on different lines. I'd rather have Schultz on the McDavid pair (he's very good in the offensive zone with the puck on his stick or driving down low) but that said it's an interesting group(s) I'm looking forward to seeing. In at least two of the first four games, the power play could have netted this team points if it had been firing.
Our first spotlight profile is up for the 2016 draft- check out our website to read about Erie Otter Alex DeBrincat http://t.co/3pkv8WBEwu

— Red Line Report (@daredlinereport) October 17, 2015
I won't be covering the draft this year until after the Top 20 in December and was hoping to avoid it until after the trade deadline. Hopefully the Oilers will hang in through Valentine's but at this point we'll have to wait and see. Coverage depends on coverage.
ONE YEAR AGO
The GDT for G5 one year ago was talking about the defense and a Martin Marincin recall:
Guessing along with Eakins in terms of defensive pairings is a lost highway this fall, but we'll see how this rolls. I think the sense of urgency for the coach has finally arrived, and not a moment too soon. If there's one thing I could change about these Oilers, it's the casual pace of training camp and absolute lack of urgency in finding balance and chemistry. I've been saying this for over a decade, find balance in the roster opening night! Sure it won't last because of injuries and slumps et cetera, but holy does this team give a lot away for their lollygagging decision making and indifference to a balanced roster. Source
If I'm being fair to Dallas Eakins here, Todd McLellan is doing many of the same things in terms of auditions. One change? Darnell Nurse is in the minors where he can be recalled, whereas last season he was in the NHL but on his way back to junior. The long knives were already out for Eakins btw. Terry Jones: "The goaltending is in the toilet. The defence is a disaster. And the coach is still out-thinking himself.") It takes a lot to laugh, it takes a train to cry.