Peter Chiarelli had a busy summer (seriously, despite what you've read) adding prospects and flushing suspects. It's a culling that must be done, but there's no guarantee the new hires will be good and those trifling rejects rarely cooperate and take up dealing cards at the local casino. How are things going?
FLUSHED FROM THE 50
G Tyler Bunz—He's had some tryouts but hasn't stuck. He's young, should find employment.
G Frans Tuohimaa—9GP, 3.06 .896 with Leksands of the Swedish-1 league.
D Martin Marincin—Three games, no points, -4 with the Toronto Maple Leafs.
D Keith Aulie—Received a TC look from Arizona but was released. Haven't heard since.
C Boyd Gordon—5GP, 1 point with a surprising Arizona Coyotes club.
C Travis Ewanyk—He's playing for the Ottawa Senators AHL teams. 2 games, crickets.
C Kellen Lain—Manitoba Moose forward now, hasn't played yet.
L Matt Fraser—Also with the Moose, four games and an assist.
L Curtis Hamilton—5GP, 2-0-2 with Sparta of the Czech league.
I'd say Boyd Gordon is a guy Edmonton might find useful these days, although foot speed badly needed improvement. If Anton Lander and Mark Letestu can win faceoffs and the entire group can PK, the nine men sent away won't be missed this season.
ARRIVING ON THE TOP 50
G Cam Talbot—4GP, 2.54 .908 and the biggest cause of my good sleeps in October.
G Anders Nilsson—2GP, 1.98 .953 and shooting lights out so far.
G Eetu Laurikainen—1GP, 4.02 .818 and a backup in the AHL.
D Andrej Sekera—6GP, 0-3-3 and on the top pairing with the Oilers.
D Eric Gryba—6GP, 0-1-1 and the anchor of the third pairing.
D Griffin Reinhart—4GP, 0-0-0 and emerging as an everyday player in the NHL.
C Connor McDavid—6GP, 3-2-5, the power and the glory.
C Mark Letestu—6GP, 0-1-1 and performing the job expected well enough to keep it.
L Lauri Korpikoski—6GP, 2-0-2, has the trust of the coach.
I'm pleased with the goaltending early, willing to be patient with the defense (especially Sekera who is improving each game) and over the moon about Connor McDavid (although Chiarelli and friends don't receive extra credit for successfully avoiding a 'Robin Kovar moment' at the draft). The veteran forwards added are still making an impression and really it's early days for all nine men.
#Oilers make it a clean sweep of Pacific Division arch-rivals with a 2-1 OT win tonight in Vancouver! #EDMvsVAN pic.twitter.com/MDqCxGBTn1

— Edmonton Oilers (@EdmontonOilers) October 19, 2015
COMPLETE 50-MAN LIST (48)
G Cam Talbot, NHL starter
G Ben Scrivens, MIA so far. No idea.
G Anders Nilsson, NHL backup.
G Laurent Brossoit, AHL starter.
G Eetu Laurikainen, AHL backup.
D Andrej Sekera, Top-pairing NHL D.
D Mark Fayne, Top-pairing NHL D.
D Oscar Klefbom, Second-pairing NHL D.
D Justin Schultz, Second-pairing NHL D.
D Eric Gryba, Third-pairing NHL D.
D Griffin Reinhart, Third-pairing NHL D.
D Andrew Ference, Depth NHL D.
D Brandon Davidson, Depth NHL D.
D Nikita Nikitin, Waiting for the UFOs.
D Darnell Nurse, AHL D.
D Brad Hunt, AHL D.
D David Musil, AHL D.
D Jordan Oesterle, AHL D.
D Joey Laleggia, AHL D.
D Dillon Simpson, Still hurt.
D Martin Gernat, Still hurt.
D Ben Betker, ECHL D.
C Ryan Nugent-Hopkins, No. 1 C in NHL.
C Connor McDavid, No. 1 C in NHL (in 5…4..).
C Anton Lander, checking NHL C.
C Mark Letestu, checking NHL C.
C Leon Draisaitl, AHL C with a lot of promise.
C Bogdan Yakimov, AHL C.
C Jujhar Khaira, AHL C.
C Kyle Platzer, AHL C
L Taylor Hall, Quality NHL forward.
L Benoit Pouliot, No. 2 L in NHL.
L Lauri Korpikoski, checking NHL W.
L Matt Hendricks, checking NHL W.
L Luke Gazdic, NHL Enforcer.
L Ryan Hamilton, AHL winger
L Mitch Moroz, AHL winger/enforcer.
L Kale Kessy, AHL enforcer.
L Braden Christoffer, rugged new pro W.
R Jordan Eberle, quality scoring NHL W badly missed.
R Nail Yakupov, emerging NHL scorer.
R Teddy Purcell, veteran NHL W trying to keep up, still has something to give.
R Rob Klinkhammer, energy winger in the NHL.
R Anton Slepyshev, talented rookie in the NHL, not getting much TOI.
R Iiro Pakarinen, AHL winger who might get a callup soon.
R Tyler Pitlick, AHL winger.
R Andrew Miller, AHL winger with significant skill.
R Greg Chase, ECHL winger, but not for long.
Oilers fans are going to be the most obnoxious winners and it will be fantastic!

— Witchy Woman (@SLShockeyfan) October 19, 2015
BLUE IN A BOX, LAST NIGHT

The EV TOI continues to be an interesting follow. Gryba led the group in EV TOI, with Schultz not far behind. Rookie Griffin Reinhart played the third most EV minutes.
Andrej Sekera had (for me) his best game, with a 50 per cent possession number despite tough ZS's. He made some unusual, aggressive decisions but that appears to be his nature. I loved his work on the GWG, boxing up a Sedin and then leading the rush before sending a saucer pass to Korpikoski. The big part of that play was Sekera.
Mark Fayne also had a good night, matching Sekera's number and bringing far more of a veteran's hand to the game than in the first five (imo). He's not a puck mover, has that in common with Gryba, but can make a pass and seems to be settling in.
Oscar Klefbom is quickly becoming one of my favorite players. He owns a complete skill set (well, maybe a little shy on the offense) so can motor with or without the puck, win battles and play effectively deep into a shift. I think he's going to be a very good player for a long time. That said, he had more chaos to his game than normal and he and Schultz both appeared to be hearing dog whistles at times. Played 1:17 with Fayne and looked good to my eye, wonder if we see that pairing at some point.
Justin Schultz is improved without the puck this year. One concern? His defensive awareness has come at the cost of his offense, as he has yet to post a crooked number despite enormous TOI investment. Heard some dog whistles but he also won some battles for the puck. At 25, 209 games into his NHL career, the light is beginning to flicker.
Eric Gryba had some good moments with and without the puck last night, he seems to be finding the range. That big body has its uses. 3-9 against Daniel, 2-3 against Horvat. I like his calm feet, still fret about his foot speed but he's growing on me.
Griffin Reinhart played most of the night in a defensive position, without the puck. What I'm noticing about him is positioning. A lot of what happens around Reinhart is at the perimeter but he's good (and getting better) at showing up in the right places. Encouraged by his progress.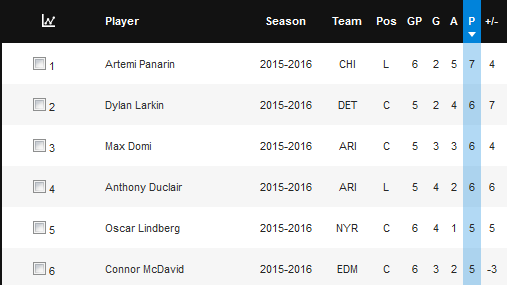 CENTERS IN A BOX, LAST NIGHT

Mark Letestu had a nice night against the Dorsett line. It takes time to suss out new players, but he seems to have a nice range of skills (passing, coverage) and last night was a good one.
Anton Lander is playing some rude, rude minutes (tough Z, Purcell not an ideal W for the role) but played the Horvat line to basically a draw.
Connor McDavid made a stunning pass to Yak for a goal early and then struggled against the Sutter line at even strength.
RNH struggled against the Sedin line until Klinkhammer arrived (1-6 before, 4-5 after) but the real key is that Edmonton's brilliant young C kept the piss cutters off the scoresheet. Miles and miles of miles and miles for this line last night, and their reward is a zero. Hockey is a funny game.
WINGERS IN A BOX, LAST NIGHT

Luke Gazdic, for the year, is 47% Corsi for 5×5 this season. Somewhere, Pat Quinn is smiling.
Rob Klinkhammer! Todd McLellan clearly wants a Ryan Smyth on that top line and the truth is the Nuge line was better with a crash and bang option.
Taylor Hall is in one of those zone's now where you could put a 70-pound weight on him and he'd still score twice. 20 minutes, 9 against the Sedins, 22 per cent ZS and he comes out at damn near 50 per cent. Skated many miles.
Lauri Korpikoski isn't at all what I thought he would be (so far). I imagined a thoughtful two-way winger who made smart decisions and executed them, and a little shy on offense. So far, he seems to be lagging behind (also in photo!) on the coverage and he's on pace for 27 goals. I give up! McLellan said something about 'he's trying to be in the right place' and that's probably it. He is the type of player I really appreciate, so he'll probably be a feature item on this blog often when he finds his way.
Anton Slepyshev got bounced from the 1line quicker than you can say "J-F JACQUES!" due to a nasty 1-5 against the Sedins early. He went 4-2 after that on the 4line and I have to say he was noticeable again in a good way.
Teddy Purcell is not well suited to the current checking role but is hanging in there. He is also -5 now, which means nothing but after a -33 season in 2014-15 I'm sure you'll read about that in the msm in the next day or two. For me, it was telling that McLellan had a need on the 1line and went to Klinkhammer for the solution. Ted, meet doghouse, doghouse, Ted.
Nail Yakupov scored a huge goal and that's his biggest asset, but the rest of the evening (at 5×5) was a struggle. The one thing that could break up this line is nights spent without the puck.
Benoit Pouliot didn't have a good night by eye and the math is scathing. I honestly don't think he had a thing in the tank, he's so much better than he showed last night.
Suck it Calgary. I really like the dash four next to the goal differential, that's a beautiful sight. The Oilers have three games at home this week, against substantial opponents. Can they win two of three, putting their record at 4-5? It's going to be a far better week than we feared, those two wins on the weekend were mammoth for the fan base and I believe the team, as well. Much respect for Todd McLellan today. If there's one word that describes him behind the Oilers bench, it's communication. He's encouraging, instructing, calming, but he's most of all communicating.
LOWDOWN WITH LOWETIDE
A busy and fun show on the way. 10 this morning, TSN1260 and scheduled to appear:
Scott Burnside, ESPN. Around the NHL with stops in Edmonton, Columbus and Los Angeles.
Michael Spiedel, Hockey Symposium. Chiarelli's early work, good, bad, indifferent?
Sunil Agnihotri, Copper and Blue. Oilers structure, defense, need for speed.
Andrew Bucholtz, 55-Yard Line. A fascinating CFL weekend leaves us with more questions and than answers.
10-1260 text, @Lowetide on twitter. Talk soon!