The first Oklahoma City Barons team Todd Nelson coached featured seven significant rookies—and they all made it to the NHL. Jeff Petry is a bona fide NHL defenseman, Mark Arcobello and Chris VandeVelde are past 100 NHL games; Teemu Hartikainen (52) Colten Teubert (24), Phil Cornet (2) and Milan Kytnar (1) all saw playing time in the world's best league.
The 11-12 Barons held some promise but were derailed (Tyler Pitlick has another concussion btw) for various shortcomings le hockey. The 12-13 Barons had some legit talent, including Justin Schultz (203 NHL games entering the season), Anton Lander (132), Martin Marincin (85), Brandon Davidson (12) and Taylor Fedun (11). That's probably going to be a better rookie crop than the 2010-11 edition.
The 13-14 Barons had another good defenseman in Oscar Klefbom. That's three good prospects in a four year span (Klef, Petry, Schultz) and suggests the Oilers system is productive in at least one area. From 13-14, Klefbom (77 NHL games entering the season), Andrew Miller (9) are David Musil (4) working on establishing themselves. The 14-15 Barons rookies looked like this:
C Bogdan Yakimov 57GP, 12-16-28
D Jordan Oesterle 65GP, 8-17-25
L Josh Winquist 46GP, 8-11-19
D Dillon Simpson 71GP, 3-14-17
F Kellen Jones 49GP, 5-10-15
C Connor Jones 41GP, 4-6-10
C Jujhar Khaira 51GP, 4-6-10
L Mitchell Moroz 66GP, 5-4-9
D CJ Ludwig 28GP, 1-4-5
G Laurent Brossoit 53GP, 2.56 .918
Last year three of these men played in the NHL: Jordan Oesterle (6 NHL games), Bogdan Yakimov (1) and Laurent Brossoit (1). If any of these gents is going to have an NHL career, the time to step up is now, this season. The rookies of 2014-15 are all shy offensively (Yakimov, Oesterle and Winquist have some offensive promise) and the physical players like Jujhar Khaira simply couldn't deliver enough with the bat. This season, Khaira has two points in four games (both at even strength) and part of the spike could be TOI.  We don't know of course, and his college and junior numbers suggested he would be shy offensively, but we'll see how things go. Yakimov and Moroz have scored and Brossoit is the starting G in Bakersfield.
BAKERSFIELD'S ROOKIES 2015-16
C Leon Draisaitl 4GP, 0-1-1*
L Braden Christoffer 4GP, 0-1-1
C Kyle Platzer 4GP, 0-1-1
D Darnell Nurse 4GP, 0-0-0
D Joey Laleggia 4GP, 0-0-0
G Eetu Laurikainen 1GP, 4.02 .818
*Leon Draisaitl isn't a rookie but we're going to follow him here because, at not yet 20, he remains a prospect under my definition (under 50 NHL games). We should also see Ben Betker, Greg Chase and possibly Anton Slepyshev added to the list over this season.
McDavid on the Oilers being 0-4-0 to start the season 😂 pic.twitter.com/ERLilenlYi

— The Hockey Gods! (@HockeyGods) October 16, 2015
Now that the Oilers have won two games and McDavid had his first big night, I'll post this item. I laughed so hard when it first appeared on twitter, lordy that's funny. I've seen that exact photo for decades, Bobby Hull, Gordie Howe, Bobby Orr, Frank Mahovlich. That's a great trick, taking a 50-year old image and making it fresh and funny. Well done.
@Condors @EdmontonOilers @CondorsHolty No question, Darnell Nurse has been The Man for Bakersfield so far in 2015… pic.twitter.com/xg08ZEMMPr

— Mark I Williams M.D. (@CameraGuyBakoCA) October 16, 2015
NURSE
We're counting down to the Darnell Nurse recall and based on speed issues in Edmonton I can't see this taking half the season. If we're honest about the six men who will play tomorrow night on defense (probably) there are at least two men who are shy in terms of speed. That's a better number than one year ago but we're basically waiting for a trade or injury to get him here. In the mean time, there is much to learn.
Gerry Fleming: "He has to be patient, let the game come to him, work on his reads (against puck carriers)."
More Fleming: "He's going against the other team's top lines every night and there's some pretty good players in the American Hockey League. He's been strong on the cycle, killing lots of plays there … his positioning, gap-control, stick work, all good. He's good in front of our net and he's played on the power play and the penalty-kill. I use him in every situation."
I have Nurse playing 50 NHL games this season. Barring a trade, and that could happen, a strong showing (as above) over the season's first quarter should get noticed. After that, Nurse should have passed all tests and be ready to help. I think he's one of the six best defensemen in Edmonton's employ as we speak.
LINES AND PAIRINGS
The Oilers are back to work today, suspect we won't see much in the way of change. I think Andrew Miller might get a look on the Nuge line, he worked well with Hall a season ago in a quick look-see. Jordan Eberle's ETA hasn't been mentioned of late, but Todd McLellan has auditioned a few options over these weeks and Miller is an interesting addition.
If the Oilers decide to look outside via trade—McLellan may like a gritty winger for the Nuge line, even when Eberle gets back—we could see some movement in that direction soon. It's tough to make a deal, though.
Jarmo Kekalinanen: "There's nothing available that fits out plans, or the price is so steep that … you can't do that. Misery loves company, right? So you talk to teams that are in a similar situation and try to work something out, but it's not easy." Source
As we know, this is a tough time of year to make deals. Edmonton is more than willing to unload Nikita Nikitin or Ben Scrivens, and I do think Mark Fayne could be in play. Could they help Columbus? Fayne could, but I'm not sure the Jackets should do anything beyond finding out what the hell is wrong with Bobrovsky.
For the Oilers, you probably wait 20 games. Auditioning guys like Andrew Miller isn't a bad plan until Jordan Eberle returns, and Darnell Nurse could be a helluva upgrade in the season's first half. Leon Draisaitl could be a second half help and maybe the Oilers don't need to make an addition from external forces. I don't believe that, Edmonton's cap room next season is going to mean some team comes calling with an attractive option.
WAR-ON-ICE SLEDGEHAMMER
We don't have the Vollman's yet, but I thought it might be cool to get an early look at the blue bubbles and usage. McLellan (remember our discussions from summer) did assign harsh ZS's to the Vlasic pairing but wasn't a ZS madman with the forwards. Let's have a look.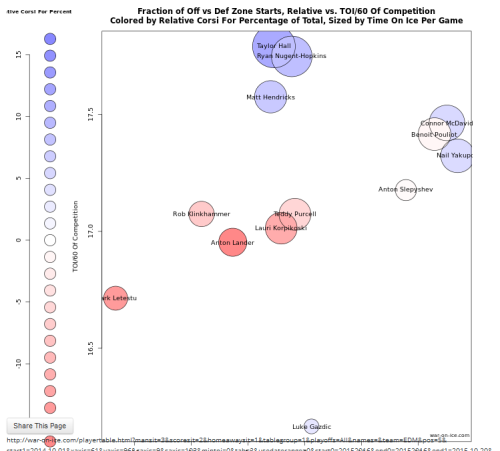 Plenty of road games in here so McLellan's hand in terms of competition is limited. He does in fact show a tendency to push the McDavid line into Ozone starts, but that's just good business. The top two lines look fantastic here in terms of possession, suspect the tweaking up front comes from the 6's and 7's and 9's (plus a Ryan Smyth if they can find him). I'd love to see an in-house, Nurse type solution but Jujhar Khaira isn't ready and may never be ready. Hurry up, young man!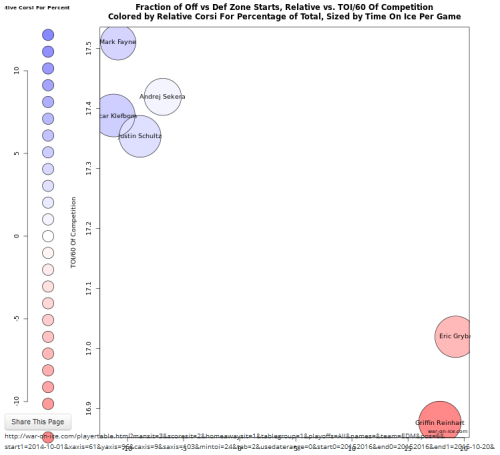 Haha. Man, that's funny. Okay, well Sekera—Fayne and Klefbom—Schultz are getting the toughest minutes and zone starts and that's about as close as you'll see two pairings. Colors are good, too. The third pairing is in the soft parade part of the graph and the color is not good. Nurse!!! Man. This is a George Carlin level giggle graph. That's basically comical.
(Courtesy Rex Libris)
LOWDOWN WITH LOWETIDE
A busy morning on the show, 10 on TSN1260. Scheduled to appear:
Jonathan Willis, Cult of Hockey and Oilers Nation. The season so far, McDavid in Calgary and what to do about that third pairing.
Guy Flaming, Pipeline Show. We'll talk NHL rookies, Oil Kings and NCAA underway.
Scott Cullen, TSN. McDavid, Jays, CFL.
Open Line. Jays! McDavid! You name it, 11:25.
10-1260 text, @Lowetide on twitter. Talk soon!