Connor McDavid is six games into his NHL career and he's already made life better in Edmonton. For most of today, the good citizens of river city will go about their daily chores with a skip in their step and a song in their heart. It's ridiculous, silly really. Men in their 50s (I can confirm) are not immune to the pure joy of anticipation, and tonight another '60 minutes with Connor' is on the evening schedule. Connor McDavid? He's all that.
MCDAVID 2015-16 (SO FAR)
5×5 points per 60: 2.18 (2nd among regular Oilers forwards—Nail No. 1)
5×4 points per 60: 6.91 (1st among regular Oilers forward)
Corsi For 5×5 %: 49.3 (4th among regular Oilers forwards)
Qual Comp: 6th toughest among regular forwards (second-line opp)
Qual Team: 6th best teammates among regular forwards (second line)
Corsi Rel: 12.1 (4th best among regular forwards)
Zone Start: 63.3%
Zone Finish: 66.7%
Faceoff Percentage: 26.6%
Shots on goal/percentage: 12/25%
Boxcars: 6GP, 3-2-5
Connor McDavid fights crime by forced tuning. Next stop: World domination. Bring on the Detroit wheels.
MY KINDGOM FOR A FULL YEAR OF DEVELOPMENT
It looks like the Oilers are unable to get playing time for the prospects on their own team! Below are the current stats for the Bakersfield Condors, with minor-league veterans getting the strikethrough treatment:
LD Brad Hunt 4GP, 0-6-6 (2GP, 0-6-6 this week)
R Matt Ford 4GP, 3-1-4 (2GP, 3-1-4 this week)
R Iiro Pakarinen 4GP, 1-2-3 (2GP, 1-1-2 this week)
C-R Andrew Miller 4GP, 1-2-3 (2GP, 0-2-2 this week)
C Jujhar Khaira 4GP, 0-2-2 (2GP, 0-2-2 this week)
L Ryan Hamilton 3GP, 1-0-1 (2GP, 1-0-1 this week)
C Phil McRae 4GP, 1-0-1 (2GP, 1-0-1 this week)
L Mitch Moroz 4GP, 1-0-1 (2GP, 1-0-1 this week)
C Bogdan Yakimov 4GP, 1-0-1 (2GP, 1-0-1 this week)
L Braden Christoffer 4GP, 1-0-1 (2GP, 0-1-1 this week)
C Leon Draisaitl 4GP, 0-1-1 (2GP, 0-1-1 this week)
RD Jordan Oesterle 4GP, 0-1-1 (2GP, 0-1-1 this week)
C Kyle Platzer 4GP, 0-1-1 (2GP, 0-1-1 this week)
RD Joey Laleggia 2GP, 0-0-0 (2GP, 0-0-0 this week)
LD David Musil 2GP, 0-0-0 (2GP, 0-0-0 this week)
LD Darnell Nurse 2GP, 0-0-0 (2GP, 0-0-0 this week)
RD Nick Pageau 2GP, 0-0-0 (2GP, 0-0-0 this week)
L Kale Kessy 2GP, 0-0-0 (2GP, 0-0-0 this week)
R Tyler Pitlick 2GP, 0-0-0 (DNP this week)
L Josh Winquist 1GP, 0-0-0 (DNP this week)
G Laurent Brossoit 3GP, 3.24 .910 (1GP, 4.62 .875 this week)
G Eetu Laurikainen 1GP, 4.02 .818 (1GP, 4.02 .818 this week)
Peter Chiarelli, the man who kept David Krejci in the minors for the entire season age 20, at least made sure the kid had enough playing time to lead the team in scoring. The Bakersfield Condors (so far) are a major disappointment in my opinion. What in the hell does Brad Hunt or Matt Ford have to do with the future of the Edmonton Oilers?  I'm not worried about Darnell or Leon, hell it's pretty obvious they're doing extremely well, but not playing kids on entry-level deals a substantial amount is killing their development.
Since they folded the Edmonton Roadrunners, this organization hasn't been able to wrestle back their own minor league team. Where is the disconnect? WHY are they playing Brad Hunt and Matt Ford like they have an NHL future? A few years ago, Mark Arcobello used his ECHL time to pass a bunch of prospects. How? The man was playing a lot and had a chance to develop skills and learn to play the pro game. Same with Josh Winquist a year ago, who sailed past other prospects.
The worst thing that can happen to an Oilers prospect? Get drafted high and get sent to the minors. Why? Some 25-year old veteran is going to eat your lunch because of course he can. This is NOT the Detroit model. Many blame the drafting, but the development side lacks at-bats. Fix this, Oilers. Now.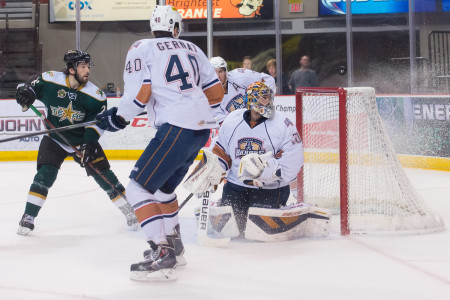 INJURY UPDATES
I waited a day because Jim Matheson did all the work finding out all about this (it is here):
Ben Scrivens will play one of the weekend games for the Condors.
Nikita Nikitin is practicing with the team, sounds like it may be a little while (work visa)
Martin Gernat, the forgotten bad, bad Slovak, is cleared for contact.
Dillon Simpson is on the way to Bakersfield and should be available soon.
https://twitter.com/HistoricalPics/status/656722046425018368
TIME ON ICE, OUT OF THE BLUE
EVENS (PER GAME)
Justin Schultz 18:05
Griffin Reinhart 17:11
Oscar Klefbom 17:02
Eric Gryba 16:58
Brandon Davidson 16:11
Andrej Sekera 15:25
Andrew Ference 14:24
Mark Fayne 13:39
PENALTY KILL (PER GAME)
Oscar Klefbom 2:21
Andrej Sekera 2:05
Mark Fayne 2:02
Justin Schultz 2:00
Eric Gryba 1:13
Griffin Reinhart 0:53
Andrew Ference 0:48
Brandon Davidson 0:48
POWER PLAY (PER GAME)
Justin Schultz 3:20
Andrej Sekera 2:04
Oscar Klefbom 1:05
Eric Gryba 0:02
Griffin Reinhart 0:01
OVERALL (PER GAME)
Justin Schultz 23:34
Oscar Klefbom 20:29
Andrej Sekera 19:35
Eric Gryba 18:21
Griffin Reinhart 18:06
Brandon Davidson 16:51
Mark Fayne 15:44
Andrew Ference 15:12
Some fascinating information here, beginning with the fact Reinhart—Gryba has passed Mark Fayne at even strength and overall. Based on the actual TOI numbers, Edmonton's LH depth chart is Klefbom, Sekera and Reinhart; on the RH side it's Schultz, Gryba and Fayne. I don't think Mark Fayne is going to be here a long time. Reinhart couldn't make it for practice yesterday (banged up), and it looks like Andrew Ference will draw in if the rookie can't go. Andrew Miller was getting time on the Nuge line, so that's another change to look for this evening. While I'm at it, Edmonton is facing a team that doesn't get a lot of shots—just 21.4 per game so far, many fewer than Edmonton at 26.8. If Z doesn't go all Modano on their ass, the Oilers can win this game.
If I had to guess, my bet would be (based on above) we'll see Klefbom, Schultz, Sekera, Gryba and Reinhart on this team opening night next year. Plus Nurse up from the farm and the impact defender they're bringing in.
As the graph below shows, the Reinhart rookie season starts with the easy minutes and that makes sense. The one thing I can't figure out is the Gryba—does McLellan truly like him this much, could we see Gryba with Sekera at some point, if and when Fayne is sent away? Don't know.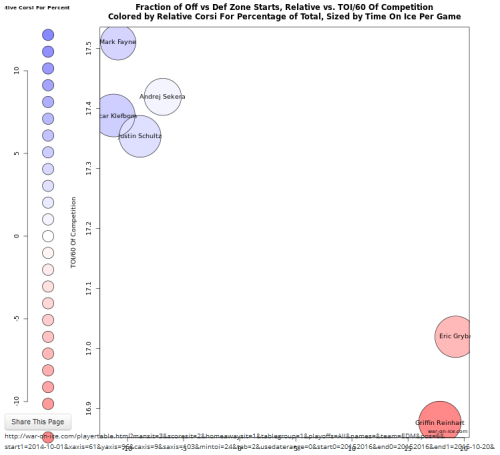 McLellan is finding a way for Justin Schultz to be productive in difficult circumstances (based on the evidence above). This isn't 50 % with easy ZS's, it's 47.2% with tough ones and (according to this graph, I await Woodguy's retort) he's playing tougher opposition/difficult minutes. The downside? He hasn't pissed a drop offensively, and I think McLellan will find this season that JS isn't going to be worth the ask from his agent next summer. I'm sure many will disagree, and I'm trying to be very respectful here, but for me the money that Schultz is going to need isn't worth the results—even the ones we're seeing above. Too much evidence that his decision making and execution aren't sponge-worthy.
Source tonight suggested #CBJ and #NJDevils could be trade partners. D Adam Larsson likely #CBJ target; RW Cam Atkinson part of #CBJ package

— Aaron Portzline (@Aportzline) October 21, 2015
This probably all changes with Torts on the scene, but if the Oilers planned to pump and dump Schultz now would be the time. Fayne may be of more interest now that they're bringing the crazy out of Ohio full bore. Either way, I remain convinced the better plan TODAY is putting Klefbom and Sekera together as the top pairing. Big game tonight!
LOWDOWN WITH LOWETIDE
A crazy busy morning on the radio, we start at 10, TSN1260.
Bruce McCurdy, Cult of Hockey. Oilers early days, McLellan's approach, Hall's stunning last two games and that kid what's-his-name.
Mike Ringrose, Associate Coach of the Spruce Grove Saints and Director of Operations for Vimy Hockey. We'll talk about the need for speed, and how to improve it.
George Malik, The Malik Report via Kukla's Korner. The Red Wings without Babcock, Z leading the way.
Valérie Létourneau, on the eve of her UFC 193 title shot.
James Duthie, TSN. His new book 'The Guy on the Left' covers some fascinating moments in hockey history.
10-1260 text, @Lowetide on twitter. Talk soon!