I did pretty well for an old guy on Tuesday, doubling my investment which allowed me to feel superior to all around me (basically the dog, Mrs. Lowetide thinks this is a series on the Los Angeles Kings).
Here's a portion of my roster today: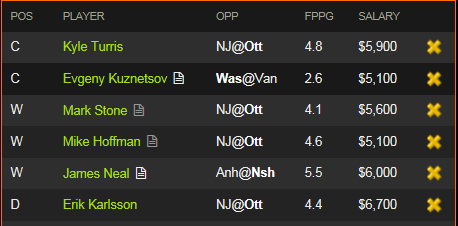 Rules:
– $60,000 prize pool.
– First place wins $4,000
– FREE for new users or $3 to join
– Over 4,500 scores win money guaranteed
– Starts on Thursday, October 22nd at 7:00 EST
– Salary Cap Style Drafting. $50,000 to select 9 spots. 8 players and 1 goalie.
– Roster Format: 2 C, 3 W, 2 D, 1 G and 1 Util.