The 3-4-0 Edmonton Oilers have a chance to get back to .500 for the first time since opening night. It's been an exciting week for fans, as the team delivered two terrific games and won a game in which they were clearly out of fuel and survived on guile—another indication this may actually be a brand new day. This season isn't about the playoffs, so weeks like this one represent the best of 2015-16. It was a joy.
OILERS FORWARDS IN A BOX, GAMES 1-7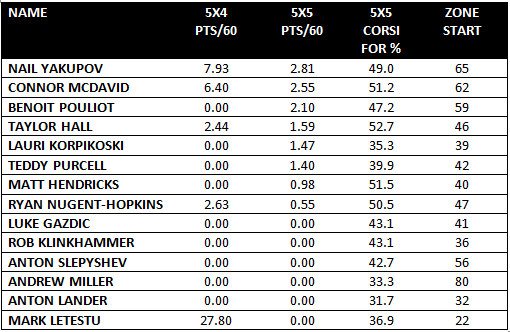 What a fun set of numbers with a delightful group at the top. This is sorted by 5×5/60 and features a line with three men over 2.00/60 that isn't the Hall—Nuge line! It's enough to give us the vapors, this fantastic new trio doing so well in such a difficult situation. Sure they got the zone-start push and certainly McLellan found them clean air when possible, but we've seen this opportunity given in the past without the kind of numbers we see here.
The emergence of Yakupov gives Edmonton a strong bat beyond the heart of the order. When Eberle returns, Edmonton's 1-6 slots in the order should be top drawer, and that's formidable. There may be another gear (Leon awaits) but for this season two scoring lines gives the team far more opportunity to win every night.
Taylor Hall isn't getting the ZS push and he (along with Nuge) isn't delivering the kind of 5×5 offense we're used to seeing, but it's also true Jordan Eberle is out and the Oilers haven't been able to find a suitable option for RW on the line since opening night. The Nuge-Hall duo has been doing a lot of heavy lifting and that has extreme value and will continue to have great importance. Matt Hendricks and Rob Klinkhammer have played on the line, and it looks like Todd McLellan would like a gritty type as the third man.
Todd McLellan: "I didn't think that line (Miller with RNH and Hall) connected as well as I hoped. I don't know if that's Miller's responsibility or not but I went back to a bigger body and liked Klink's size and work on the boards." Source
I take that to mean that we may well see Klinkhammer tonight, although Pakarinen is also an option. It's also possible Pakarinen sits out and gets some practice time before being inserted into the lineup. One thing is becoming fairly clear: The offense stops after the top two lines, and McLellan's Oilers are running two lines whose goal is to play the opposition to a standstill while the jacks and kings get a breather. Some of that may have to do with the faceoff issues and we may see Edmonton make a move in that regard during the year.
OILERS DEFENSE IN A BOX, GAMES 1-7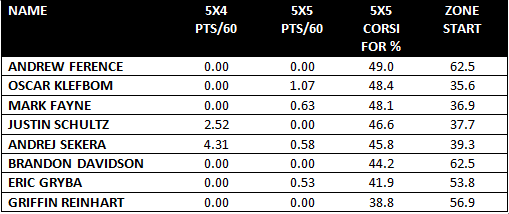 This is sorted by Corsi for % 5×5 (I'm using hockeyanalysis and behind the net, as usual) and shows (I believe) the continuing emergence of young Mr. Klefbom. He leads in possession (Ference has been in only two games), has the toughest ZS and leads in 5×5/60. I don't expect a lot of offense from the dream weaver, but that's a nice start. His partner Justin Schultz is getting a far more difficult ZS than a year ago and the numbers are better than I would have thought—although the offense is off 5×5. Interesting pairing for sure, I wonder if we see a Klefbom—Sekera pairing if this team feels they have a chance to have a more substantial season.
Mark Fayne is a veteran defender but I get the feeling he's the Ringo Starr of the top 4D. Tough ZS's and opposition make these numbers better than they appear, but he's not a puck mover and it limits his usefulness. Andrej Sekera struggled in early games, but I think he's starting to find the range. Reasonable offense from the veteran as well, he's my No. 2 D on this team (behind Klefbom) if there's an expansion draft.
The final four (when healthy) appears to be ranked thusly: Gryba, Reinhart, Ference, Davidson. Reinhart is out for tonight according to Matty, so expect Andrew Ference.
TOP 20 UPDATE
My Top 20 Prospects list will kick off about one month from now, and there are enough games played in most leagues to start the discussion. The last major look we had at the group is here. Players who will be moving up are underlined, those who may move down are in italics. Still lots of time for players to move up and down, I'll start the proceedings with No. 1 on this list (who will it be???) last week of November.
C Connor McDavid NHLE: 82GP, 23-40-63 .768. Destination: NHL from opening night. So far, our man is 7GP, 4-2-6- in the NHL (.857), more in line with my RE projection (.886) but one gets the feeling this young man is going to post a special number.
C Leon Draisaitl NHLE: 82GP, 15-26-41. Destination: NHL before Christmas. A strong training camp didn't get him on the NHL roster, and he's 4GP, 0-1-1 in the AHL currently. Leon's arrival may be pushed back—they'll want him to have success in the AHL before he gets the call—and one hopes he is getting substantial minutes in Bakersfield.
D Darnell Nurse NHLE: 82GP, 7-16-23. Destination: NHL from opening night. Nurse didn't make the opening night roster, as the team chose to run with Griffin Reinhart as their No. 5 defenseman. Based on reports from Bakersfield (4GP, 0-0-0), Nurse has been splendid there and in my opinion it's only a matter of time.
D Griffin Reinhart. NHLE: 82GP, 6-11-17. Destination: NHL by the trade deadline. He made the team out of camp (4GP, 0-0-0) and is injured currently. The Oilers are bringing him along in a rotation and it'll be interesting to see how many games he plays in the first 20 this year.
C Bogdan Yakimov. NHLE: 82GP, 10-13-23. Destination: AHL for 2015-16, with a cup of coffee in the NHL. Yakimov is 4GP, 1-0-1 entering this weekend's AHL action and needs to improve on last year's numbers (57GP, 12-16-28). It's mighty crowded with Leon in Bakersfield, vital the Oilers make sure he's getting the at-bats.
W Iiro Pakarinen. NHLE: 82GP, 16-11-27. Destination: AHL to start, callups to the NHL early and often. Pakarinen's combination of speed, skill and aggressiveness—plus a 4GP, 1-2-3 start—have him in the NHL tonight. He's somewhat unique among the prospects and this is a major opportunity for him.
C Kyle Platzer. NHLE: 82GP, 12-17-29. Destination: He'll spend his rookie pro season in the AHL. He has started the season 4GP, 0-1-1 but is playing a secondary role based on (CHL stats estimates his ice time at less than 8 minutes per game) anecdotal evidence. He needs to play regularly.
C-R Greg Chase. NHLE: 82GP, 8-16-24. Destination: AHL all year, with an NHL look-see possible. He's off to a nice start in Norfolk (4GP, 2-1-3) of the ECHL and in my opinion Chase is in a much better spot than most of the Bakersfield kids who aren't play much at all. Josh Winquist turned the same situation into a top 6F job in the AHL later in the season one year ago. Bet he passes Platzer at some point, these kids need to play.

L Anton Slepyshev

. NHLE: 82GP, 17-11-28. Destination: AHL marksman. One of the truly impressive stories this fall (6GP, 0-0-0), as he made the Oilers and has been impressive despite not playing a lot in most games. He's averaging 8 minutes in those six games and has only three shots on goal so far. I expect he'll see the lights of Bakersfield at some point—unless they find a way to use him more. We're probably two weeks (or so) from Eberle's return, so that might be the trigger.
D Ethan Bear. NHLE: 82GP, 5-9-14. Destination: WHL all year, hopefully plenty of PP time. A fine start (8GP, 2-6-8, CHL Stats has his NHLE at 22 points) suggests a nice spike from last season's point total may be on the way. Bear was great value where they got him in the draft, it's nice to see a strong start.
G Laurent Brossoit. Destination: A full season in Bakersfield as starter. Brossoit is 3, 3.24 .910 so far but the reports have been very strong on his overall performance. Edmonton's goaltending woes have been covered off by outside procurement at the NHL level, but it's going to be fun watching Brossoit push up from the minors. It's been awhile since an Oilers AHL goalie had two good stoppers in front of him. I honestly can't think of a recent example.
D Joey Laleggia. NHLE: 82GP, 14-23-37. Destination: Full AHL season, possible recall if he flourishes. Laleggia is 4GP, 0-0-0 and has played a lot with Darnell Nurse, although that appears to have ended at some point last weekend (Musil). It would be interesting to see how much PP time he's getting, that is a lot of his value.
D Dillon Simpson. NHLE: 82GP, 2-9-11. Destination: Full AHL season. He spent the entirety of training camp injured, and hasn't yet played a game. That is likely to change in the next couple of weeks, as reports have him in Bakersfield and soon ready. It's a big season for Simpson, he has shown great year over year improvement in the past.
G Eetu Laurikainen. Destination: Minor leagues for sure. He's 1GP, 4.02 .818 so far, not great but one game is a wildly unfair measurement. I think the Oilers like him, their goalie situation has changed so much since the Oilers signed him.
R Andrew Miller. NHLE: 82GP, 16-19-35. Destination: AHL to start, significant NHL time possible. Miller is off to a nice start in Bakersfield (4GP, 1-2-3) and got a one game look-see from Todd McLellan this week. I think he'll get more recalls this year, his time is now and Miller is as ready as he'll ever be.
D Jordan Oesterle. NHLE: 82GP, 6-12-18. Destination: AHL all year, with a callup possible. Oesterle is 4GP, 0-1-1 and appears to be getting lots of playing time in Bakersfield. His speed keeps him in the prospect conversation and he could be the Condor who gets a call this year.
D Caleb Jones. NHLE: 82GP, 2-5-7. Destination: Feature role in WHL with Portland. He's 8GP, 1-3-4 (NHLE: 11 points according to CHL Stats) and based on TC this is a very mobile player. He was miscast (imo) by some pre-draft scouting reports, there's more potential in Jones than was first implied.
C Jujhar Khaira. NHLE: 82GP, 4-5-9. Destination: Full AHL season. He's 4GP, 0-2-2 in Bakersfield and the organization appears to be higher on him now than in the past (and they liked him in the past). If Khaira can give this team any offense at all, he might have an NHL career in a bottom 6F role. This is an important year for him.
R Tyler Pitlick. NHLE: 82GP, 8-16-24. Destination: NHL all season or the waiver wire/AHL. He played two games in Bakersfield before a concussion derailed him. Pitlick's playing style fits Todd McLellan but he didn't impress in TC (was given opportunities) and now we are here. Injuries have marred the young man's career and he never did bring the offense from junior.
D William Lagesson. NHLE: 82GP, 1-6-7. Destination: UMass and college hockey. He's 3GP, 0-1-1 in college and reports have him off to a fine start. The college route means he's tucked away for as many as four seasons, which will give the Oilers a chance to suss out all the other blue.
D Ziyat Paigin. NHLE: 82GP, 2-2-4. Destination: KHL with more playing time. He played 9 minutes a night in 33 KHL games a year ago. This year, he's been traded to Sochi, has played 10 games between two teams and is averaging 7:28 a night. He's in the KHL, that's good. Needs to play more.
G Anders Nilsson. Destination: Backup goalie in the NHL. A strong start to his Oilers career (2GP, 1.98 .953) has fans buzzing—and for good reason! Obviously going to see a spike up the winter rankings, and points out the silliness of ranking goalies. Voodoo!
D Ben Betker. NHLE: 82GP, 2-10-12. Destination: Full AHL season. He ended up in the ECHL (4GP, 0-0-0) and that's good for the same reasons it benefits Greg Chase. Betker is a long ranger in terms of prospects, his combination of size and speed means the organization will be very patient with him.
D Brandon Davidson. NHLE: 82GP, 3-4-7. Destination: AHL to start but could see significant NHL time. Davidson made the NHL roster and has played just one game. He looked good in it, has a nice range of skills without possessing any dominant trait. I suspect the Oilers see him as a solid 7D on their team beginning next year, so have him around because of waivers. He'll get some action but it could be awhile before we see him two games in a row.
D Brad Hunt. NHLE: 82GP, 11-19-30. Destination: Impact AHL defender, with a chance for recall. He's a house on fire (4GP, 0-6-6) in Bakersfield so far, but reports have him giving up the puck a lot and spreading offense at both ends.
L Kale Kessy. NHLE: 82GP, 8-8-16. Destination: A full AHL season. 2GP, 0-0-0 so far, the Condors have been running Mitch Moroz as their everyday enforcer.
D David Musil. NHLE: 82GP, 1-7-8. Destination: Full AHL season, with a chance to make an NHL appearance. Musil is 4GP, 0-0-0 in Bakersfield, and farther from the NHL than he was a year ago—although we could have said that exact thing before he was called up in 2014-15. He's a good defenseman, smart player. Speed kills, as does lack of it.
D John Marino. Destination: Another season with the South Shore Kings. He ended up in the USHL (7GP, 1-4-5) where Marino made an immediate impact. The D chosen at the 2015 draft are a varied and fascinating group. No idea who (if anyone) makes it.
G Zach Nagelvoort. Destination: Another seasons in the NCAA. His SP was .929 in his draft year, then fell to .906, lost the starting job to Steve Racine and we'll see about this year. He's 1GP, 2.05 and .905 so far, we're early days.
C Alexis Loiseau. NHLE: 82GP, 12-20-32. Destination: AHL/ECHL and a big pro chance. Signed to an AHL deal, Loiseau is one of this year's Winquist's and a nice bet. He's 4GP, 0-1-1 in Norfolk so far, miles to go and we'll see.
R Tyler Vesel. NHLE: 82GP, 7-13-20. Destination: Another full season of NCAA hockey in Omaha. Young skill forward has played in a couple of exhibition games and we'll see if he can capitalize on a good NCAA season one year ago.

L Mitch Moroz

. NHLE: 82GP, 3-3-6. Destination: Full AHL season. He's 4GP, 1-0-1 so far in Bakersfield, meaning he's getting the playing time that should have been made available last year. Moroz has a somewhat unique skill set, so will get a fast track if he can prove capable.

L Evan Campbell

. NHLE: 82GP, 7-8-15. Destination: UMass-Lowell and another NCAA season. Now 22, he's 3GP, 1-3-4 and impressing in his junior year. His shot gets mentioned a lot, could be a key to his success in pro hockey.
L Josh Winquist. NHLE: 82GP, 8-11-19. Destination: AHL all year, possibly ECHL if numbers dictate. He's 1GP, 0-0-0 in Bakersfield and losing playing time to veterans like Ryan Hamilton and Matt Ford. Winquist showed great progress a year ago, needs at-bats.
G Miroslav Svoboda. Destination: Somewhere in Czech Republic. He's 7GP, 4.42 .867 in the Czech2 league, doesn't look fabulous but who the hell knows. Best to assume we'll never see him and then be pleasantly surprised if something moves.
L Connor Rankin. NHLE: 82GP, 11-16-27. Destination: AHL/ECHL contract. Scoring winger is in Norfolk (ECHL) and hasn't played yet.

L Braden Christoffer

. NHLE: 82GP, 9-11-20. Destination: AHL/ECHL contract. He's now on a full NHL contract and 4GP, 0-1-1 in the AHL. The Oilers have a need for this kind of player and Christoffer has a big opportunity. He's a pain in the neck, agitator. Bruins always have these guys, Oilers used to.
L Aidan Muir. NHLE: 82GP, 4-6-10. Destination: Another NCAA season in Western Michigan. Big forward hasn't played yet this year.
G Ty Rimmer. Destination: Whatever's left. He's 4GP, 2.77 .925 in Norfolk, those are fabulous numbers. No idea if he gets anywhere but he can play.
G KevEN Bouchard. Destination: Another QMJHL season with a SP in the .880s.  Bouchard is 6GP, 3.72 .874 so far, his best effort since being drafted came about two weeks ago. Had a shutout until late, couldn't keep it.
D Martin Gernat NHLE: 82GP, 1-7-8. Destination: ECHL, AHL or Europe. Just back skating after recovering from surgery, expect he'll be in Norfolk when he's ready to play.
REALITY CHECK
A lot (I mean A LOT) of chatter about the No. 1 PK in the NHL, but there are some things about this Oilers team people should know.
Corsi for 5×5 %: 45.5 (No. 28)
Fenwick for 5×5: 45.5 (No. 26)
PDO 5×5: 99.5
Shooting % 5×5: 6.9 (No. 20)
Save % 5×5: 92.57 (No. 19)
Goals for % 5×5: 43.5 (No. 21)
Shots for % 5×5: 45.3 (No. 25)
LOWDOWN WITH LOWETIDE
A fun morning with lots of chatter across the wide world of sports! 10 o'clock, TSN1260:
Steve Lansky, Big Mouth Sports. Jays! McDavid! Weird Messier commercials!
Antony Bent, FC Edmonton. Eddies season, EPL, international play.
Brian King, NonStopSportsPicks. Eskimos weekend and prepping the playoffs.
Paul Almedia, SSE. McLellan's importance to the Oil, Eskimos weekend.
10-1260 text, @Lowetide twitter. Talk soon!