We're early days in the 2015-16 season and wondering why Edmonton's prospects aren't scoring much in the AHL. One reason? Lack of power-play scoring. There is some evidence chances are being extended, but so far there aren't many cheques cashing for Edmonton's high-end prospects. No worries. EV scoring is a better judge of actual talent and a better indicator of how these kids will perform in the NHL (should they get there).
EV LEADERS, FORWARDS IN BAKERSFIELD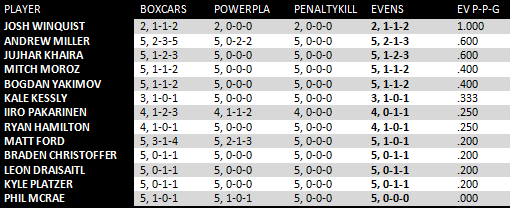 Among forwards, all of the points gathered so far belong to veteran AHLers. Is this uncommon? Not really. The numbers from OKC last season show the older players getting most of the PP goals and assists. Leon Draisaitl is getting power-play time, as David Staples work (pay wall) shows in a recent post.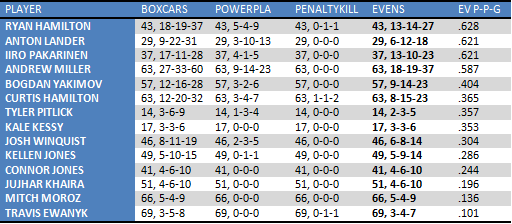 Yakimov and Josh Winquist got some points, but Andrew Miller, Anton Lander and Ryan Hamilton led the way. Early EV spikes (and this is early) include:
Josh Winquist, who keeps showing up in good spots no matter where he begins each season.
Jujhar Khaira, whose main issue is offense. A nice start for the big forward. If he keeps this up, he might see the NHL this season.
Mitch Moroz, getting a regular shift and so far showing some EV ability at this level.
Bogdan Yakimov, the big C who had the best year of the 20-year old F's a year ago.
EV LEADERS, DEFNESE IN BAKERSFIELD

Early days, and it's hard to fault Gerry Fleming for using Hunt heavily with the man advantage, but it looks like the young blue are not getting the minutes (or luck, one of the two) 5×4 and 5×3. Does that jive with a year ago?

Hunt got the lion's share and that's what we're seeing again this season (so far). Oesterle did see some PP time and I imagine Nurse will see some too this year. The numbers aren't there yet, but early days.