The Edmonton Oilers are 3-5-0 to start the 2015-16 season, compared to 3-4-1 in 2014-15. Dallas Eakins' Oilers would end October 4-5-1 before losing their way in November (2-9-3) and December (2-8-4) and effectively ending the MacT—Eakins era in one giant thud.
The first career #AHL goal for @Drat_29 makes it 2-0 @Condors #SDvsBAK pic.twitter.com/o34S7nNNKo

— AHL (@TheAHL) October 25, 2015
Todd McLellan: "There's a big debate about why Leon isn't up with us. When he's one of the better players down there, trust me, he'll be here." Source
The Oilers are averaging 2.38 goals per game and that's good for No. 18 overall this season. The GA is 3.00, No. 24 overall and obviously skewed by a couple early games including the Washington effort. A year ago, Edmonton's offense was No. 26 overall (2.35 goals per game) and the GA was No. 30 overall (3.37) and of course we know the impact of the goaling in 2014-15. They were going in from the first Anik satellite. The Oilers don't have much offensively going on beyond the top two lines, I think we'll see Leon Draisaitl in the NHL this year. In the RE series, I predicted 41 games and that still seems about right.
Iiro Pakarinen will probably make his season debut for the Oilers tonight, Todd McLellan mentioned his 'hard, heavier game' after practice yesterday. I had Pakarinen playing 20 games this season but that included a solid TC and impressing the coach off the top. We'll see how he goes, 20 games might be high.
MCDAVID RE
The one RE I get the most questions about? Connor McDavid. The question came up again this weekend on SSE (would you alter your number) and it gives me a chance to re-establish what I try to do with reasonable expectations. Most projections we see are for fantasy hockey (Scott Cullen rocks that area) but the purpose of the RE is to find a 'reasonable line in the sand' for a given player. It's based on projected playing time, role, and (if possible) the last three seasons of production. Age has something to do with it and of course power-play time is a big part of it.
What I'm looking for is NOT to be right, but rather to gauge a player's actual performance against what a reasonable person (looked for one, couldn't find, so I did it) would estimate when the only hockey sticks being used are on driveways and roads.
Connor McDavid RE 15-16: 70GP, 23-39-62 .886
Connor McDavid Actual: 8GP, 5-3-8 1.000
Connor McDavid Projection: 82GP, 51-31-82 1.000
In the RE article I explain my reasoning behind the original (July) projection and one of the major factors is quality of linemates. We've seen that so far this season, with Eric Gryba (40 minutes) being an example of a player who is on the ice with McDavid, not really helping offensively. The thing I didn't factor in? Doesn't appear to matter. McDavid has two points (3.00 5×5/60) with Gryba along for the ride. The RE didn't predict that, because its author hasn't seen it during the time he's been projecting.
The thrust of the RE projections is to give full value to the player for exceeding projections. McDavid was always going to be a difficult one, at this point the young man looks like he's going to blow it out of the water. You may feel that RE missed, but the RE would argue Connor McDavid is doing the unusual and should be credited for it.
Here's video of the Condors/Gulls line brawl. https://t.co/9qECygzCUu #Oilers #AHL

— Eric Rodgers (@ericrsports) October 25, 2015
Lotta Boston Bruins style players in this video, the Condors had an old fashioned brouhaha with the San Diego Gulls last evening. Mark my words, some of the men involved in that fight (Kessy, Moroz, Musil) will play for Peter Chiarelli's Oilers someday. Kessy specifically looked like he was in an outtake from Slap Shot.
WAR-ON-ICE SLEDGEHAMMER, FORWARDS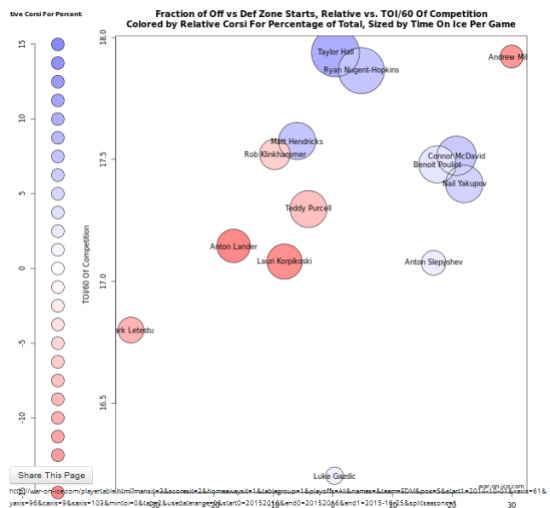 This looks right, we have Hall—Nuge taking on the toughs and McDavid's group in a nice little area there, where they can (and are) impacting the game. McLellan badly needs a third line of some sort, suspect that's going to be the next step. Is Leon part of it? I don't think so, not yet anyway. Pakarinen? Very possible, probably not tonight.
WAR-ON-ICE SLEDGEHAMMER, DEFENSE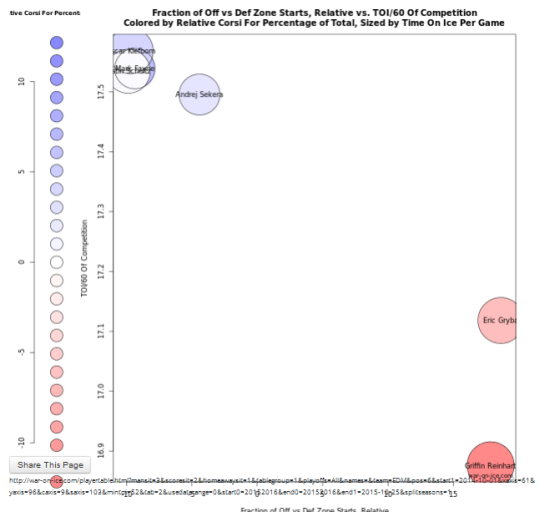 As we see it, the top two pairings getting all kinds of difficult moments (and wildly different results, the Sekera-Fayne pairing looks good), but the reason I used this graph is Gryba. He's playing BIG minutes at evens now, sheltered, and getting killed. And I think the coach is starting to trust him! We'll see how he shines. I remain convinced that Klefbom needs a new partner and light candles daily for a Klef—Sekera top pairing.
Klefbom with Schultz 48.6 5×5 Corsi for %
Klefbom away from Schultz: 46.7 5×5 Corsi for %
Schultz away from Klefbom 31.0 5×5 Corsi for %
Recommended reading: Woodguy's take on the blue. Mark Fayne is looking pretty good btw. Early days.