It's early to have an 'important' game in a long season, but the Calgary Flames have one tonight at Rexall. Despite poor possession numbers and chaos blue, despite voodoo goaltending and a coach who says genuinely unusual things, the Calgary Flames have to win the game. Their season depends on it.
WESTERN CONFERENCE STANDINGS, THIS MORNING
No. 11 Edmonton Oilers 11GP, 4-7-0 (8 points)
No. 12 Colorado Avalanche 10GP, 3-6-1 (7 points)
No. 13 Calgary Flames 11GP, 2-8-1 (5 points)
No. 14 Anaheim Ducks 10GP, 1-7-2 (4 points)
All four of these teams are in real trouble (the Bettman point!!!) but the Flames (and Ducks) are staring a very long season in the face at an early stage. Although Oilers fans have a right to be impatient, a win tonight (and a 5-7-0 record) would offer some hope for the future. Coming out of the worst part of the schedule, with the Flyers on the schedule this week (Philadelphia's defense does a lot of things Edmonton fans would recognize). The Battle of Alberta has a dubious backdrop at this time, but at least it's a story line.
OILERS BLUE THROUGH ELEVEN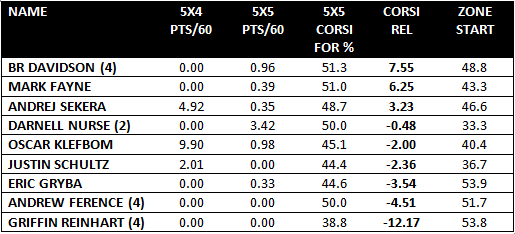 This is sorted by Corsi Rel, I added it in the hopes of gaining some insight into Mark Fayne's fall from grace. Based on these numbers, he's absolutely one of the six best solutions on the roster:
5×5 Corsi for % over 50%
Corsi Rel is No. 1 among regular D
He is not getting a ZS push
Fayne—Sekera is 48.3% Corsi for % as a tandem.
Remember, our eyes can play tricks on us, that's why we look at the numbers to confirm. Why is Fayne posting these fancy stats and getting deeper in the doghouse? Why did he play so little the other night? I think it has to do with Todd McLellan's preference on the defense, and Eric Gryba's emergence as the shutdown defenseman who plays the most minutes. Gryba is less expensive, bigger, more physical and of course he was acquired by GM Peter Chiarelli. All of those things may contribute to Fayne's recent handling, and I suspect we'll see him dealt at some point this season. His footspeed is not good, and his defense of sorties (in terms of decision making) is often alarming.
What does that mean for the Oilers blue? Well, by the time Justin Schultz returns we'll know more about Darnell Nurse and where he stands. Perhaps Todd McLellan will also continue to give Brandon Davidson a push to see if the young blue continues to play at par. There's also Griffin Reinhart, who played well enough early with Eric Gryba to stay in the lineup until injuries hit.
Andrej Sekera—Brandon Davidson
Darnell Nurse—Oscar Klefbom
Griffin Reinhart—Eric Gryba
Could we see HS's for Mark Fayne and Andrew Ference? It may happen. One thing I believe the box above shows? Giving Justin Schultz a tough zone start probably isn't the right choice. I believe Dallas Eakins got it right.
DANGER FENWICK RATE PER 60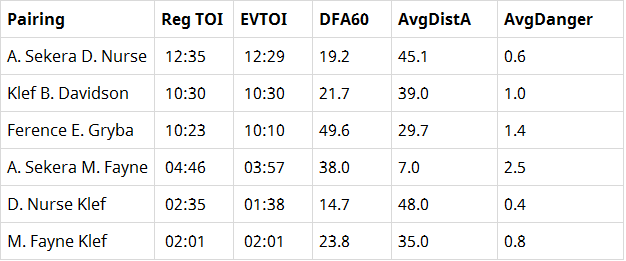 I lifted this from the brilliant blog Oilers Nerd Alert, please click on the link because I didn't ask permission to do it. I think young G is on to something here, this DFA/60 number (Dangerous Fenwick) from the Habs game is very insightful and offers some reasoning re: Fayne's handling. I have been (and am) very conservative in adopting new stats, for two reasons:
The idea is to post stats that both inform and can be easily understood.
I like this for one other major reason, via GMoney: Interesting fact – the TOI for the defensemen is directly correlated with how good they were at preventing dangerous shots against.
That's a strong indicator a solid backward Bill James (James would ask a question and search for the answer, then track it back using logic and good sense). The above item from G is exactly that kind of logic and reason. There's something here, or perhaps more accurate, there's something I am able to comprehend as having value. That's kind of what Bill James was good at it, and it's wildly important. It also gives us a glimpse into why Mark Fayne isn't playing as much.
We preview the #Oilers vs #Flames with @SUNdvandiest on @SportsExtra1260 at noon today. @TSN1260 #BatttleOfAlberta pic.twitter.com/xTM8hzwwN5

— Paul Almeida (@AzorcanGlobal) October 31, 2015
OILERS FORWARDS THROUGH ELEVEN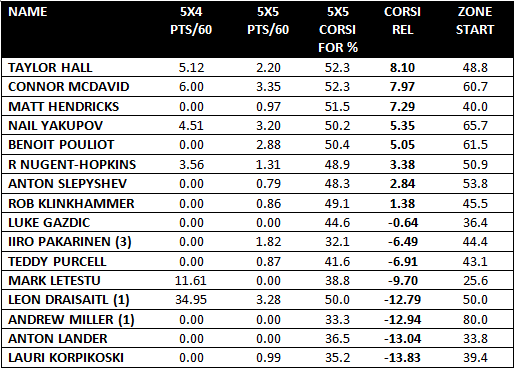 Oh that crazy Taylor Hall is always falling down and passing silly and looking like a man who can't remember the last thought that went through his head. That's about right. Hall's critics often deliver high comedy, as the actual performance is absolutely dandy again this season. Slow start but he's killing it; the man can push a river.
Connor McDavid's 5×5/60 is dreamy and his on-ice performances are must-watch events for hockey fans. I know older people can be irritating when talking to the young set, but please enjoy this young man's rookie season. You won't see another like it in your lifetime and if you do, well, you'll get emotional watching the games. What a stunning talent. In game 11 of his NHL career he beat one of the best defensemen in the game, on a play that might have resulted in a penalty. How a man could be both unavoidable to the viewer and stealth to the opposition is the stuff of legends. We're running out of words.
Nail Yakupov's boxcars are splendid and his level of awareness—especially in the offensive end—is reaching new levels. There's a tendency to credit others for his development, but Nail is his own man and we rarely take into account that lost half-season. Hard to believe this is the same player, although he reminds us from time to time with an errant pass or a burst to nowhere in order leave his man open in the defensive zone. Damnable dog whistles are everywhere!
Stumbled on this commercial starring Todd McLellan. Has one line that I hope he uses often on players. #oilers https://t.co/GnVW9MF3qB

— Sunil Agnihotri (@sunilagni) October 30, 2015
A final note: This is a big damned game. Seriously. The Oilers are 4-7-0 and that's a reflection of the good and bad on this team. If they can win tonight, no matter what it does to Calgary, it offers players, fans and management some kind of hope for this season. It can't always be about trade deadline selloffs and 'let's look at the 2016 draft' and with a win tonight we can dare to dream.
Peter Chiarelli is going to make a move to improve the defense, I'm convinced of it. I'm also pretty sure the trade is going to involve Mark Fayne, and further that it's more likely to be a trade that helps 'in the now' if this team is 6-7-0 after the Philly game.
Godspeed, men. We believe in most of you.